Recent Articles
Jan. 26 - 2005 A Miracle Vintage ~ Tumultuous Week of Highs and Lows
Jan. 19 - Looking for Value? ~ Wines from Argentina to the Rescue
Jan. 12 - Looking Back - Looking Ahead ~ Spanish Wines Looking Up
Dec. 29 - Having a Sparkling New Year's Eve
Dec. 22 - Sumptuous Sippers ~ For days with Slippers
Dec. 15 - Wine Awards Canada - Charting 339 of Ontario's Best ~ Toasting Ontario's Best Sparklers from Brut to Gently Sweet
Dec. 8 - A Sparkling Vintages Release ~ But buy carefully
Dec. 1 - Holiday Gifting ~ The twin pack is the way to go
Nov. 24 - Eight Buys from Today's Vintages Release
Nov. 17 - Introducing the Signature Selection
Nov. 10 - 2005 Burgundy ~ The wine gurus like it!
Nov. 3 - Magic in Montreal ~ Le Marché an Inspiration for Local Wineries
Oct. 27 - Scary Times at Vintages ~ From Tricks to Treats
Oct. 13 -Today at Vintages ~ Bordeaux and Much More
Oct. 6 - Wine Auction Fever ~ Confessions of a Wine Auction Junkie ~ Forget Screaming Eagle and pass the Rum
Sep. 29 - Southern French Accents
Sep. 22 - Perfect for an Autumn day ~ Is that a bottle of spicy wine under your kilt?
Sep. 15 - A Celebration of the Ontario's harvest ~ Faces behind great wines
Sep. 8 - Reel Wines for Real Film Lovers ~ Can't snuggle? Here's what to smuggle! ~ Plus Ontario Recommendations
Sep. 1 - Dust off your Lederhosen ~ Austrian Wines Finally Unleashed in Vintages
Aug. 25 - Summer Twilight Selections ~ Spanish Synergy
Aug. 18 - The Wines of Chile ~ Soaring to the peaks of the Andes
Aug. 11 - Discovering Greece - a wine odyssey ~ Splendid Assyrtiko from Santorini
Aug. 4 - Spain - From the Classics to the Cutting Edge ~ Revving up for Rioja
Jul. 28 - Days of Wine & Roses no more! ~ Under $10 wines a rare breed
Jul. 21 - Que Sera, Syrah ~ Big, Smoky and Beautiful
Jul. 14 - Finding the best wine matches ~ Sizzling Seafood at Scaramouche
Jul. 7 - Sizzling Sauvignon Blanc ~ Vintages Best Buy Whites
Jun. 30 - In search of the Ontario Idol ~ Tracking down the best for Canada Day
Jun. 23 - Vintages Price Hikes ~ Hitting the customer where it hurts
Jun. 16 - Life After Yellow Tail
Jun. 9 - Rosé Rules ~ From serious to casual, unearthing that ambidextrous rosé
Jun. 2 - The ones that didn't get away! ~ Unearthing recent best buys - all under $20
May. 26 - New Zealand's Natural Gems ~ The best of whites
May. 19 - Alsatian with that Crustacean?
May. 12 - Paradoxical Portugal ~ Old World Grapes with New World Appeal
May. 5 - Toronto's First Private Import Wine Fair ~ Private Imports Picking up Steam Despite LCBO Bullying
Apr. 28 - Toasting Mom with France's Finest
Apr. 21 - Prime Time for California
Apr. 7 - Delicious Ciders that won't break the Easter bank
Mar. 31 - Racy Rieslings ~ Perfect Springtime Sippers
Mar. 24 - Quest for the Best of Portable Potables ~ The Battle of the Boxes
Mar. 17 - For the love of the Irish ~ A Greek wine for St. Patrick's Day
Mar. 10 - VDN to the rescue ~ Sublime sweet bargains from southwestern France
Mar. 3 - Canada's greatest pinot noir? ~ If you can't find the best, try LCJ's less expensive bargains
Feb. 24 - Cuvée 2007 ~ Ontario winemakers whoop it up
Feb. 17 - Pinot Noir Madness III ~ New Zealand takes another step forward
Feb. 10 - Burgundy Comes to Town ~ Despite Limited Vintages Buys ~ The Good News is Virtual Buying
Feb. 3 - Great Values South of the Equator ~ Both in Vintages & on the General List
Jan. 27 - Napa a go-go ~ Wine Parties vs. Tastings
Jan. 20 - Winemaker Niel Groenewald ~ Pushing the South African Envelope
Jan. 13 - Montreal Passion Vin ~ Delivering Excellence on Every Level
Jan. 6 - Off-the Beaten-Path Wines ~ Hard to Find in Today's Vintages Release


Become an FBTI Supporter today
Get Michael Vaughan's Buying Guide
for August 4th & 18th Vintages Release
Click Here
Discovering Greece - a wine odyssey
Splendid Assyrtiko from Santorini
© Michael Vaughan 2007
National Post Weekly Wine & Spirits Columnist
Saturday, August 11, 2007
To see this article as it appears in the National Post click here
CLICK ON THE NAME
All listings are automatically linked to the LCBO database
If there is a product that interests you, just click on the name below and you will instantaneously connected with the LCBO database. The product will appear in blue and all you have to do is click on the name again and then the next screen will provide details along with the store search. Just click on store search. The number of bottles in each store is updated nightly. Call the store first to see if stock still remains (each store phone number is listed).
It's a miracle. I am referring to the phenomenal whites now being made on the island of Santorini. I recently visited this Greek gem and was astounded by the whites made from Assyrtiko - a variety most people have never heard of. This amazing grape can ripen perfectly in the most challenging of conditions - searing heat, dessert like rainfall and extremely infertile soils. And yet, not only is the resulting wine refined and flavourful, but it also has an abundance of fresh, natural acidity.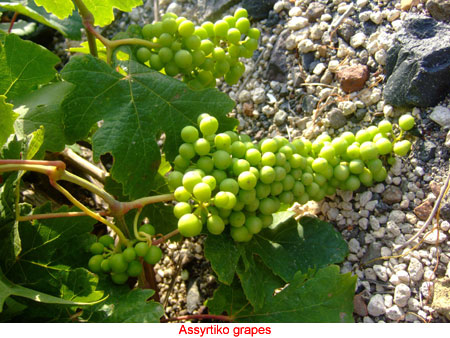 It is said that Santorini's Assyrtiko vines are also among the world's oldest - so old, that there is a movement afoot to make the ever-diminishing vineyards, which are being gobbled up by tourist development, a world heritage site. From over 4,000 hc, only 1,200 hc remain - almost ¾ being Assyrtiko.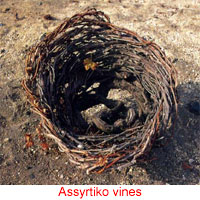 Unlike any other vineyard in the world, the vines look like low tortured bushes with grape clusters often left dangling on the parched volcanic-laced stoney soil. No close spacing here, the roots need room to spread out to absorb every drop of moisture. Water is on strict allocation and evening mists are critical for survival. Vines are trained into a unique basket-shaped form, which protects them from the gale-force winds.
It is here where I tasted most of the Assyrticos made at the island's dozen wineries. Santos is the biggest, an impressive coop with over 2,000 members. It has an excellent visitor centre and a bevy of pretty decent wines. I was, however, most impressed with one of the smaller producers, owned by Paris Sigalas, a mathematician by training who started the winery in 1991. Today his whites are hailed as being the best in Greece.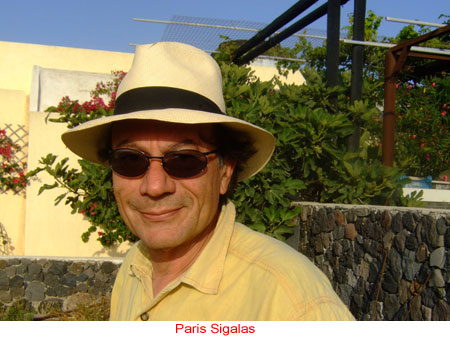 In one of those weird twists of fate, I was able to do a vertical tasting of Sigalas wines thanks to the Toronto-based wine agent Steve Kriaris owner of the Kolonaki Group (416-6307392). The Sigalas 2005 Santorini, despite14% alcohol, is very well integrated with lots of bright, fresh, ripe lemon-melon flavours. Easy to drink and perfection with seafood. It is available at only $19.95 from the agent. The fleshier, delicious Sigalas 2003 Santorini is a consignment selection at $26.95. It can also be ordered directly from Kolonaki.
The best wine previewed was the splendid Sigalas 2006 Santorini. It is loaded with ripe Anjou pear flavours and has yet to arrive in Canada. I scored it over 90 points. This and the other 2006 Sigalas wines have benefited tremendously from a new press that very slowly squeezes the grapes. It is an extremely gentle squeeze meaning that some of the bitter compounds found in previous vintages have now vanished.
Paris Sigalas is putting the finishing touches on his new winery. Don't miss trying the bright, 70-30 based 2006 Assyyrtico-Athiri with its mineral backbone or the rich, spicy, toasty, grapefruit peel driven Sigalas 2006 Barrel Santorini, which is not inexpensive.
The bad news is that although these Siglas Santorini wines has been submitted to Vintages a number of times, Vintages has consistently refused to taste it. The good news is that it will be at this weekend's Taste of the Danforth Greek Wine Garden (located at Pape and Danforth), where you can personally check out the goods by buying sample tickets. To see what's being served click here
Also on tap is another gold medal winning Santorini white, which is being released at the LCBO on September 15th. Boutari 2006 Santorini Assyrtiko at $15.95 has an attractive, slightly spicy, ripe apricot nose and dry, zesty, ripe melon-apple flavours. Compare both for yourself. If you like it, Kolonaki has it available by the case at only $14.95 a bottle, which is a dollar cheaper that at Vintages.

While some less expensive Greek wines are challenging, bargains do exist. At only $8.15, for instance, Kourtakis 2004 Vin de Crete Red (415406 - general list) will definitely hit the spot especially if slightly chilled on a hot summer day. Light in alcohol (only 12%); look for dry, medium-light bodied, slightly spicy, plummy, red cherry flavours with Beaujolais-like crispiness. As for the great Greek reds, they really do exist. Future updates from my Greek wine odyssey will keep you abreast of what's worth buying.
Also this weekend is Niagara Farm to Table Experience on Sunday, August 13. It features local tomatoes and is presented by Chef Stephen Treadwell and grower Dave Perkins. Held at Chateau des Charmes winery from 4:30-6:30 pm, tickets are $50.00. For info call the winery at 1-800-263-2541.
Coming Up
Continuing to Sunday, August 12 - Toronto 12th Festival of Beer
[Toronto]
Toronto's Festival of Beer will feature exhibitors offering 200+ major, macro and micro brews from the palest pilsners to the deepest stouts, featuring some of Canada's oldest brewers. Held at the Historic Fort York - 100 Garrison Rd. Tickets are $21 per person for advance purchase or $26 at the gate for Friday or Sunday, and $26 per person for advance purchase or $31 at the gate for Saturday.
For information click here.
Continuing to Sunday, August 12 - Taste of the Danforth
[Toronto]
This year's festival will be the 14th Anniversary of the Krinos
Taste of the Danforth. Click here for more information.
Saturday, August 11 - Hillebrand Blues
[Niagara-on-the-Lake]
Bring your favourite chair or blanket and listen to the sounds from the lawn overlooking the Stone Road Vineyard. VQA wines and wine country cuisine available for purchase. Held at Hillebrand Estates Winery, 1249 Niagara Stone Rd., Niagara-on-the-Lake, from 4 pm to 8 pm. For more information visit www.hillebrand.com Tickets are $30.00 per guest. For information call 1-800-582-8412.
For a review of the WINERY ONLY just released 2005 Trius Red
click here
Sunday, August 12 - Niagara Farm to Table Experience
[Niagara-on-the-Lake]
The Bosc family invites you to come and experience a celebration of Niagara's fresh bounty, produced locally and brought directly from the farm to your table, presented by Chef Stephen Treadwell and Grower Dave Perkins featuring tomatoes. Held at Chateau des Charmes, 1025 York Road, Niagara-on-the-Lake, from 4:30 to 6:30 pm. Tickets are $50.00 per person. For tickets contact Allison Vandenbos at 905-262-4219 ext.27 or email allisonv@chateaudescharmes.com
or click here for information.
2001 - 2007 Tasting Note Database
Our tasting note database from December 31, 2000 to July 2007, covers every Vintages release product for the past 80 months. There are more than 15,000 notes in the database data. Just enter the name of the product, supplier name or CSPC number. Or you can search by type of wine, country of origin, even wine agent! Nothing could be easier. Also you can get information on the agent by clicking on the agent's name, as well as current LCBO store inventory by clicking on "Check LCBO Availability", which will automatically tell you the number of bottles at LCBO as of last night.
To use our Tasting Notes Database: click here

** For All Visitors **
Vintages Releases
To see the complete list of upcoming products from the
August 18 release, including In-Store Discovery items,
click here (sorted by date of release).
You can also see it sorted by agent click here
To see the complete list of upcoming products from the
September 1 release, including In-Store Discovery items,
click here (sorted by date of release).
You can also see it sorted by agent click here
Copyright Food & Beverage Testing Institute of Canada 2007
Prior written permission is required for any form of reproduction
(electronic or other wise) and or quotation.
Contact Michael Vaughan at
mbv@total.net