Recent Articles
Jan. 26 - 2005 A Miracle Vintage ~ Tumultuous Week of Highs and Lows
Jan. 19 - Looking for Value? ~ Wines from Argentina to the Rescue
Jan. 12 - Looking Back - Looking Ahead ~ Spanish Wines Looking Up
Dec. 29 - Having a Sparkling New Year's Eve
Dec. 22 - Sumptuous Sippers ~ For days with Slippers
Dec. 15 - Wine Awards Canada - Charting 339 of Ontario's Best ~ Toasting Ontario's Best Sparklers from Brut to Gently Sweet
Dec. 8 - A Sparkling Vintages Release ~ But buy carefully
Dec. 1 - Holiday Gifting ~ The twin pack is the way to go
Nov. 24 - Eight Buys from Today's Vintages Release
Nov. 17 - Introducing the Signature Selection
Nov. 10 - 2005 Burgundy ~ The wine gurus like it!
Nov. 3 - Magic in Montreal ~ Le Marché an Inspiration for Local Wineries
Oct. 27 - Scary Times at Vintages ~ From Tricks to Treats
Oct. 13 -Today at Vintages ~ Bordeaux and Much More
Oct. 6 - Wine Auction Fever ~ Confessions of a Wine Auction Junkie ~ Forget Screaming Eagle and pass the Rum
Sep. 29 - Southern French Accents
Sep. 22 - Perfect for an Autumn day ~ Is that a bottle of spicy wine under your kilt?
Sep. 15 - A Celebration of the Ontario's harvest ~ Faces behind great wines
Sep. 8 - Reel Wines for Real Film Lovers ~ Can't snuggle? Here's what to smuggle! ~ Plus Ontario Recommendations
Sep. 1 - Dust off your Lederhosen ~ Austrian Wines Finally Unleashed in Vintages
Aug. 25 - Summer Twilight Selections ~ Spanish Synergy
Aug. 18 - The Wines of Chile ~ Soaring to the peaks of the Andes
Aug. 11 - Discovering Greece - a wine odyssey ~ Splendid Assyrtiko from Santorini
Aug. 4 - Spain - From the Classics to the Cutting Edge ~ Revving up for Rioja
Jul. 28 - Days of Wine & Roses no more! ~ Under $10 wines a rare breed
Jul. 21 - Que Sera, Syrah ~ Big, Smoky and Beautiful
Jul. 14 - Finding the best wine matches ~ Sizzling Seafood at Scaramouche
Jul. 7 - Sizzling Sauvignon Blanc ~ Vintages Best Buy Whites
Jun. 30 - In search of the Ontario Idol ~ Tracking down the best for Canada Day
Jun. 23 - Vintages Price Hikes ~ Hitting the customer where it hurts
Jun. 16 - Life After Yellow Tail
Jun. 9 - Rosé Rules ~ From serious to casual, unearthing that ambidextrous rosé
Jun. 2 - The ones that didn't get away! ~ Unearthing recent best buys - all under $20


Become an FBTI Supporter today
Get Michael Vaughan's Buying Guide
for December 8th Vintages Release
Click Here
Holiday Gifting
The twin pack is the way to go
© Michael Vaughan 2007
National Post Weekly Columnist
Saturday, December 1, 2007
CLICK ON THE NAME
All listings are automatically linked to the LCBO database
If there is a product that interests you, just click on the name below and you will instantaneously connected with the LCBO database. The product will appear in blue and all you have to do is click on the name again and then the next screen will provide details along with the store search. Just click on store search. The number of bottles in each store is updated nightly. Call the store first to see if stock still remains (each store phone number is listed).
The challenge: what to buy. My head is still spinning after wading through the LCBO's advertising-laden, 340-page Holiday 2007 Food & Drink magazine. I see some big glossy ads for wines that will hopefully never touch my lips, hideous cocktail mixes and gadgets that nobody needs.
Add to this, the LCBO avalanche of alluring catalogues, brochures, you name it. From the 64-page Holiday Gift Guide, which can be viewed on the LCBO website, to the expensive Vintages Holiday Glamour Gift Catalogue featuring 43 new items along with individual gift tags.
Having had the opportunity to taste many of these new gifts items, I have to caution you - some are good, many so-so. As for new Vintages gifts, none are as good as my recommended wines in last week's column. Don't rush, there's no dearth of great buys. Next Saturday's Vintages release, for instance, has some serious showstoppers.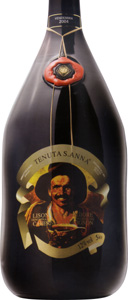 The first item in the Vintages gift guide is the humongous Italian Tenuta S. Anna 2004 Cabernet Sauvignon (600080) at $149.95 for 5000 ml (or 6 2/3 regular bottles - aka Mr. Big). While collectors like big bottles from an investment point of view, when it comes to everyday wine like this, big doesn't makes much sense unless you have a really huge family. Big bottles are, well, just that - big, but not necessarily better. And if you don't like it, you sure can get stuck with a lot of it. After all, how much sangria can anyone drink?
I know it isn't fair, but last Saturday, I slipped a decanter of Mr. Big into a comparative Sassicaia vertical. While it was pleasant enough, no one was fooled. It ended up being yummed up at a Grey Cup party the next day which turned out to be the perfect venue.

One magnificent value in the large format, however, are the remaining magnums of Tedeschi 2004 Capitel Dei Nicalo Valpolicella Classico Superiore (15313) at only $34.95. It's well structured and plummy with lingering dried ripe red cherry flavours.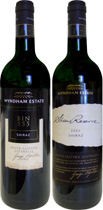 Also let me recommend a few of the specialty gift packs, which are much more functional and offer good value. From Chile: Concha Y Toro Casillero del Diablo Duo Pack (621326) at $24.95 with a delicious, crisp, peachy 2007 Sauvignon Blanc Central Valley and a solid, dusty, red cherry flavoured 2006 Carmenere Rapel Valley. From Australia: Wyndham Estate Shiraz Duo Gift Pack (49692) at $35.95 with a highly recommended, ripe, juicy 2004 Bin 555 Shiraz and hefty, extracty, menthol-tinged 2003 Shiraz Show Reserve. From South Africa: Two Oceans Duo Gift Pack (5629) $19.80 with a crisp, bright, lemon-melon 2007 Sauvignon Blanc and slightly spicy, ripe, plummy 2007 Cabernet Sauvignon-Merlot from the Western Cape. From Spain: Osborne Solaz Duo Wooden Gift Box (621433) at $20.90 with a plummy Solaz 2004 Tempranillo-Cabernet Sauvignon and a gently juicy 2005 Merlot-Tempranillo.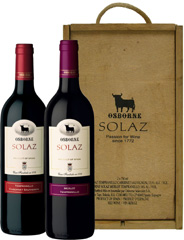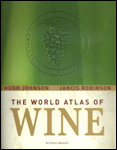 Another great gift the fully-revised, updated The World Atlas of Wine Sixth Edition by Hugh Johnson and Jancis Robinson, which is a treasure trove of information for all wine lovers. Ignore the $59 retail price on the inside jacket, it's currently available at Chapters-Indigo website at only $38.94 ($36.99 irewards) - to see click here.
Also, rather try and second guess your taste, I am gifting readers my updated INSIDER'S BEST BUY GUIDE detailing the top 42 Vintages best buys from the past four releases. It is laid out by colour/country and is complete with my tasting notes and store availability. Use the npreader password to access this guide - to see click here.
Last but not least, consider gifting my Vintage Assessments newsletter, which gives detailed tasting notes/ratings prior to each of each of the 23 Vintages releases. It's available exclusively to National Post readers at a $30 discount. To take advantage of the offer click here.
2001 - 2007 Tasting Note Database
Our tasting note database from December 31, 2000 to November 2007, covers every Vintages release product for the past 83 months. There are more than 15,000 notes in the database data. Just enter the name of the product, supplier name or CSPC number. Or you can search by type of wine, country of origin, even wine agent! Nothing could be easier. Also you can get information on the agent by clicking on the agent's name, as well as current LCBO store inventory by clicking on "Check LCBO Availability", which will automatically tell you the number of bottles at LCBO as of last night.
To use our Tasting Notes Database: click here

** For All Visitors **
Vintages Releases
To see the complete list of upcoming products from the
December 8 release, including In-Store Discovery items,
click here (sorted by date of release).
You can also see it sorted by agent click here
Copyright Food & Beverage Testing Institute of Canada 2007
Prior written permission is required for any form of reproduction
(electronic or other wise) and or quotation.
Contact Michael Vaughan at
mbv@total.net