Recent Articles
Jan. 26 - 2005 A Miracle Vintage ~ Tumultuous Week of Highs and Lows
Jan. 19 - Looking for Value? ~ Wines from Argentina to the Rescue
Jan. 12 - Looking Back - Looking Ahead ~ Spanish Wines Looking Up
Dec. 29 - Having a Sparkling New Year's Eve
Dec. 22 - Sumptuous Sippers ~ For days with Slippers
Dec. 15 - Wine Awards Canada - Charting 339 of Ontario's Best ~ Toasting Ontario's Best Sparklers from Brut to Gently Sweet
Dec. 8 - A Sparkling Vintages Release ~ But buy carefully
Dec. 1 - Holiday Gifting ~ The twin pack is the way to go
Nov. 24 - Eight Buys from Today's Vintages Release
Nov. 17 - Introducing the Signature Selection
Nov. 10 - 2005 Burgundy ~ The wine gurus like it!
Nov. 3 - Magic in Montreal ~ Le Marché an Inspiration for Local Wineries
Oct. 27 - Scary Times at Vintages ~ From Tricks to Treats
Oct. 13 -Today at Vintages ~ Bordeaux and Much More
Oct. 6 - Wine Auction Fever ~ Confessions of a Wine Auction Junkie ~ Forget Screaming Eagle and pass the Rum
Sep. 29 - Southern French Accents
Sep. 22 - Perfect for an Autumn day ~ Is that a bottle of spicy wine under your kilt?
Sep. 15 - A Celebration of the Ontario's harvest ~ Faces behind great wines
Sep. 8 - Reel Wines for Real Film Lovers ~ Can't snuggle? Here's what to smuggle! ~ Plus Ontario Recommendations
Sep. 1 - Dust off your Lederhosen ~ Austrian Wines Finally Unleashed in Vintages
Aug. 25 - Summer Twilight Selections ~ Spanish Synergy
Aug. 18 - The Wines of Chile ~ Soaring to the peaks of the Andes
Aug. 11 - Discovering Greece - a wine odyssey ~ Splendid Assyrtiko from Santorini
Aug. 4 - Spain - From the Classics to the Cutting Edge ~ Revving up for Rioja
Jul. 28 - Days of Wine & Roses no more! ~ Under $10 wines a rare breed
Jul. 21 - Que Sera, Syrah ~ Big, Smoky and Beautiful
Jul. 14 - Finding the best wine matches ~ Sizzling Seafood at Scaramouche
Jul. 7 - Sizzling Sauvignon Blanc ~ Vintages Best Buy Whites
Jun. 30 - In search of the Ontario Idol ~ Tracking down the best for Canada Day
Jun. 23 - Vintages Price Hikes ~ Hitting the customer where it hurts
Jun. 16 - Life After Yellow Tail
Jun. 9 - Rosé Rules ~ From serious to casual, unearthing that ambidextrous rosé
Jun. 2 - The ones that didn't get away! ~ Unearthing recent best buys - all under $20
May. 26 - New Zealand's Natural Gems ~ The best of whites
May. 19 - Alsatian with that Crustacean?
May. 12 - Paradoxical Portugal ~ Old World Grapes with New World Appeal
May. 5 - Toronto's First Private Import Wine Fair ~ Private Imports Picking up Steam Despite LCBO Bullying
Apr. 28 - Toasting Mom with France's Finest
Apr. 21 - Prime Time for California
Apr. 7 - Delicious Ciders that won't break the Easter bank
Mar. 31 - Racy Rieslings ~ Perfect Springtime Sippers
Mar. 24 - Quest for the Best of Portable Potables ~ The Battle of the Boxes
Mar. 17 - For the love of the Irish ~ A Greek wine for St. Patrick's Day
Mar. 10 - VDN to the rescue ~ Sublime sweet bargains from southwestern France
Mar. 3 - Canada's greatest pinot noir? ~ If you can't find the best, try LCJ's less expensive bargains


Become an FBTI Supporter today
Get Michael Vaughan's Buying Guide
for September 29th & October 13th Vintages Release
Click Here
Southern French Accents
© Michael Vaughan 2007
National Post Weekly Wine & Spirits Columnist
Saturday, September 29, 2007
To see this article as it appears in the National Post click here
CLICK ON THE NAME
All listings are automatically linked to the LCBO database
If there is a product that interests you, just click on the name below and you will instantaneously connected with the LCBO database. The product will appear in blue and all you have to do is click on the name again and then the next screen will provide details along with the store search. Just click on store search. The number of bottles in each store is updated nightly. Call the store first to see if stock still remains (each store phone number is listed).
Today's "Southern Accents" Vintages release focuses on the wines from Provence (1), Midi (4) and the Rhône (17). Given the abundance of great values coming from this region, I was distraught that I didn't find any fantastic buys. Sadly, the Vintages buying team has excluded many best buys by insisting on higher entry prices.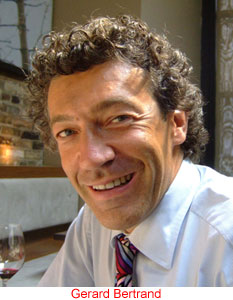 Speaking of this region, I met with Gérard Bertrand who was launching "La Cuvée des Nombres" a series of varietally-labeled wines from the southern Languedoc, each with a different number. Bertrand also happens to be the owner of Château l'Hospitalet 2005 La Réserve Rouge (682492), which was released on April 28, 2007 at $18.95. At the time, this tasty red was my release highlight. Upon checking, I was surprised to see that small quantities were still remaining in over 50 LCBO stores.
In case you missed it, this vibrant blend of 40% Syrah, 30% Grenache and 30% Mourvèdre has cassis, ripe plum and juicy cherry flavours. After retasting the Vintages release last Tuesday, I came home and opened a bottle. It is still a number one buy and would be perfect with a rack of lamb
Only two new reds in today's French release are under $17.95. Domaine de la Sauveuse 2004 Carolle Côte de Provence (43174), which is organic (only 6 mg/l free sulphur) is recommended at $16.95. This well-structured blend of Syrah, Grenache and Mourvèdre with some Cabernet Sauvignon has a very deep intense purple colour with stewed ripe plum and baked red cherry flavours. Try with roast beef.

Domaine Grosset 2004 Cairanne Côtes du Rhône-Villages (33852) at $17.95 is another fine buy. This blend of 50% Grenache, 25% Syrah and 25% Mourvèdre comes from comes from Cairanne, one of the four original villages entitled to use this appellation. It has ripe plum and gently juicy black cherry flavours with a lingering vanilla stick finish. Ready to enjoy today, it would be perfect for your Thanksgiving turkey.

If duck is on your menu, I suggest you try the slightly smoky Clos Bagatelle 2003 Veillée d'Automne (41863) at $20.95. This Saint-Chinian consists of the same three grapes as Grosset above, but in different proportions. Coming from a hotter vintage, it has lots of ripeness and some complexity with tangy, plummy, black cherry purée flavours.
Best red of the group (the only one with three star status) is Hermitage 2004 Seigneur des Coteaux (33860) from the Rhone at $59.95. This "unfiltered wine" has a deep purple red colour and great mouthfeel. It has great complexity with solid, slightly earthy, spicy, warm plum and harmonious ripe cherry flavours.

Two best buy whites come from other regions. The first is a charmer from Italy's Fruili region. di Lenardo 2006 Pinot Grigio dal Vigneto Vigne Dai Vieris (710012) at $14.95 has attractive, floral, fresh pear aromas and harmonious, fruity flavours.
If you are looking for something with some sweetness, Puklus 2006 Tokaji Yellow Muscat (46508) at $13.95 is worth considering. This flavoursome Hungarian white would be great with spicy cuisine. It is medium-light bodied with bright, yellow plum and gentle lychee-Muscat flavours.

Hidden away is an in-store discovery is Cono Sur 2006 Vision Gewurztraminer (912949) at $13.95. This pretty, very spicy effort from Chile's Casablanca Valley has intense, honeyed, lychee flavours and a refreshing finish. You can taste it at the upcoming annual Chilean Wine Fair on Wednesday, October 3 at The Distillery Historic District (for information click here).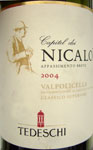 Finally, the best buy red of the release is Tedeschi 2004 Capitel dei Nicalo Valpolicella Classico Superiore (984997) at $16.95. Complex and gently earthy, the spicy, well structured, ripe plum and cherry flavours show lovely persistence on the palate.

2001 - 2007 Tasting Note Database
Our tasting note database from December 31, 2000 to August 2007, covers every Vintages release product for the past 81 months. There are more than 15,000 notes in the database data. Just enter the name of the product, supplier name or CSPC number. Or you can search by type of wine, country of origin, even wine agent! Nothing could be easier. Also you can get information on the agent by clicking on the agent's name, as well as current LCBO store inventory by clicking on "Check LCBO Availability", which will automatically tell you the number of bottles at LCBO as of last night.
To use our Tasting Notes Database: click here

** For All Visitors **
Vintages Releases
To see the complete list of upcoming products from the
September 29 release, including In-Store Discovery items,
click here (sorted by date of release).
You can also see it sorted by agent click here
To see the complete list of upcoming products from the
October 13 release, including In-Store Discovery items,
click here (sorted by date of release).
You can also see it sorted by agent click here
Copyright Food & Beverage Testing Institute of Canada 2007
Prior written permission is required for any form of reproduction
(electronic or other wise) and or quotation.
Contact Michael Vaughan at
mbv@total.net