Recent Articles
Jan. 26 - 2005 A Miracle Vintage ~ Tumultuous Week of Highs and Lows
Jan. 19 - Looking for Value? ~ Wines from Argentina to the Rescue
Jan. 12 - Looking Back - Looking Ahead ~ Spanish Wines Looking Up
Dec. 29 - Having a Sparkling New Year's Eve
Dec. 22 - Sumptuous Sippers ~ For days with Slippers
Dec. 15 - Wine Awards Canada - Charting 339 of Ontario's Best ~ Toasting Ontario's Best Sparklers from Brut to Gently Sweet
Dec. 8 - A Sparkling Vintages Release ~ But buy carefully
Dec. 1 - Holiday Gifting ~ The twin pack is the way to go
Nov. 24 - Eight Buys from Today's Vintages Release
Nov. 17 - Introducing the Signature Selection
Nov. 10 - 2005 Burgundy ~ The wine gurus like it!
Nov. 3 - Magic in Montreal ~ Le Marché an Inspiration for Local Wineries
Oct. 27 - Scary Times at Vintages ~ From Tricks to Treats
Oct. 13 -Today at Vintages ~ Bordeaux and Much More
Oct. 6 - Wine Auction Fever ~ Confessions of a Wine Auction Junkie ~ Forget Screaming Eagle and pass the Rum
Sep. 29 - Southern French Accents
Sep. 22 - Perfect for an Autumn day ~ Is that a bottle of spicy wine under your kilt?
Sep. 15 - A Celebration of the Ontario's harvest ~ Faces behind great wines
Sep. 8 - Reel Wines for Real Film Lovers ~ Can't snuggle? Here's what to smuggle! ~ Plus Ontario Recommendations
Sep. 1 - Dust off your Lederhosen ~ Austrian Wines Finally Unleashed in Vintages
Aug. 25 - Summer Twilight Selections ~ Spanish Synergy
Aug. 18 - The Wines of Chile ~ Soaring to the peaks of the Andes
Aug. 11 - Discovering Greece - a wine odyssey ~ Splendid Assyrtiko from Santorini
Aug. 4 - Spain - From the Classics to the Cutting Edge ~ Revving up for Rioja
Jul. 28 - Days of Wine & Roses no more! ~ Under $10 wines a rare breed
Jul. 21 - Que Sera, Syrah ~ Big, Smoky and Beautiful
Jul. 14 - Finding the best wine matches ~ Sizzling Seafood at Scaramouche
Jul. 7 - Sizzling Sauvignon Blanc ~ Vintages Best Buy Whites
Jun. 30 - In search of the Ontario Idol ~ Tracking down the best for Canada Day
Jun. 23 - Vintages Price Hikes ~ Hitting the customer where it hurts
Jun. 16 - Life After Yellow Tail
Jun. 9 - Rosé Rules ~ From serious to casual, unearthing that ambidextrous rosé
Jun. 2 - The ones that didn't get away! ~ Unearthing recent best buys - all under $20
May. 26 - New Zealand's Natural Gems ~ The best of whites
May. 19 - Alsatian with that Crustacean?
May. 12 - Paradoxical Portugal ~ Old World Grapes with New World Appeal
May. 5 - Toronto's First Private Import Wine Fair ~ Private Imports Picking up Steam Despite LCBO Bullying
Apr. 28 - Toasting Mom with France's Finest
Apr. 21 - Prime Time for California
Apr. 7 - Delicious Ciders that won't break the Easter bank
Mar. 31 - Racy Rieslings ~ Perfect Springtime Sippers
Mar. 24 - Quest for the Best of Portable Potables ~ The Battle of the Boxes
Mar. 17 - For the love of the Irish ~ A Greek wine for St. Patrick's Day
Mar. 10 - VDN to the rescue ~ Sublime sweet bargains from southwestern France
Mar. 3 - Canada's greatest pinot noir? ~ If you can't find the best, try LCJ's less expensive bargains


Become an FBTI Supporter today
Get Michael Vaughan's Buying Guide
for September 1st & 15th Vintages Release
Click Here
Summer Twilight Selections
Spanish Synergy
© Michael Vaughan 2007
National Post Weekly Wine & Spirits Columnist
Saturday, August 25, 2007
To see this article as it appears in the National Post click here
CLICK ON THE NAME
All listings are automatically linked to the LCBO database
If there is a product that interests you, just click on the name below and you will instantaneously connected with the LCBO database. The product will appear in blue and all you have to do is click on the name again and then the next screen will provide details along with the store search. Just click on store search. The number of bottles in each store is updated nightly. Call the store first to see if stock still remains (each store phone number is listed).
I am sitting in the garden watching shafts of sunlight dance through my perfect glass of pink. There is something magic about the summer's twilight that makes rosé taste fresher and more sumptuous than ever. Good news - I have tracked down a tremendous buy on the LCBO general list.

From the Spain's Cataluña comes the light reddish coral coloured Torres de Casta 2006 Rosado (619916) at $11.15. This decisive blend of 65% Garnacha and 35% Carinena has vibrant, plummy, ripe strawberry flavours and a crisp, refreshingly dry finish. It shows wonderful versatility and is surprisingly well structured.
For those dreaming about a winter getaway, this and 32 other non-sparkling general list Spanish wines come with 5 bonus Air Miles. There is, however, a catch - isn't there always with the LCBO? You have to buy at least two bottles to get 10 Air Miles (up to 5 to get 25). Unfortunately, no information about this was posted in LCBO stores or on their website earlier this week. Happily, the LCBO has now extended the promotion until September 22nd. To see the list on Air Miles promotion click here.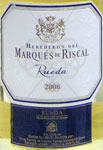 Of the last remaining two whites on the LCBO general list, the top scorer is Marques de Riscal 2006 Rueda Blanco (36822) at $11.45. This refreshing, stainless steel blend of 85% Verdelho and 15% Viura has light, tangy, lemon-melon flavours with a chalky, pear tinged finish. It comes with a convenient screwcap closure - something that would have been inconceivable a decade ago.
Of the 22 reds tasted, the top three in terms of scores come from Rioja. First at $19.15 is Montecillo 2001 Rioja Reserva (621003). The colour is typical for an older Rioja - very deep red with an ambering edge. The nose shows good complexity - roasted ripe plum and dried cherry notes with refined cedar notes. Ditto for the palate, which is both smooth and lingering. This and other mature Riojas tend to be perfection with steak.
In second spot with just one-half point less is Marques de Riscal 2003 Rioja Reserva (32656) at $23.75. It is still very youthful with an intense deep purple colour. It is more of a Robert Parker Jr. styled red - intense, mouthfilling and extracty. The rather cedary, dried plum, woodsy, sun dried tomato flavours needs time (2-3 years) to mellow.

In third spot is Montecillo 2003 Rioja Crianza (144493) at $14.75, which is a definite best buy. Look for well structured, plummy, dusty red cherry flavours with a lingering, cedar tinged, dried strawberry finish. This is very accessible and has wide appeal.

Just a bit more expensive at $16.15 is my personal favourite: Miguel Torres 2005 Atrium Merlot (621755). This 100% Merlot from the Penedès region oozes ripe black cherry fruitiness. Aged for 6 months in French Allier (20% new), it finishes with lovely, mocha-cedar notes.
Moving on to some great Vintages buys for the upcoming holiday weekend. If you have been searching for that definitive Bordeaux, don't miss the sublimely delicious 2003 Château de la Rivière (653147) a steal at $32.95. Based on Merlot with small amounts of Cabernet Sauvignon, Cabernet Franc and Malbec, it comes from the commune of Fronsac on the right bank just west of Libourne.
It has solid, rich, ripe plum, smoky lime-mocha-chocolate flavours with a terrific finish. Great for roast beef or a rare steak, it should be decanted a couple of hours before serving. At present, it's even tastier than some first growths. Dollar for dollar, it is the best Bordeaux of the year!
In the cheap and very cheerful department is my current Vintages best buy white from Argentina's Mendoza region: Alta Vista 2006 Premium Torrontés (37127) at $12.95. Sublimely expressive, the intense, spicy, Muscat-lychee flavours are a perfect foil to spicy appetizers, as well as hot Thai and Indian cuisine. Enjoy.
Vintages and General List Delisting Sale
Starting on Monday, August 20th, some 24 Vintages products will be put on sale. To see the detail list click here. On the same day there will also be 3 General List Spirits that will be put on sale, click here to see the list. Also check out the list of 70 products in the Vintages VQA Delisting sale that started on last Monday, August 13th. To see the detail list click here.
2001 - 2007 Tasting Note Database
Our tasting note database from December 31, 2000 to August 2007, covers every Vintages release product for the past 81 months. There are more than 15,000 notes in the database data. Just enter the name of the product, supplier name or CSPC number. Or you can search by type of wine, country of origin, even wine agent! Nothing could be easier. Also you can get information on the agent by clicking on the agent's name, as well as current LCBO store inventory by clicking on "Check LCBO Availability", which will automatically tell you the number of bottles at LCBO as of last night.
To use our Tasting Notes Database: click here

** For All Visitors **
Vintages Releases
To see the complete list of upcoming products from the
August 18 release, including In-Store Discovery items,
click here (sorted by date of release).
You can also see it sorted by agent click here
To see the complete list of upcoming products from the
September 1 release, including In-Store Discovery items,
click here (sorted by date of release).
You can also see it sorted by agent click here
To see the complete list of upcoming products from the
September 15 release, including In-Store Discovery items,
click here (sorted by date of release).
You can also see it sorted by agent click here
Copyright Food & Beverage Testing Institute of Canada 2007
Prior written permission is required for any form of reproduction
(electronic or other wise) and or quotation.
Contact Michael Vaughan at
mbv@total.net