Become an FBTI Supporter today
Get Michael Vaughan's Buying Guide
for October 27th & November 10th Vintages Release
Click Here
Best of the West
© Michael Vaughan 2007
National Post Weekly Wine & Spirits Columnist
Saturday, October 20, 2007
To see this article as it appears in the National Post click here
CLICK ON THE NAME
All listings are automatically linked to the LCBO database
If there is a product that interests you, just click on the name below and you will instantaneously connected with the LCBO database. The product will appear in blue and all you have to do is click on the name again and then the next screen will provide details along with the store search. Just click on store search. The number of bottles in each store is updated nightly. Call the store first to see if stock still remains (each store phone number is listed).
I have just finished judging BC's annual 2007 Okanagan Fall Wine Festival. The judging took place over three days with two panels of three tasters. The only time we all tasted together was for the final for the final gold medal taste off.

Having participated in BC competitions for more than a decade, the improvement in Okanagan wines since the 1990's has been mind-boggling. It's not just better grapes and technology, but the impact of climate change has had a profound effect on ripeness and flavour.
Ironically, the biggest threat facing producers is excess demand. With only 5,000 acres, most Okanagan wineries sell everything they produce. As it is much more profitable to sell at the winery, sales to liquor boards have been dramatically reduced. In fact, most BC (and Ontario) wines now available on the general list are now the non-VQA "Cellared in Canada" off-shore blends, which utilize imported bulk imports costing as little as 30-cents-a-litre.
Getting down to the basics, of 363 wines presented, I judged 225 in flights grouped by grape variety. In a nutshell, here are my top scoring wines. Starting with the whites, my top scoring Chardonnay was the outstanding Therapy Vineyards 2006 Chardonnay, followed by '06 Golden Mile Cellars and '06 Arrowleaf Cellars.
Compared to last year, some whites showed dilution due to higher cropping levels. A "good" year (in this instance meaning prolific) doesn't always mean that the wines will be better. This was especially true in the Pinot Gris class. Out of 23 entries, only two entries got gold ('06 Burrowing Owl was the best).
As for Riesling (15 entries), my only gold went to Vincor's well-made Jackson-Triggs 2006 Proprietors' Reserve Dry Riesling. Nothing, however, compared to last year's stunning Tantalus Vineyards 2005 Riesling. Despite receiving my top score, it ended up with no award due to low scores from most of the other judges. Its very tangy, intense, classic, Germanic-styled, mineral-driven, ripe lemon-melon-apple-lime flavours didn't have universal appeal.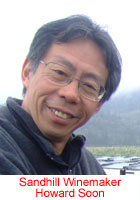 Of the 17 entries, the top Gewurztraminer for me was '06 Arrowleaf Cellars. Other white highlights: Sandhill 2006 Pinot Blanc and Sumac Ridge 2006 Meritage White, which got one of my highest scores and is also part of Vincor. Owning such a large portfolio of BC producers, Vincor deservedly garnered the lion's share of gold medals: 10 for JT (Jackson-Triggs) plus another 11 spread over 4 additional wineries.
Moving on to the reds, the Syrah class with 6 golds (35%) out of 17 entries were the best performers. My top selection was the delicious 2005 J-T Proprietors' Grand Reserve Shiraz. The now sold-out 2003 was released in Vintages on June 9th at $23.95. Gold medals also went to '05 Sandhill (regular and small lot), '05 Burrowing Owl, JT '05 Proprietors' Reserve and the lower priced JT '05 Sun Rock.
The Pinot Noir class was split between two panels. While I tasted all 26 entries, I was not on the panel that judged my two highest-scoring entries: Golden Mile Cellars 2006 Black Arts Pinot Noir and '05 Noble Ridge. Sadly, both of them only ended up with silver. My only other gold Nk'Mip Cellars 2005 Qwam Qwmt Pinot Noir also ended up with silver. While this year's Pinot Noir class didn't shine (there were a number of serious disappointments), it seemed harder than ever to get agreement among the judges.

With very few exceptions, none of the award winners are available here. However, there is one - the silver medal winning Mission Hill 2005 Reserve Pinot Noir (545012), which is still in Vintages at $ 24.95. It's big with slightly spicy, plummy, baked cherry flavours and a lingering cedar-tinged finish. Just 18 months earlier, the previous vintage went for modest $18.95. Prices are on a roll.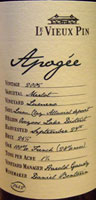 Talking about prices, I discovered the best Canadian Merlot ever made at a tiny new winery I just happened to visit. The lush, well-structured, ripe cassis and black cherry driven Le Vieux Pin 2005 Apogée is quite astounding and at $65 worth every penny. Tiny yields (only 1.75 tons per acre with 3,300 plant density) resulted in tremendous fruit concentration and a whopping 15.1% alcohol. Despite the latter, it is beautifully balanced. For information on the winery click here.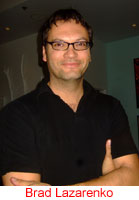 Like all competitions, many fine wines were not entered due to limited availability. Thankfully, I was able to enlist the help of chef extraordinaire Brad Lazarenko, owner of Pasa Tempo Restaurant, Okanagan's top culinary destination at the deluxe Spirit Ridge Vineyard Resort & Spa in Osoyoos. Brad's cutting edge wine list reflects his outstanding palate and is a great place to discover the best of the west. To discover this great destination, complete with its gorgeous golf course, adjoining Nk'Mip Winery and Nk'Mip Desert Cultural Centre click here. To see the Pasa Tempo wine list click here.
To see the full list of gold and silver medal-winning wines click here.
Details on touring the Okanagan region are also on my website. Let me add Theos Restaurant to the list of great dining destinations. Located in Penticton, this large, unpretentious restaurant that served truly delicious Greek cuisine. To see click here.

Coming Up
Saturday, October 20 - Chocolate Ball 2007
[Toronto]
This event will present a 150 ft. Chocolate Buffet consisting of everything Chocolate including Cocoa/Chocolate infused foods by several of Toronto chefs. The Chocolauction will return with chocolate being included in every item being offered up for bid. And there are the various chocolate alcoholic and nonalcoholic drinks, the door prizes, the raffles, the gift bag and more. Held at Palais Royale Ballroom - 1601 Lakeshore Blvd. W.
Tickets are $175 per person, call 905-593-1608 or visit www.TheChocolateBall.ca
Monday, October 22 - Port and Douro Wines Tasting
[Toronto]
Held at Design Exchange - 234 Bay StreetBrasaii Bistro, from 5:30 to 7:30 pm. For reservation and more information call 514-845-2257 or email ivdp@mtl.cohnwolfe.com or click here.
Tuesday, October 23 - Languedoc and Roussillon Tasting
[Toronto] - SOLD OUT
Held at Brasaii Bistro - 451 King St. W. There will be 2 tasting and seminar options for the day, the first is 10:00 am to 12:00 pm seminar followed by 12:00 to 2:00 pm luncheon, and the second is 12:00 to 2:00 pm luncheon followed by 2:00 to 4:00 pm seminar.
This event has been sold out.
Tuesday, October 23 - Toronto Symphony Gala Dinner
[Toronto]
Held at The Carlu - 444 Yonge Street, 7th Floor, starting at 6:30 pm. The evening will include a silent and live auction offering decadent trips, hotel getaways and other items. Tickets are $350 per person. For more information contact Toronto Symphony Volunteer Committee at 416- 593-7769 ext. 358 or visit www.finewinefestival.com.
2001 - 2007 Tasting Note Database
Our tasting note database from December 31, 2000 to September 2007, covers every Vintages release product for the past 82 months. There are more than 15,000 notes in the database data. Just enter the name of the product, supplier name or CSPC number. Or you can search by type of wine, country of origin, even wine agent! Nothing could be easier. Also you can get information on the agent by clicking on the agent's name, as well as current LCBO store inventory by clicking on "Check LCBO Availability", which will automatically tell you the number of bottles at LCBO as of last night.
To use our Tasting Notes Database: click here

** For All Visitors **
Vintages Releases
To see the complete list of upcoming products from the
October 27 release, including In-Store Discovery items,
click here (sorted by date of release).
You can also see it sorted by agent click here
To see the complete list of upcoming products from the
November 10 release, including In-Store Discovery items,
click here (sorted by date of release).
You can also see it sorted by agent click here
Copyright Food & Beverage Testing Institute of Canada 2007
Prior written permission is required for any form of reproduction
(electronic or other wise) and or quotation.
Contact Michael Vaughan at
mbv@total.net