Become an FBTI Supporter today
Get Michael Vaughan's Buying Guide
for January 5th & 19th Vintages Release
Click Here
New Year Bargains at Vintages
© Michael Vaughan 2008
National Post Weekly Columnist
Saturday, January 5, 2008
CLICK ON THE NAME
All listings are automatically linked to the LCBO database
If there is a product that interests you, just click on the name below and you will instantaneously connected with the LCBO database. The product will appear in blue and all you have to do is click on the name again and then the next screen will provide details along with the store search. Just click on store search. The number of bottles in each store is updated nightly. Call the store first to see if stock still remains (each store phone number is listed).
Of the 84 items in today's Vintages release, 27 are in the "What's new" theme focusing on "fresh faces from surprising sources." Unfortunately, real surprises are few and far between and, in terms of quality-price ratios, some are ho-hum.
Leading off the release, the catalogue focuses on two somewhat overpriced California Central Coast reds. Shelling out $19.80 for the cooked 2005 Echelon Merlot doesn't inspire. Perhaps this is why the Sideways duo didn't love Merlot. An uninspiring, tart, clove-tinged Mahn 2005 Cabernet Sauvignon at $15.85 isn't much better. Obviously, some California producers had problems with the 2005 vintage.
Another surprise is Vintages' catalogue "tasting tip" suggestion recommending sparkling water as a palate cleanser. Ask any professional taster and the answer will be: still filtered water yes, bubbly never! Why? Because sparkling water tends to dull the palate.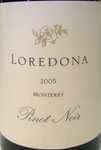 Thankfully, there are some well-priced buys. From California's Monterey County comes Loredona 2005 Pinot Noir (57620) at $18.80, which actually tastes like Pinot Noir. Bright and fairly well structured, the plummy, dried ripe red cherry flavours dance on the tongue along with its cedar-tinged finish.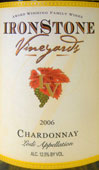 In the white department, it's a thumb's up for Ironstone 2006 Chardonnay (355776) at $15.85. It's dry and tangy with tasty ripe, lemon-melon-pear flavours and a lingering, gently toasty finish. A ready-to-drink, versatile, crowd-pleaser.

Next, two possibilities from France. First, from the Loire, the spicy, floral, yellow grapefruit-tinged Domaine de l'Aumonier 2006 Le Touraine Blanc Sauvignon (62307) at $13.85. With its slightly grassy finish, it's ready to enjoy and best with seafood or poultry.

The second is an off-the-beaten-path Vin de Savoie from the French Alps bordering Switzerland. Domaine Perrier 2006 Chignin (62034) at $14.85 is a very refreshing, change of pace white that would do wonders with a cheese fondue. The ripe lemon-grapefruit flavours come from the Jacquère grape grown in the designated areas surrounding the village of Chignin. Here is one to stump your wine-savvy friends.

While the Hungarian Irsai Oliver grape isn't exactly new at Vintages (five releases since 2000), I always enjoy its intense, very spicy, lychee-Muscat flavours. St. Donatus 2005 Irsai Olivér Balatonlellei (12070) at $11.85 is a dry, medium-light bodied edition that will marry perfectly with hot Chinese/Thai cuisine. A cross between Pozsony and Pearl of Csaba, it was originally developed in the 1930's as a table grape and flourishes in the Lake Balaton Lake region.
Of eight best buy Vintages reds, it's great to finally find something under $13 (six in total) to crow about. It seems that Vintages' plunderous upward pricing thrust has paused, perhaps the result of serious complaints in three Toronto newspapers.

Since my 2001 tour/judging, my infatuation with Argentina's Malbec continues to grow. Dona Paula 2005 Los Cardos Malbec (48322) at $12.85 is a great buy with its slightly smoky, plum, red pepper and dried cherry flavours. Also, don't miss Zolo Reserve 2004 Cabernet Sauvignon (54098) at $16.85 with its rich, complex, plummy, baked cherry flavours with a lingering mocha finish.

For Bordeaux fans, I heartily recommend a sleeper from Bergerac, a region of southwest France. At only $13.85, there's nothing cheesy about Château La Brie 2003 Cuvée Prestige (61994). This ready-to-enjoy blend of Cabernet Sauvignon and Merlot has refined, ripe plum and gently juicy cherry flavours with a harmonious finish. Of 13,500 bottles produced, Vintages snagged 3,600 of them. Congrats!

As for a great dessert wine, don't miss Muscat de Limnos (61119) at $11.85. Made in the Greek island of Limnos and fortified to 15% alcohol, it is very sweet, lush, caramel and raisin flavours. Perfect for wintry day.

2001 - 2007 Tasting Note Database
Our tasting note database from December 31, 2000 to December 2007, covers every Vintages release product for the past 84 months. There are more than 16,000 notes in the database data. Just enter the name of the product, supplier name or CSPC number. Or you can search by type of wine, country of origin, even wine agent! Nothing could be easier. Also you can get information on the agent by clicking on the agent's name, as well as current LCBO store inventory by clicking on "Check LCBO Availability", which will automatically tell you the number of bottles at LCBO as of last night.
To use our Tasting Notes Database: click here

** For All Visitors **
Vintages Releases
To see the complete list of upcoming products from the
January 5 release, including In-Store Discovery items,
click here (sorted by date of release).
You can also see it sorted by agent click here
To see the complete list of upcoming products from the
January 19 release, including In-Store Discovery items,
click here (sorted by date of release).
You can also see it sorted by agent click here
Copyright Food & Beverage Testing Institute of Canada 2008
Prior written permission is required for any form of reproduction
(electronic or other wise) and or quotation.
Contact Michael Vaughan at
mbv@total.net