Become an FBTI Supporter today
Get Michael Vaughan's Buying Guide
for November 24th Vintages Release
Click Here
Eight Buys from Today's Vintages Release
© Michael Vaughan 2007
National Post Weekly Columnist
Saturday, November 24, 2007
CLICK ON THE NAME
All listings are automatically linked to the LCBO database
If there is a product that interests you, just click on the name below and you will instantaneously connected with the LCBO database. The product will appear in blue and all you have to do is click on the name again and then the next screen will provide details along with the store search. Just click on store search. The number of bottles in each store is updated nightly. Call the store first to see if stock still remains (each store phone number is listed).
Today's Vintages release focuses on red wines. The fact that only two of the 92 items listed are under $15.95 is enough to make many customers see red. Vintages is doing everything it can to force customers into spending more so they can increase their profitability. For a monopoly to achieve this by not making available worthy lower priced wines is bad karma.

Starting with whites, here are my top picks. One of the least expensive whites in the release comes from Alsace. While it is totally dry, because it is loaded with honeyed, spicy, lychee flavours, you would swear that it seems sweetish. It's a style that you either love of hate. Nevertheless, Gisselbrecht 2005 Gewurztraminer Réserve Spéciale (678003) at $15.95 is a head turner and would go well with hot, spicy Thai/Indian dishes. This 2005 is infinitely better than the 2004 released two years ago at $16.95.

With a huge group of me-too California Chardonnay out there, it is refreshing to come across a genuine bargain. To begin with Beringer 2005 Third Century Chardonnay (47696) at $23.95 has real character. Made from Central Coast grapes, the nose shows great complexity with buttered toast and key lime pie notes. It is dry, bright and medium-full bodied on the palate with lovely ripe lemon meringue and key lime pie flavours, plus a fine thread of acidity on the lingering finish. One of the best values tasted; too bad it wasn't presented by Vintages to their own consultants.
If you like Sauvignon Blanc that doesn't scream grass and herbs, here's something from the Loire that will keep your oysters snapping. 2006 Clos des Criots Pouilly-Fumé (57778) at $24.95 offers fine value with its harmonious, ripe melon flavours and tangy yellow grapefruit tinged finish.
As a fan of classic sweet German wines, here's a terrific winter white. From the Mosel and at only $23.95, Studert-Prum 2005 Riesling Spätlese Wehlener Sonnenuhr (912659) is a real mouthful literally and figuratively. One sip and your seduced by its honeyed, ripe, fresh wintermelon flavours that linger on the palate with lovely hints of schisty lime. A perfect crowd-pleaser and delicious by itself.

Moving on to the reds, here are my top four. Because great well-priced Bordeaux is so hideously hard to find, I have two recommendations. The first at $51.95 is a best value release highlight. 2003 Château de Pez (717389) may only be a Cru Bourgeois Exceptionnel but this Saint-Estèphe from the most northern Medoc rocks. Marvelous on the nose and palate with complex, harmonious, plummy, ripe cherry and subtle lime flavours with lingering, sandalwood-mocha notes. It's surprising accessible at the moment.
Somewhat richer and earthier is 2003 Château l'Arrosée (46730) at $61.95 with its ripe plum and baked cherry flavours and long, slightly oaky finish. Designated as a St-Émilion Grand Cru Classé, this would be perfect with a rack of lamb.
From a number of exciting Italian entries, the definitive best buy at $29.95 is the delicious 2004 Crognolo (727636) at $29.95. For the money, it doesn't get much better than this IGT Toscana. The lovely, complex, plummy, ripe cherry nose is followed up by ultra-seductive flavours and a lingering finish. Three thumbs up.
One of the least expensive best buys for current drinking is Casa Emma 2004 Chianti Classico (56952) at $20.95. It is harmonious, pleasingly dry and bitter-free with bright, plummy, tangy, gently juicy, ripe cherry flavours. A well-made, wide-appeal red that will go with almost anything.
Readers in search of this month's wine deals can check out current LTOs (limited time offers) by clicking here.
Nouveau 2007 Release
This section details the six Nouveau products released on November 15, 2007. Five of the wines will be available in the General List (marked GL) and one wine will be in the Vintages (marked V).
This is the first time that the LCBO has refused to preview the wines with the wine writers. The result is zero coverage on a release entailing 12,500 cases. This is a great loss to producers, agents and consumers.
Here are the notes directly from my Vintage Assessments newsletter, which was sent to subscribers on November 16th. All the notes are based on a single sampling.
France - Beaujolais
GL 891846 GAMAY NOUVEAU 2007 $8.95
(George Duboeuf) Light & Peppery *
(12%) (1480 cases) [Phi Dan]
Very bright medium violet purple colour. Dusty plum nose with herbal notes. Tart, very dry, rather thin, crisp, slightly bitter, dried plum flavours. Disappointing. Screwcap closure. Chill well.
GL 897934 BEAUJOLAIS NOUVEAU 2007 $13.25
(Mommessin) Bight & Tangy *+
(12%) (2000 cases) [Aut Win]
Very bright medium violet purple colour. Dry, crisp, medium-light bodied, tangy ripe plum flavours with a refreshing finish. Lot: L32907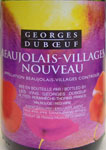 RECOMMENDED
V 932780 BEAUJOLAIS-VILLAGES NOUVEAU 2007 $15.95
(George Duboeuf) Fresh Ripe Plums **/**+
(12%) (2000 cases) [Phi Dan]
Deep purple colour. Fresh ripe plum nose. Dry, medium-light bodied, bright, crisp, tangy ripe plum and raspberry flavours with a crisp finish. Lot: L229077
France - Languedoc


RECOMMENDED • Best Buy
GL 899948 SYRAH PRIMEUR 2007 $9.95
(Maison Jean Jean) Bright, Light & Tangy *+/**
(12.5%) (1900 cases) [Eur Int]
Very bright medium violet purple colour. Pleasant, spicy ripe plum nose. Dry, crisp, gently spicy, very pleasant, plummy dried cherry flavours with a lingering finish. Lot: L7/292B
Italy - Alto Adige/Trentino
GL 669275 NOVIO VINO NOVELLO 2007 $9.95
(Cantine Mezzacorona) Plums & Apples */*+
(12%) (1176 cases) [Dio Win]
Medium violet purple colour. Spicy, pleasant, ripe apple-plum nose. Dry, spicy, medium to medium-light bodied, fairly pleasant, fairly soft, dry, ripe plum flavours with a touch of red apple.
Italy - Veneto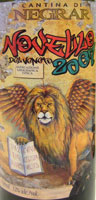 RECOMMENDED • Best Buy
GL 899955 NOVELLO DEL VENETO 2007 $9.45
IGT Spicy Ripe Plums *+/**
(Cantina Sociale Valpolicella) (12%) (2535 cases) [Sch Age]
Intense purple violet colour. Spicy, pleasant, ripe plum nose. Dry, medium to medium-light bodied, slightly spicy, tangy plum and fresh red apple flavours. Lot: L0725
Coming Up Monday, November 26th
Fourth Annual Wine Tasting Challenge
This event is a fun competition that challenges amateurs and professionals to identify the grape varietal, country/region of origin and vintage of a diverse range of international wines. It is sponsored by The Renaissance Project and Cool Climate Oenology and Viticulture Institute under the watchful eye of the founder/executive producer Phil Sabatino of Via Allegro Ristorante. Participation in the challenge is by appointment only and registration is free of charge. A serious list of outstanding prizes will be awarded to the winning contestants. It all takes place on the 32nd floor of the Four Seasons Hotel in Toronto. For more information please contact Jenn at 1- 905-688-5550 x4949 or email registration@winetastingchallenge.com or visit www.winetastingchallenge.com
2001 - 2007 Tasting Note Database
Our tasting note database from December 31, 2000 to October 2007, covers every Vintages release product for the past 83 months. There are more than 15,000 notes in the database data. Just enter the name of the product, supplier name or CSPC number. Or you can search by type of wine, country of origin, even wine agent! Nothing could be easier. Also you can get information on the agent by clicking on the agent's name, as well as current LCBO store inventory by clicking on "Check LCBO Availability", which will automatically tell you the number of bottles at LCBO as of last night.
To use our Tasting Notes Database: click here

** For All Visitors **
Vintages Releases
To see the complete list of upcoming products from the
November 10 release, including In-Store Discovery items,
click here (sorted by date of release).
You can also see it sorted by agent click here
To see the complete list of upcoming products from the
November 24 release, including In-Store Discovery items,
click here (sorted by date of release).
You can also see it sorted by agent click here
To see the complete list of upcoming products from the
December 8 release, including In-Store Discovery items,
click here (sorted by date of release).
You can also see it sorted by agent click here
Copyright Food & Beverage Testing Institute of Canada 2007
Prior written permission is required for any form of reproduction
(electronic or other wise) and or quotation.
Contact Michael Vaughan at
mbv@total.net