Recent Articles
Jan. 26 - 2005 A Miracle Vintage ~ Tumultuous Week of Highs and Lows
Jan. 19 - Looking for Value? ~ Wines from Argentina to the Rescue
Jan. 12 - Looking Back - Looking Ahead ~ Spanish Wines Looking Up
Dec. 29 - Having a Sparkling New Year's Eve
Dec. 22 - Sumptuous Sippers ~ For days with Slippers
Dec. 15 - Wine Awards Canada - Charting 339 of Ontario's Best ~ Toasting Ontario's Best Sparklers from Brut to Gently Sweet
Dec. 8 - A Sparkling Vintages Release ~ But buy carefully
Dec. 1 - Holiday Gifting ~ The twin pack is the way to go
Nov. 24 - Eight Buys from Today's Vintages Release
Nov. 17 - Introducing the Signature Selection
Nov. 10 - 2005 Burgundy ~ The wine gurus like it!
Nov. 3 - Magic in Montreal ~ Le Marché an Inspiration for Local Wineries
Oct. 27 - Scary Times at Vintages ~ From Tricks to Treats
Oct. 13 -Today at Vintages ~ Bordeaux and Much More
Oct. 6 - Wine Auction Fever ~ Confessions of a Wine Auction Junkie ~ Forget Screaming Eagle and pass the Rum
Sep. 29 - Southern French Accents
Sep. 22 - Perfect for an Autumn day ~ Is that a bottle of spicy wine under your kilt?
Sep. 15 - A Celebration of the Ontario's harvest ~ Faces behind great wines
Sep. 8 - Reel Wines for Real Film Lovers ~ Can't snuggle? Here's what to smuggle! ~ Plus Ontario Recommendations
Sep. 1 - Dust off your Lederhosen ~ Austrian Wines Finally Unleashed in Vintages
Aug. 25 - Summer Twilight Selections ~ Spanish Synergy
Aug. 18 - The Wines of Chile ~ Soaring to the peaks of the Andes
Aug. 11 - Discovering Greece - a wine odyssey ~ Splendid Assyrtiko from Santorini
Aug. 4 - Spain - From the Classics to the Cutting Edge ~ Revving up for Rioja
Jul. 28 - Days of Wine & Roses no more! ~ Under $10 wines a rare breed
Jul. 21 - Que Sera, Syrah ~ Big, Smoky and Beautiful
Jul. 14 - Finding the best wine matches ~ Sizzling Seafood at Scaramouche
Jul. 7 - Sizzling Sauvignon Blanc ~ Vintages Best Buy Whites
Jun. 30 - In search of the Ontario Idol ~ Tracking down the best for Canada Day
Jun. 23 - Vintages Price Hikes ~ Hitting the customer where it hurts
Jun. 16 - Life After Yellow Tail
Jun. 9 - Rosé Rules ~ From serious to casual, unearthing that ambidextrous rosé
Jun. 2 - The ones that didn't get away! ~ Unearthing recent best buys - all under $20
May. 26 - New Zealand's Natural Gems ~ The best of whites
May. 19 - Alsatian with that Crustacean?
May. 12 - Paradoxical Portugal ~ Old World Grapes with New World Appeal
May. 5 - Toronto's First Private Import Wine Fair ~ Private Imports Picking up Steam Despite LCBO Bullying
Apr. 28 - Toasting Mom with France's Finest
Apr. 21 - Prime Time for California
Apr. 7 - Delicious Ciders that won't break the Easter bank


Become an FBTI Supporter today
Get Michael Vaughan's Buying Guide
for September 29th & October 13th Vintages Release
Click Here
Wine Auction Fever
Confessions of a Wine Auction Junkie
Forget Screaming Eagle and pass the Rum
© Michael Vaughan 2007
National Post Weekly Wine & Spirits Columnist
Saturday, October 6, 2007
To see this article as it appears in the National Post click here
CLICK ON THE NAME
All listings are automatically linked to the LCBO database
If there is a product that interests you, just click on the name below and you will instantaneously connected with the LCBO database. The product will appear in blue and all you have to do is click on the name again and then the next screen will provide details along with the store search. Just click on store search. The number of bottles in each store is updated nightly. Call the store first to see if stock still remains (each store phone number is listed).
I have to confess - I am a wine auction junkie. I have been hooked ever since Dalton Robertson, former editor of the Financial Post, commissioned me to produce the first in-depth wine auction report to appear in the Canadian press. It was the fifth Heublein National Auction of Rare Wines in Atlanta (click here to see the original June 9, 1973 Financial Post article).
By today's standards, prices were unbelievably low. A rehoboam (equivalent to six bottles) of 1929 Chateau Mouton-Rothschild sold for $6,000, while a mint condition regular sized bottle of 1858 Chateau Lafite-Rothschild went for a paltry $1,100. Old wines were incredible bargains. As for more recent vintages, I complained that1966 Chateau Leoville Las Cases (a fine second growth St-Julien) had jumped from $4 a bottle three years earlier to a heady $20. The current 2003 edition sells for $390 at the LCBO - almost 20 times the 1973 price.
Investing in a $25 catalogue, which was pricey at the time, had its benefits. Anyone who bought one would have access to an enormous preview tasting where MW (Master of Wine) Michael Broadbent was pouring wines going back to 1850's. As compared to today's crowded venues, this sparsely populated event was sublime. Imagine being able to leisurely work your way through dozens of great1928/1929 Bordeaux.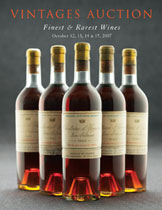 All of this came back when I recently talked to Barry O'Brien who organizes the annual Vintages auction. This year's event is the biggest ever. It will take place at Ritchies new galleries at 380 King Street East over four days - Friday, October 12 to Monday, October 17. There are 2,729 lots with estimates running from $100/200 to $20,000/25,000. Most are $800/1,000. The catalogue costs $20 (or $30 by mail).
For some, the best part about this event is the Gala Tasting being held at the Carlu on Thursday October 11 from 7-9 pm. Tickets are $300, which is cheap when you consider the stature of the 74 wines available for tasting. Only 32 of them actually come from the auction, the balance has been handpicked by O'Brien from various sources.
Having the opportunity to taste icons, such as the hideously expensive Screaming Eagle, is always enlightening. I found SE to be "interesting" but not my style - simply too much of everything. Nevertheless, it's fun to uncover some taste treats from oddball vintages at reasonable prices.
Of course, buyers must be aware that the provenance of the wine - basically how it was stored - is critical to how it will taste. I remember sampling a dozen perfect-looking bottles of 1970 Chateau Latour at a London auction preview. They were randomly taken from some sixty cases up for sale. Each one was cooked due to improper shipping/storage.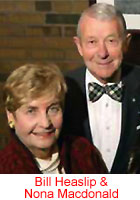 Fortunately, this isn't likely to occur with the wines from the estate of Bill Heaslip featured next Friday. Having shared many great bottles of Burgundy with the deceased, I can attest to the fact that he kept his cellar in excellent condition. All proceeds of Heaslip's wines are being donated to the Toronto Symphony Orchestra.

When it comes to spirits you don't have to worry about ageability. Check out the collection of 229 single malts split into 18 lots on Sunday. In this spirited vein I have discovered the ultimate Thanksgiving sipper: the sublimely elegant Havana Club Máximo Extra Anejo (50468) at $2,000 for 500 ml (or $118 per ounce). It is the finest rum I have ever experienced with a level of refinement and sophistication comparable to the very finest of Cognacs! Only 7 bottles remain at the Summerhill store.
To see the list of items being tasted in the Pre-Auction Gala Tasting click here. To see the electronic copy of the Auction Catalogue click here.
2001 - 2007 Tasting Note Database
Our tasting note database from December 31, 2000 to August 2007, covers every Vintages release product for the past 81 months. There are more than 15,000 notes in the database data. Just enter the name of the product, supplier name or CSPC number. Or you can search by type of wine, country of origin, even wine agent! Nothing could be easier. Also you can get information on the agent by clicking on the agent's name, as well as current LCBO store inventory by clicking on "Check LCBO Availability", which will automatically tell you the number of bottles at LCBO as of last night.
To use our Tasting Notes Database: click here

** For All Visitors **
Vintages Releases
To see the complete list of upcoming products from the
October 13 release, including In-Store Discovery items,
click here (sorted by date of release).
You can also see it sorted by agent click here
To see the complete list of upcoming products from the
October 27 release, including In-Store Discovery items,
click here (sorted by date of release).
You can also see it sorted by agent click here
To see the complete list of upcoming products from the
November 10 release, including In-Store Discovery items,
click here (sorted by date of release).
You can also see it sorted by agent click here
Copyright Food & Beverage Testing Institute of Canada 2007
Prior written permission is required for any form of reproduction
(electronic or other wise) and or quotation.
Contact Michael Vaughan at
mbv@total.net