Recent Articles
Jan. 26 - 2005 A Miracle Vintage ~ Tumultuous Week of Highs and Lows
Jan. 19 - Looking for Value? ~ Wines from Argentina to the Rescue
Jan. 12 - Looking Back - Looking Ahead ~ Spanish Wines Looking Up
Dec. 29 - Having a Sparkling New Year's Eve
Dec. 22 - Sumptuous Sippers ~ For days with Slippers
Dec. 15 - Wine Awards Canada - Charting 339 of Ontario's Best ~ Toasting Ontario's Best Sparklers from Brut to Gently Sweet
Dec. 8 - A Sparkling Vintages Release ~ But buy carefully
Dec. 1 - Holiday Gifting ~ The twin pack is the way to go
Nov. 24 - Eight Buys from Today's Vintages Release
Nov. 17 - Introducing the Signature Selection
Nov. 10 - 2005 Burgundy ~ The wine gurus like it!
Nov. 3 - Magic in Montreal ~ Le Marché an Inspiration for Local Wineries
Oct. 27 - Scary Times at Vintages ~ From Tricks to Treats
Oct. 13 -Today at Vintages ~ Bordeaux and Much More
Oct. 6 - Wine Auction Fever ~ Confessions of a Wine Auction Junkie ~ Forget Screaming Eagle and pass the Rum
Sep. 29 - Southern French Accents
Sep. 22 - Perfect for an Autumn day ~ Is that a bottle of spicy wine under your kilt?
Sep. 15 - A Celebration of the Ontario's harvest ~ Faces behind great wines
Sep. 8 - Reel Wines for Real Film Lovers ~ Can't snuggle? Here's what to smuggle! ~ Plus Ontario Recommendations
Sep. 1 - Dust off your Lederhosen ~ Austrian Wines Finally Unleashed in Vintages
Aug. 25 - Summer Twilight Selections ~ Spanish Synergy
Aug. 18 - The Wines of Chile ~ Soaring to the peaks of the Andes
Aug. 11 - Discovering Greece - a wine odyssey ~ Splendid Assyrtiko from Santorini
Aug. 4 - Spain - From the Classics to the Cutting Edge ~ Revving up for Rioja
Jul. 28 - Days of Wine & Roses no more! ~ Under $10 wines a rare breed
Jul. 21 - Que Sera, Syrah ~ Big, Smoky and Beautiful
Jul. 14 - Finding the best wine matches ~ Sizzling Seafood at Scaramouche
Jul. 7 - Sizzling Sauvignon Blanc ~ Vintages Best Buy Whites
Jun. 30 - In search of the Ontario Idol ~ Tracking down the best for Canada Day
Jun. 23 - Vintages Price Hikes ~ Hitting the customer where it hurts
Jun. 16 - Life After Yellow Tail
Jun. 9 - Rosé Rules ~ From serious to casual, unearthing that ambidextrous rosé
Jun. 2 - The ones that didn't get away! ~ Unearthing recent best buys - all under $20
May. 26 - New Zealand's Natural Gems ~ The best of whites
May. 19 - Alsatian with that Crustacean?
May. 12 - Paradoxical Portugal ~ Old World Grapes with New World Appeal
May. 5 - Toronto's First Private Import Wine Fair ~ Private Imports Picking up Steam Despite LCBO Bullying
Apr. 28 - Toasting Mom with France's Finest
Apr. 21 - Prime Time for California
Apr. 7 - Delicious Ciders that won't break the Easter bank
Mar. 31 - Racy Rieslings ~ Perfect Springtime Sippers
Mar. 24 - Quest for the Best of Portable Potables ~ The Battle of the Boxes
Mar. 17 - For the love of the Irish ~ A Greek wine for St. Patrick's Day
Mar. 10 - VDN to the rescue ~ Sublime sweet bargains from southwestern France
Mar. 3 - Canada's greatest pinot noir? ~ If you can't find the best, try LCJ's less expensive bargains
Feb. 24 - Cuvée 2007 ~ Ontario winemakers whoop it up
Feb. 17 - Pinot Noir Madness III ~ New Zealand takes another step forward
Feb. 10 - Burgundy Comes to Town ~ Despite Limited Vintages Buys ~ The Good News is Virtual Buying
Feb. 3 - Great Values South of the Equator ~ Both in Vintages & on the General List
Jan. 27 - Napa a go-go ~ Wine Parties vs. Tastings
Jan. 20 - Winemaker Niel Groenewald ~ Pushing the South African Envelope
Jan. 13 - Montreal Passion Vin ~ Delivering Excellence on Every Level
Jan. 6 - Off-the Beaten-Path Wines ~ Hard to Find in Today's Vintages Release


Become an FBTI Supporter today
Get Michael Vaughan's Buying Guide
for August 4th & 18th Vintages Release
Click Here
Days of Wine & Roses no more!
Under $10 wines a rare breed
© Michael Vaughan 2007
National Post Weekly Wine & Spirits Columnist
Saturday, July 28, 2007
To see this article as it appears in the National Post click here
CLICK ON THE NAME
All listings are automatically linked to the LCBO database
If there is a product that interests you, just click on the name below and you will instantaneously connected with the LCBO database. The product will appear in blue and all you have to do is click on the name again and then the next screen will provide details along with the store search. Just click on store search. The number of bottles in each store is updated nightly. Call the store first to see if stock still remains (each store phone number is listed).
The days of wine and roses are over, at least for Ontario consumers. Indeed, if the LCBO has its way, there won't be a penny left for the flowers. Unless, of course, LCBO stores start selling floral arrangements. Despite Vintages assurances that they are not pushing the price envelope, agents are telling me exactly the opposite. The message is loud and clear: raise prices or else.
Now that may be ok in a competitive system. But when a government monopoly controls all shelf space, it is seriously wrong. Worse yet, McGuinty has sanctioned this LCBO cash grab. Others are also pleased. Big domestic wine producers are laughing all the way to the bank. Rising import prices means they can raise Ontario wine prices. Also, being able to import finished, ready-to-drink, off-shore wine at prices below 40¢-a-litre (under 30¢ for whites) to produce "Cellared in Canada" blends means huge profits.
No matter how you dice the carrots, the consumer is getting the short - or is it long - end of the stick. For instance, how come you or I can't access that same cheap imported bulk red wine? This is the private domain of McGuinty's Ontario-based wine producing buddies. Add to this invisible LCBO floor prices and it means that you and I will never see these bargains in LCBO stores.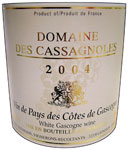 Sadly, it's getting worse. Just last week LCBO consultants were bemoaning the non-appearance one of my annual recommended best buy whites from France. Dry, crisp and peachy, Domaine des Cassagnoles first hit the Vintages shelves in 2001 at a mere $7.95. For six years, some 1,000 cases flew out of the stores each summer. Last year it jumped to $9.95 and still sold out. This year Vintages didn't order it. Why? The agent states: "we were told that the price was too low and they (Vintages) were no longer interested."
It's depressing to see Vintages reject bargain-priced wines that consumers want to buy. And yet it happens every day. It also seems that Vintages knowingly accepts sky-high quotations. The extra money can be rolled back into advertising in LCBO publications. What happened to getting the best prices? Did you know that the amount of money spent on LCBO merchandising carries more weight (40 points out of 100) in terms of getting a wine listed, than quality (only 20 points)? To see the official LCBO grading sheet click here.

Fortunately, there are still good under-$10 buys on the General List. The question is: for how long? Take Fazi Battaglia 2006 Verdicchio dei Castellini di Jesi (24422) nicknamed "Titulus" for short. It's fresh, dry, crisp and cool with subtle ripe lemon-melon flavours and just a faint hint of honey. Perfect for seafood and only $9.95 until August 19th.

Even cheaper is a tasty Portuguese red. At only $8.15 Caves Alianca 2005 Foral Douro Reserva (239046) from the Douro Valley is loaded with tangy, fresh plum flavours, which is best if served very slightly chilled.
If you think that it's bad on the wine front, then consider spirits. The unannounced Vintages "rapid release" of The Macallan 18 Years Old Highland Single Malt (214759) at $279.95 is now on the shelves. It's a great top scorer, but before rushing out to buy a case, consider the following. The same bottle sells for $233 in Quebec, $195.58 in Nova Scotia and only $155.35 in Alberta. For info call Calgary's Willow Park Wines & Spirits at 403-296-1640. If you are at the airport, call manager Gord Gary at Skyway Wine & Liquor at 403-250-5610 where it is $169.99
Vintages Delisting and Bin End Sale
Starting this today, 453 Vintages products will be put on sale. To see the detail list click here, use the 'npreader' password to access the list. Also check out the list of 88 products in the Vintages Delisting sale that started on last Monday, July 23rd. To see the detail list click here.
2001 - 2007 Tasting Note Database
Our tasting note database from December 31, 2000 to July 2007, covers every Vintages release product for the past 80 months. There are more than 15,000 notes in the database data. Just enter the name of the product, supplier name or CSPC number. Or you can search by type of wine, country of origin, even wine agent! Nothing could be easier. Also you can get information on the agent by clicking on the agent's name, as well as current LCBO store inventory by clicking on "Check LCBO Availability", which will automatically tell you the number of bottles at LCBO as of last night.
To use our Tasting Notes Database: click here

** For All Visitors **
Vintages Releases
To see the complete list of upcoming products from the
August 4 release, including In-Store Discovery items,
click here (sorted by date of release).
You can also see it sorted by agent click here
To see the complete list of upcoming products from the
August 18 release, including In-Store Discovery items,
click here (sorted by date of release).
You can also see it sorted by agent click here
To see the complete list of upcoming products from the
September 1 release, including In-Store Discovery items,
click here (sorted by date of release).
You can also see it sorted by agent click here
Copyright Food & Beverage Testing Institute of Canada 2007
Prior written permission is required for any form of reproduction
(electronic or other wise) and or quotation.
Contact Michael Vaughan at
mbv@total.net