Become an FBTI Supporter today
Get Michael Vaughan's Buying Guide
for November 24th Vintages Release
Click Here
Introducing the Signature Selection
© Michael Vaughan 2007
National Post Weekly Columnist
Saturday, November 17, 2007
To see this article as it appears in the National Post click here
CLICK ON THE NAME
All listings are automatically linked to the LCBO database
If there is a product that interests you, just click on the name below and you will instantaneously connected with the LCBO database. The product will appear in blue and all you have to do is click on the name again and then the next screen will provide details along with the store search. Just click on store search. The number of bottles in each store is updated nightly. Call the store first to see if stock still remains (each store phone number is listed).
There is an explosion of celebrity wines. They are named after famous golfers, movie stars, producers, comedians, singers and rock stars (both alive and deceased). There's even an Italian porn star with her own brand. Unfortunately, what's in the bottle is haphazard. Being rich and famous doesn't necessarily mean great taste.
It seems that having a big name provides easy access to LCBO shelves. Of course, loads of money for LCBO marketing helps. Given all the yet-to-be-discovered gems, one has to wonder whether all these new wines are actually necessary, or simply marketing gimmicks.
I have tasted dozens of awesome wines that have been rejected by LCBO buyers. The key reason is that US wine critics haven't scored them yet. LCBO buyers don't get excited unless the wine gets a high score. By then it can be too late - they're all sold.
Many great undiscovered wines pop up in numerous competitions around the world. Last September I evaluated some 240 Sauvignon Blanc at South Africa's Veritas competition. It was here where I was cornered by a distraught winemaker. "We get gold awards - but in Ontario the LCBO doesn't bite."
It's challenging. Consider that two Veritas double-gold winners were rejected by the LCBO. How does one get them before the customer? The answer, according to my new friend, is to make them available through Ontario's private order/consignment system. And so the concept of the Michael Vaughan Signature Selection was born. Not a brand or a label but a designation of quality and value.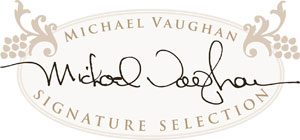 I decided that the best South African Sauvignon Blanc would be my first. It didn't happen. Veritas competition organizers would not provide me with the list of wines tasted. The three days making meticulous notes were wasted. No top wine to import, no recommendations to share with readers.
Returning to Canada sans signature, I happened to meet with UK wine enthusiast David Levin. As the owner of the deluxe Carlton Hotel in London, Levin had a vision of making world-class Sauvignon Blanc in its birthplace - the Loire. "It's prestige has been usurped by the New World," says Levin. "While we all have heard of great Sancerre, I wanted to create a mouthwatering, fruity, delicious white that could stand up to the best from anywhere."
When I tasted Levin 2006 Sauvignon Blanc, it was love at first sip. Its pent up fruit danced on the tongue with just the right acidity. Levin freed himself of the shackles of tradition making a modern wine in a stunning new winery in the old world. Like many greats, it wasn't available here.
It seemed that it would be the perfect inaugural candidate for my signature series. Within minutes, the deal was done and 56 cases are currently en route to the Ontario agent Woodman Wines & Spirits (estimated $26 a bottle).
Buying it will be easy. Warren Porter of sommelierservice.com will get it to you. In addition to wine storage, Porter runs a wine club and this will be one of his exclusive selections. Call or visit the sommelierservice.com booth (#170) at this weekend's Gourmet Food & Wine Expo. Also readers presenting this article will receive a complimentary copy of my November 24th edition of Vintage Assessments.

While there, check out the Chilean booth for my wine of the week. At only $11.15 you'll love the refreshing, peachy, yellow grapefruit flavours of Casillero del Diablo 2007 Sauvignon Blanc (578641). It's a real winner.

Coming Up Monday, November 26th
Fourth Annual Wine Tasting Challenge
This event is a fun competition that challenges amateurs and professionals to identify the grape varietal, country/region of origin and vintage of a diverse range of international wines. It is sponsored by The Renaissance Project and Cool Climate Oenology and Viticulture Institute under the watchful eye of the founder/executive producer Phil Sabatino of Via Allegro Ristorante. Participation in the challenge is by appointment only and registration is free of charge. A serious list of outstanding prizes will be awarded to the winning contestants. It all takes place on the 32nd floor of the Four Seasons Hotel in Toronto. For more information please contact Jenn at 1- 905-688-5550 x4949 or email registration@winetastingchallenge.com or visit www.winetastingchallenge.com
2001 - 2007 Tasting Note Database
Our tasting note database from December 31, 2000 to October 2007, covers every Vintages release product for the past 83 months. There are more than 15,000 notes in the database data. Just enter the name of the product, supplier name or CSPC number. Or you can search by type of wine, country of origin, even wine agent! Nothing could be easier. Also you can get information on the agent by clicking on the agent's name, as well as current LCBO store inventory by clicking on "Check LCBO Availability", which will automatically tell you the number of bottles at LCBO as of last night.
To use our Tasting Notes Database: click here

** For All Visitors **
Vintages Releases
To see the complete list of upcoming products from the
November 10 release, including In-Store Discovery items,
click here (sorted by date of release).
You can also see it sorted by agent click here
To see the complete list of upcoming products from the
November 24 release, including In-Store Discovery items,
click here (sorted by date of release).
You can also see it sorted by agent click here
To see the complete list of upcoming products from the
December 8 release, including In-Store Discovery items,
click here (sorted by date of release).
You can also see it sorted by agent click here
Copyright Food & Beverage Testing Institute of Canada 2007
Prior written permission is required for any form of reproduction
(electronic or other wise) and or quotation.
Contact Michael Vaughan at
mbv@total.net