Recent Articles
Dec. 15 - Wine Awards Canada - Charting 339 of Ontario's Best ~ Toasting Ontario's Best Sparklers from Brut to Gently Sweet
Dec. 8 - A Sparkling Vintages Release ~ But buy carefully
Dec. 1 - Holiday Gifting ~ The twin pack is the way to go
Nov. 24 - Eight Buys from Today's Vintages Release
Nov. 17 - Introducing the Signature Selection
Nov. 10 - 2005 Burgundy ~ The wine gurus like it!
Nov. 3 - Magic in Montreal ~ Le Marché an Inspiration for Local Wineries
Oct. 27 - Scary Times at Vintages ~ From Tricks to Treats
Oct. 13 -Today at Vintages ~ Bordeaux and Much More
Oct. 6 - Wine Auction Fever ~ Confessions of a Wine Auction Junkie ~ Forget Screaming Eagle and pass the Rum
Sep. 29 - Southern French Accents
Sep. 22 - Perfect for an Autumn day ~ Is that a bottle of spicy wine under your kilt?
Sep. 15 - A Celebration of the Ontario's harvest ~ Faces behind great wines
Sep. 8 - Reel Wines for Real Film Lovers ~ Can't snuggle? Here's what to smuggle! ~ Plus Ontario Recommendations
Sep. 1 - Dust off your Lederhosen ~ Austrian Wines Finally Unleashed in Vintages
Aug. 25 - Summer Twilight Selections ~ Spanish Synergy
Aug. 18 - The Wines of Chile ~ Soaring to the peaks of the Andes
Aug. 11 - Discovering Greece - a wine odyssey ~ Splendid Assyrtiko from Santorini
Aug. 4 - Spain - From the Classics to the Cutting Edge ~ Revving up for Rioja
Jul. 28 - Days of Wine & Roses no more! ~ Under $10 wines a rare breed
Jul. 21 - Que Sera, Syrah ~ Big, Smoky and Beautiful
Jul. 14 - Finding the best wine matches ~ Sizzling Seafood at Scaramouche
Jul. 7 - Sizzling Sauvignon Blanc ~ Vintages Best Buy Whites
Jun. 30 - In search of the Ontario Idol ~ Tracking down the best for Canada Day
Jun. 23 - Vintages Price Hikes ~ Hitting the customer where it hurts
Jun. 16 - Life After Yellow Tail
Jun. 9 - Rosé Rules ~ From serious to casual, unearthing that ambidextrous rosé
Jun. 2 - The ones that didn't get away! ~ Unearthing recent best buys - all under $20
May. 26 - New Zealand's Natural Gems ~ The best of whites
May. 19 - Alsatian with that Crustacean?
May. 12 - Paradoxical Portugal ~ Old World Grapes with New World Appeal
May. 5 - Toronto's First Private Import Wine Fair ~ Private Imports Picking up Steam Despite LCBO Bullying
Apr. 28 - Toasting Mom with France's Finest
Apr. 21 - Prime Time for California
Apr. 7 - Delicious Ciders that won't break the Easter bank
Mar. 31 - Racy Rieslings ~ Perfect Springtime Sippers
Mar. 24 - Quest for the Best of Portable Potables ~ The Battle of the Boxes
Mar. 17 - For the love of the Irish ~ A Greek wine for St. Patrick's Day
Mar. 10 - VDN to the rescue ~ Sublime sweet bargains from southwestern France
Mar. 3 - Canada's greatest pinot noir? ~ If you can't find the best, try LCJ's less expensive bargains
Feb. 24 - Cuvée 2007 ~ Ontario winemakers whoop it up
Feb. 17 - Pinot Noir Madness III ~ New Zealand takes another step forward
Feb. 10 - Burgundy Comes to Town ~ Despite Limited Vintages Buys ~ The Good News is Virtual Buying
Feb. 3 - Great Values South of the Equator ~ Both in Vintages & on the General List
Jan. 27 - Napa a go-go ~ Wine Parties vs. Tastings
Jan. 20 - Winemaker Niel Groenewald ~ Pushing the South African Envelope
Jan. 13 - Montreal Passion Vin ~ Delivering Excellence on Every Level
Jan. 6 - Off-the Beaten-Path Wines ~ Hard to Find in Today's Vintages Release


Become an FBTI Supporter today
Get Michael Vaughan's Buying Guide
for July 7th & 21st Vintages Release
Click Here
In search of the Ontario Idol
Tracking down the best for Canada Day
© Michael Vaughan 2007
National Post Weekly Wine & Spirits Columnist
Saturday, June 30, 2007
To see this article as it appears in the National Post click here
CLICK ON THE NAME
All listings are automatically linked to the LCBO database
If there is a product that interests you, just click on the name below and you will instantaneously connected with the LCBO database. The product will appear in blue and all you have to do is click on the name again and then the next screen will provide details along with the store search. Just click on store search. The number of bottles in each store is updated nightly. Call the store first to see if stock still remains (each store phone number is listed).
Celebrity-cum-wine-monger Dan Aykroyd's recently released Ontario wines have generated an unprecedented amount of hype, which is basically a good thing for the Ontario wine industry. While I didn't have time to attend the posh Toronto launch, I finally got to taste them in the LCBO tasting room. Given the ecstatic reviews, I was quite frankly disappointed. While the 2006 Chardonnay is innocuous enough, Dan Aykroyd 2005 Cabernet Merlot (53827), unlike the man himself, is thin, green, tart and unentertaining. Rather poor value at $16.95. For the consumer's sake, let's hope that future releases will be closer to the mark.
With Canada Day looming large, I continued my unending search for the true Ontario idol - looking for the best Ontario wines. Many refer to various judgings to find out what's worth buying. I scrutinized all four 2007 competitions held so far this year hoping to find a clear Ontario winner. Unfortunately, nothing emerged. In fact, of the total of 193 awards, only 12 wines (6%) received awards in more than one competition. Indeed, I was surprised that none received awards in more than two of the four competitions. Only one wine, Peninsula Ridge 2005 Fume Blanc received the same award (a gold medal) in two of the four competitions. It was my recommended highlight last February and is now sold out.
Having judged many wine competitions around the world, I am acutely aware of their shortcomings - from inadequate judging panels to statistical compilation errors. As most competitions are designed to be moneymaking affairs, often promoting the wines of a certain region, considerations relating to due process are often lost.
It's also happens that the very best producers often refuse to participate. Why? Because they don't need the exposure - all their wine is already sold. Ontario's best Pinot Noir from Clos Jordan, for instance, is nowhere to be found. Such competitions are also boycotted by producers whose reputation exceeds the quality of what's in the bottle. Scoring a lowly bronze for an overpriced $39.95 Pinot Noir, for instance, isn't going to help business.
For consumers, anonymous averaged scores are unreliable because they have no real consistency - no raison d'etre. One judge's top score can be made meaningless by another's low score, thereby marginalizing the wine. I have seen great wines left in the ashes because other judges either disliked or didn't understand the style. Also missing is any value consideration telling us which wine is a best buy. By contrast, readers need reliable scoring by a consistent taster whose palate and preferences are known.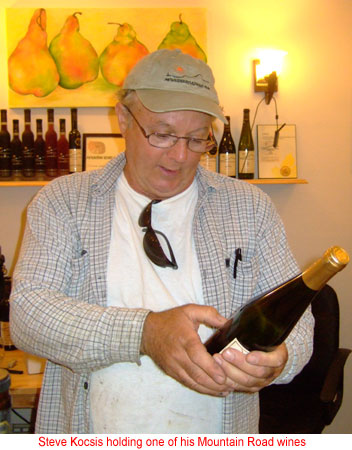 In general, it is usually pretty safe to choose a gold over a bronze. Having said that, last weekend I visited Mountain Road winery in the Niagara Peninsula. Three Steve Kocsis Chardonnays won awards: a gold in the All Canadian Wine Championship for their Mountain Road 2004 Unoaked Chard ($15.15); and Ontario Wine Award gold for their 2003 Reserve Chard ($28.15) and silver for their 2003 Barrel Fermented Chard ($16.15). For drinking today, the latter silver medal is definitely a best buy with its toasty, ripe lemon-melon-lime flavours. Only 30 cases remain at the winery.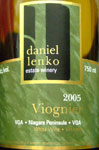 In contrast to Mountain Road, Daniel Lenko rarely enters his wines in competitions and never sells them to the LCBO. I have been impressed with his rich, opulent, flavourful 2004 Signature Chardonnay ($39.95) along with his succulent, honeyed, floral driven Daniel Lenko 2005 Viognier ($49.95). Extremely fine but not inexpensive, only miniscule quantities remain.


Other winery-only winners include the delicious, spicy white peach flavoured Strewn 2006 Sauvignon Blanc ($19.95) and the tangy Hillebrand Trius 2006 Riesling ($14.15). For refreshing Canada Day sipping try Chateau des Charmes 2006 Estate Rosé (50633) a best buy at $12.15, which comes with a convenient submission. It's dripping with fresh, plummy, strawberry flavours and only 1,000 cases were produced exclusively for the LCBO general list.
National Post readers wanting to see how Ontario wines fared are invited to visit www.wineawardscanada.com where all 204 winners are conveniently listed by grape variety - click here to see the specially compiled list.
Vintages Replies
In response to last week's National Post column, Shari Mogk-Edwards, Vintages' director of sales and marketing suggests that there is no substance to many of the points raised (to see what was said click here). She states:
1. It is a long-standing Vintages policy not to ask suppliers/agents to increase quotes
2. Vintages negotiates with agents/suppliers to secure best possible prices for consumers
3. While Vintages encourages agents/suppliers to spend money on LCBO promotional activities, these do not impact on quoted supplier prices
4. Vintages sales growth is not the result of increasing prices
Michael Vaughan Replies
Unfortunately, the various claims by Vintages' director of sales and marketing are contradicted by the way Vintages currently operates. All one has to do is look at the details posted on the LCBO website (under Trade Resources Online - click here to see) and look at the Vintages Product Needs Letter - 2007/08. On page 3 you will see that most of the 18 specific prices start at $15 or more. There are only a few exceptions:1 at $12, 3 at $13 and 1 at $14. These Vintages starting prices have been spiraling upwards. It is a fact that Vintages will not order any wine that it considers to be too cheap - regardless of its high quality and/or previous rapid sell-through. There are numerous examples of this. The usual excuse given is that Vintages needs new wines.
Take New Zealand whites. Vintages will only accept tenders between $15-20. It means that if an agent has a fantastic NZ white would sell for $12.95, Vintages will not consider it for listing - it's too cheap. In leveraging up their prices (and profits), Vintages says that these cheaper wines now belong to the General List. Of course, getting acceptance on the General List is extremely rare. Thousands are listed in Vintages, but only a handful on the General List.
It gets worse, because general listings require very deep pockets for huge spending on the established LCBO in-house promotions. In addition, producers must have large quantities available for sale. Smaller, high-quality producers with reasonably-priced wines often having neither of these requirements are now shut out of Vintages.
So what is the producer of that terrific $12.95 NZ white to do? The answer: raise the price to the $14.95 level where it can be considered for a Vintages listing. And that is exactly what is happening. As for getting the best prices, this kind of Vintages tendering system enables producers to charge more. Vintages does not try to negociate a lower selling price. This effectively encouraging suppliers to raise prices so as to meet higher floor prices, something which is clearly not in the interests of the consumer.
There are instances in British Colombia, for instance, whose prices are almost always higher than in Ontario, where identical wines are now being sold at a lower price than in Ontario. This can only happen when the LCBO pays more for the item. Can a multi-billion dollar corporation not be aware that these same products are being sold at lower prices to other liquor boards? Such higher quotations for Vintages buyers clearly violates the LCBO's purchasing conditions. Sadly, that doesn't seem to be a concern.
As LCBO/Vintages listings are dependent upon money being spent on LCBO promotions, those higher selling price now enable agents to pay for LCBO promotions. The Vintages claim that these marketing dollars are not part of the price is simply not correct. Marketing expenses are always built into the price of a product - there is no free lunch. Indeed, some agents have been told by Vintages staff that if they don't cough up money for Vintages promotions, future orders might have to be reconsidered. This scare tactic is just wrong within the confines of a state monopoly.
Finally, the Vintages suggestion that higher profits do not result from raising average Vintages wine prices is simply not correct. I am in favour of growing profits, but not at the expense of an open level playing field. Listings should based on the wine's quality-price ratio not in to some internally devised profit maximizing scheme. May the best wine win and the tastiest wines be listed.
Big LCBO Delist Sale Starts Monday, June 25th
Want to save $199.05 on a bottle of Dom Perignon?
Next Monday's sale includes 232 items on the general list and 79 items in Vintages. For many of the former, these are further price reductions of previously delisted products meaning quantities available will be limited. Note that sometimes items are removed from the public viewing section of the LCBO website meaning that you will have to call the info line (1-800-668-5226) to check availability. To see the General List delistings click here - to see Vintages delistings click here
FBTI supporters can access the my personal tasting notes for all Vintages delistings with our special database (click here - you will need your access code). To become an FBTI supporter click here
2001 - 2007 Tasting Note Database
Our tasting note database from December 31, 2000 to May 2007, covers every Vintages release product for the past 78 months. There are more than 15,000 notes in the database data. Just enter the name of the product, supplier name or CSPC number. Or you can search by type of wine, country of origin, even wine agent! Nothing could be easier. Also you can get information on the agent by clicking on the agent's name, as well as current LCBO store inventory by clicking on "Check LCBO Availability", which will automatically tell you the number of bottles at LCBO as of last night.
To use our Tasting Notes Database: click here

** For All Visitors **
Vintages Releases
To see the complete list of upcoming products from the
June 23 release, including In-Store Discovery items,
click here (sorted by date of release).
You can also see it sorted by agent click here
To see the complete list of upcoming products from the
July 7 release, including In-Store Discovery items,
click here (sorted by date of release).
You can also see it sorted by agent click here
To see the complete list of upcoming products from the
July 21 release, including In-Store Discovery items,
click here (sorted by date of release).
You can also see it sorted by agent click here
Copyright Food & Beverage Testing Institute of Canada 2007
Prior written permission is required for any form of reproduction
(electronic or other wise) and or quotation.
Contact Michael Vaughan at
mbv@total.net