Become an FBTI Supporter today
Get Michael Vaughan's Buying Guide
for June 9th & 23rd Vintages Release
Click Here
The ones that didn't get away!
Unearthing recent best buys - all under $20
© Michael Vaughan 2007
National Post Weekly Wine & Spirits Columnist
Saturday, June 2, 2007
To see this article as it appears in the National Post click here
CLICK ON THE NAME
All listings are automatically linked to the LCBO database
If there is a product that interests you, just click on the name below and you will instantaneously connected with the LCBO database. The product will appear in blue and all you have to do is click on the name again and then the next screen will provide details along with the store search. Just click on store search. The number of bottles in each store is updated nightly. Call the store first to see if stock still remains (each store phone number is listed).
With so many wines appearing every two weeks in each Vintages release, it is easy to miss some exceptional buys. In May, for instance, there were 239 items hit the shelves. As each release has at least one thematic, wine reviewers tend to get trapped into focusing on those highlights. Today, I unearth all those May best buys - all under $20, which almost got away.

First, I am going to focus on key, ready-to-enjoy, fresh, unoaked whites. From Austria's Krems comes a tasty, albeit well-priced, morsel: Sal'mon Groovey 2006 Grüner Veltliner (669606) at $12.95 from the house of Salomon-Undhof. This ultra modern screwcap rendition of a very traditional, Austrian specialty is crisp, very dry, unoaked and medium-light bodied with spicy, yellow grapefruit flavours with a zesty finish.

I was hoping that readers wanting to try Austrian wines might be able to check out JK Wine Bar on Church where some dozen Austrian wines all served in Riedel stemware were supposed to be featured by the glass. Sadly, most of them have sold out. As JK only lists private imports, the JK cupboard is almost bare. With numerous Austrian wines sitting in Vintages, it's a shame that taste treats like the still-available, In-Store-Discovery (aka ISD) Zahel 2005 Gelber Muskateller Classic (23556) at $19.95 are incapable of finding their way on to JK's hallowed list.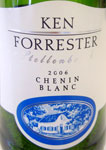 Another variety that doesn't get much press is Chenin Blanc. In the May 12th release there were two terrific South African releases at Vintages, both from the Stellenbosch region and from the same producer. The first is the exceptional Ken Forrester 2006 Chenin Blanc (945139) at $16.95, which was an ISD. Only a few cases of this lovely, dry, well structured, honeyed, ripe pear flavoured ISD remain of the 53 cases of 6 originally ordered.
Somewhat cheaper at only $11.95, is the fragrant, bright, floral, ripe lemon-apricot driven Ken Forrester 2006 Petit Chenin (29322), which also happens to be 100% Chenin Blanc. It too comes with a screwcap closure, but unlike its higher priced brother, hundreds of cases remain.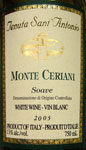 A surprisingly sleeper from Italy's Veneto shouldn't be missed - Tenuta Sant'Antonio's 2005 Soave Superiore Monte Ceriani (29843) at $17.95. Its gently honeyed, spicy, nicely structured, ripe lemon-melon flavours make it a perfect companion with fresh seafood.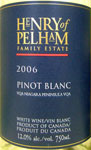 Closer to home, Henry of Pelham 2006 Pinot Blanc (618827) at $14.95 is another good choice for seafood. This bona fide Canadian wine comes with the official VQA Niagara Peninsula designation meaning that it is 100% Canadian content. As for quality, happily it's pretty tasty with crisp, fairly light bodied, spicy, melon-lemon flavours. Originally released last summer, it's actually showing better today than 9 months ago.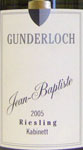 If you are looking for something with just a hint of sweetness, Jean-Baptiste 2005 Riesling Kabinett (480517) at $15.95 is a crowd pleaser and perfect afternoon sipper. From Germany's Rheinhessen, the honeyed, spicy, juicy, ripe apple-melon flavours will hit the spot when served chilled.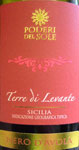 Moving on to reds, here are two winners. From Italy, the well priced, accessible, fruity, Sicilian IGT Poderi del Sole 2003 Nero d'Avola Terra di Levante (26054) at $15.95 offers great, ready-to-enjoy value. It's harmonious, tangy, plummy, ripe red cherry flavours will go with almost anything that comes with a with tomato based sauce.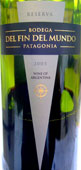 Finishing up with one of the best buys of the release, don't miss the deliciously, fruity-juicy Del Fin del Mundo 2005 Cabernet Sauvignon Reserva 2005 (31179) at $13.95. It has great extract and loads of black cherry purée flavours with a slightly cedary finish. At this price, who cares if it tastes a bit like Syrah, Malbec and/or Merlot - it's perfect with BBQ ribs.
National Post readers can review all my May tasting notes in Vintage Assessments using the npreader password click here
Coming up

Tuesday, June 5 - Wines of Alsace and Rhone Valley Tasting (Trade Only)

This trade only event will feature around 300 wines from Alsace and Rhone Valley. Held at Carlu - 444 Yonge St., 7th floor, from 2:00 to 6:00 pm. To see the list of wines that will be presented from Alsace click here, for the wines from Rhone Valley click here. For more information please click here. For reservation to this trade only event please email toronto@missioneco.org.
Friday, June 8-9 - Artevino Wine Weekend
[Belleville, Ontario] The tasting will be held at Ritchie Room - 270 Front St., Belleville, starting at 6:00 pm. Tickets are $35 per person. For more information and reservations contact Quinte Arts Council at 613-962-1232 or visit www.quinteartscouncil.org
Saturday, June 9 - Artevino Gold Medal Tasting Dinner
[Belleville, Ontario] Starting at 6:00 pm. Tickets are $150 per person.

Sunday, June 10 - Toronto Taste 2007
This event will feature over 50 of the top chefs in the city showcase their culinary creations in tandem with fantastic wine, beer and spirits. Held at Japanese Canadian Cultural Centre - 6 Garamond Court, starting at 6:00 pm. Tickets are $225 per person. Contact the Second Harvest at 416-408-2594 or visit www.torontotaste.ca or click here for the ticket order form.
2001 - 2007 Tasting Note Database
Our tasting note database from December 31, 2000 to May 2007, covers every Vintages release product for the past 78 months. There are more than 15,000 notes in the database data. Just enter the name of the product, supplier name or CSPC number. Or you can search by type of wine, country of origin, even wine agent! Nothing could be easier. Also you can get information on the agent by clicking on the agent's name, as well as current LCBO store inventory by clicking on "Check LCBO Availability", which will automatically tell you the number of bottles at LCBO as of last night.
To use our Tasting Notes Database: click here

** For All Visitors **
Vintages Releases
To see the complete list of upcoming products from the
June 9 release, including In-Store Discovery items,
click here (sorted by date of release).
You can also see it sorted by agent click here
To see the complete list of upcoming products from the
June 23 release, including In-Store Discovery items,
click here (sorted by date of release).
You can also see it sorted by agent click here
Copyright Food & Beverage Testing Institute of Canada 2007
Prior written permission is required for any form of reproduction
(electronic or other wise) and or quotation.
Contact Michael Vaughan at
mbv@total.net