Become an FBTI Supporter today
Get Michael Vaughan's Buying Guide
for June 9th & 23rd Vintages Release
Click Here
Rosé Rules
From serious to casual,
unearthing that ambidextrous rosé
© Michael Vaughan 2007
National Post Weekly Wine & Spirits Columnist
Saturday, June 9, 2007
To see this article as it appears in the National Post click here
CLICK ON THE NAME
All listings are automatically linked to the LCBO database
If there is a product that interests you, just click on the name below and you will instantaneously connected with the LCBO database. The product will appear in blue and all you have to do is click on the name again and then the next screen will provide details along with the store search. Just click on store search. The number of bottles in each store is updated nightly. Call the store first to see if stock still remains (each store phone number is listed).
Today's Vintages release highlights Rosé. Who knows why Vintages tried to break these 25 wines into full, medium and light bodied. Few ever think of these wines as having significant structure or body. A better idea would have been to rate them in terms of sweetness and juiciness -an everyday fun rosé having more of each, while a serious rosé having less.
Both fun and serious styles have merit when well done. Unfortunately, the LCBO is awash with more than 100 selections and sadly many are not particularly good. Sugar, alcohol, jammy fruit and/or apple juice flavours doesn't translate into good rosé. After two sips, one is done. Even well chilled, the more-than-mediocre, bland, sweet, cooked apple flavoured Blue Nun Pink (640169 - $7.15 for 500 ml tetra pak) isn't a religious experience. It is this kind of mediocrity that gives rosé a bad name.

As for today's release recommendations, South Africa has two casual, easy to enjoy choices. The bright plum and ripe strawberry flavoured Riebeek 2006 Pinotage Rosé (34264) is a decent buy at $10.95. It is faintly sweet (less than 1% residual sugar) but finishes with some crispiness - a fine companion to spicy dishes and appetizers.
Just a bit more expensive and serious is Fairview's scewcapped 2006 Goats Do Roam Rosé (655225) at $13.95. This Coastal blend of Shiraz, Pinotage, Cinsaut, Grenache, Gamay and Merlot is quite dry with decent structure. The zesty plums and ripe apples flavours would go well with chicken and even hamburgers. Owner Charles Back has made this winery's adjoining casual restaurant, which features local ingredients, a major Paarl destination.

From Germany for the happy-go-lucky, 2006 Villa Wolf Rosé de Pinot Noir (33662) hits the spot at $14.95. From Ernest Loosen's 10 hc southern Pfalz estate, this off-dry, slightly spicy, honeyed, ripe plum flavoured effort is ready to enjoy.

Moving on to more serious, drier, food rosés, there's Italy, Spain and French to choose from. Lightest of the three is Frescobaldi 2006 Rosato di Castiglioni (33555) at $14.95 with a clove tinged nose and dry, plummy, ripe apple flavours. Next from Spain's Rioja is the light-pink-coloured Muga 2006 Rosé (603795 - $13.95), which has dry, bright, very slightly tart, plummy, ripe apple flavours and a pleasant crisp finish.

My top scoring pink comes from France: Chateau d'Aqueria 2006 Tavel Rosé (319368). It's pricier at $19.95, but has solid, very attractive, tangy, strawberry-plum flavours with a crisp finish. I would recommend the half bottle (712000), but the 20% premium $11.95 price makes me dizzy.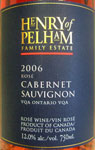 Ironically, some of the best rosés have already hit Vintages' shelves - both with screwcaps. Of four May 26th Ontario releases, Henry of Pelham 2006 VQA Cabernet Sauvignon Rosé (685610) at $14.95 is the definite buy: dry, tangy, plummy, ripe strawberry flavours. This lovely ambidextrous pink shows great flexibility that will appeal to everyone.

Ditto for a Côtes-du-Rhône charmer from France: Perrin 2006 Réserve Rosé (719062) a great value at only $14.95. This blend of 60% Cinsault, 20% Syrah, 15% Grenache and 5% Mourvèdre offers dry but juicy, ripe plum and dried strawberry flavours with a crisp finish.
Finally, from the LCBO general list are two VQA Ontario rosé worth trying - one fun, the other serious. Reif 2006 VQA Gamay Rosé (669366) at $11.15 represents fun with its appealing, juicy, fresh, crancherry-raspberry-strawberry flavours and sweetish, crisp finish.
My number one choice? The serious-but-still-fun to drink, Tavel-inspired, Peninsula Ridge 2006 Beal Vineyards Cabernet Rosé (8581) at $15.15. This Beamsville Bench VQA Cab Sauv/Franc blend is crisp, dry and harmonious with juicy ripe Damson plum flavours - a versatile joy to taste.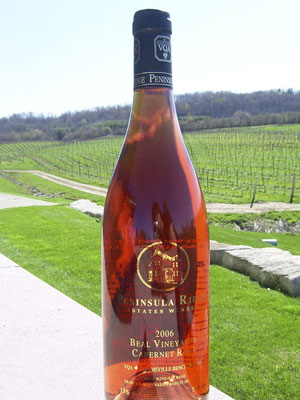 Coming up
Friday, June 8-9 - Artevino Wine Weekend
[Belleville, Ontario] The tasting will be held at Ritchie Room - 270 Front St., Belleville, starting at 6:00 pm. Tickets are $35 per person. For more information and reservations contact Quinte Arts Council at 613-962-1232 or visit www.quinteartscouncil.org
Saturday, June 9 - Artevino Gold Medal Tasting Dinner
[Belleville, Ontario] Starting at 6:00 pm. Tickets are $150 per person.

Sunday, June 10 - Toronto Taste 2007
This event will feature over 50 of the top chefs in the city showcase their culinary creations in tandem with fantastic wine, beer and spirits. Held at Japanese Canadian Cultural Centre - 6 Garamond Court, starting at 6:00 pm. Tickets are $225 per person. Contact the Second Harvest at 416-408-2594 or visit www.torontotaste.ca or click here for the ticket order form.
2001 - 2007 Tasting Note Database
Our tasting note database from December 31, 2000 to May 2007, covers every Vintages release product for the past 78 months. There are more than 15,000 notes in the database data. Just enter the name of the product, supplier name or CSPC number. Or you can search by type of wine, country of origin, even wine agent! Nothing could be easier. Also you can get information on the agent by clicking on the agent's name, as well as current LCBO store inventory by clicking on "Check LCBO Availability", which will automatically tell you the number of bottles at LCBO as of last night.
To use our Tasting Notes Database: click here

** For All Visitors **
Vintages Releases
To see the complete list of upcoming products from the
June 9 release, including In-Store Discovery items,
click here (sorted by date of release).
You can also see it sorted by agent click here
To see the complete list of upcoming products from the
June 23 release, including In-Store Discovery items,
click here (sorted by date of release).
You can also see it sorted by agent click here
Copyright Food & Beverage Testing Institute of Canada 2007
Prior written permission is required for any form of reproduction
(electronic or other wise) and or quotation.
Contact Michael Vaughan at
mbv@total.net