Recent Articles
Dec. 15 - Wine Awards Canada - Charting 339 of Ontario's Best ~ Toasting Ontario's Best Sparklers from Brut to Gently Sweet
Dec. 8 - A Sparkling Vintages Release ~ But buy carefully
Dec. 1 - Holiday Gifting ~ The twin pack is the way to go
Nov. 24 - Eight Buys from Today's Vintages Release
Nov. 17 - Introducing the Signature Selection
Nov. 10 - 2005 Burgundy ~ The wine gurus like it!
Nov. 3 - Magic in Montreal ~ Le Marché an Inspiration for Local Wineries
Oct. 27 - Scary Times at Vintages ~ From Tricks to Treats
Oct. 13 -Today at Vintages ~ Bordeaux and Much More
Oct. 6 - Wine Auction Fever ~ Confessions of a Wine Auction Junkie ~ Forget Screaming Eagle and pass the Rum
Sep. 29 - Southern French Accents
Sep. 22 - Perfect for an Autumn day ~ Is that a bottle of spicy wine under your kilt?
Sep. 15 - A Celebration of the Ontario's harvest ~ Faces behind great wines
Sep. 8 - Reel Wines for Real Film Lovers ~ Can't snuggle? Here's what to smuggle! ~ Plus Ontario Recommendations
Sep. 1 - Dust off your Lederhosen ~ Austrian Wines Finally Unleashed in Vintages
Aug. 25 - Summer Twilight Selections ~ Spanish Synergy
Aug. 18 - The Wines of Chile ~ Soaring to the peaks of the Andes
Aug. 11 - Discovering Greece - a wine odyssey ~ Splendid Assyrtiko from Santorini
Aug. 4 - Spain - From the Classics to the Cutting Edge ~ Revving up for Rioja
Jul. 28 - Days of Wine & Roses no more! ~ Under $10 wines a rare breed
Jul. 21 - Que Sera, Syrah ~ Big, Smoky and Beautiful
Jul. 14 - Finding the best wine matches ~ Sizzling Seafood at Scaramouche
Jul. 7 - Sizzling Sauvignon Blanc ~ Vintages Best Buy Whites
Jun. 30 - In search of the Ontario Idol ~ Tracking down the best for Canada Day
Jun. 23 - Vintages Price Hikes ~ Hitting the customer where it hurts
Jun. 16 - Life After Yellow Tail
Jun. 9 - Rosé Rules ~ From serious to casual, unearthing that ambidextrous rosé
Jun. 2 - The ones that didn't get away! ~ Unearthing recent best buys - all under $20
May. 26 - New Zealand's Natural Gems ~ The best of whites
May. 19 - Alsatian with that Crustacean?
May. 12 - Paradoxical Portugal ~ Old World Grapes with New World Appeal
May. 5 - Toronto's First Private Import Wine Fair ~ Private Imports Picking up Steam Despite LCBO Bullying
Apr. 28 - Toasting Mom with France's Finest
Apr. 21 - Prime Time for California
Apr. 7 - Delicious Ciders that won't break the Easter bank
Mar. 31 - Racy Rieslings ~ Perfect Springtime Sippers
Mar. 24 - Quest for the Best of Portable Potables ~ The Battle of the Boxes
Mar. 17 - For the love of the Irish ~ A Greek wine for St. Patrick's Day
Mar. 10 - VDN to the rescue ~ Sublime sweet bargains from southwestern France
Mar. 3 - Canada's greatest pinot noir? ~ If you can't find the best, try LCJ's less expensive bargains
Feb. 24 - Cuvée 2007 ~ Ontario winemakers whoop it up
Feb. 17 - Pinot Noir Madness III ~ New Zealand takes another step forward
Feb. 10 - Burgundy Comes to Town ~ Despite Limited Vintages Buys ~ The Good News is Virtual Buying
Feb. 3 - Great Values South of the Equator ~ Both in Vintages & on the General List
Jan. 27 - Napa a go-go ~ Wine Parties vs. Tastings
Jan. 20 - Winemaker Niel Groenewald ~ Pushing the South African Envelope
Jan. 13 - Montreal Passion Vin ~ Delivering Excellence on Every Level
Jan. 6 - Off-the Beaten-Path Wines ~ Hard to Find in Today's Vintages Release


Become an FBTI Supporter today
Get Michael Vaughan's Buying Guide
for June 9th & 23rd Vintages Release
Click Here
Vintages Price Hikes
Hitting the customer where it hurts
© Michael Vaughan 2007
National Post Weekly Wine & Spirits Columnist
Saturday, June 23, 2007
CLICK ON THE NAME
All listings are automatically linked to the LCBO database
If there is a product that interests you, just click on the name below and you will instantaneously connected with the LCBO database. The product will appear in blue and all you have to do is click on the name again and then the next screen will provide details along with the store search. Just click on store search. The number of bottles in each store is updated nightly. Call the store first to see if stock still remains (each store phone number is listed).
Every two weeks a flock of new Vintages releases hit the shelves. Tasting them on two separate occasions enables me to provide readers with solid recommendations. Connecting with the right selections that will not disappoint results in higher sales and record Vintages profits.
Unfortunately, there is an unsavoury side to this surge in earnings. It appears that Vintages management is demanding that some wine suppliers raise their prices. If they don't oblige, suppliers are told that orders will not be placed. The reason? By increasing the average values, Vintages profits soar. Suppliers are advised that they can use this new-found revenue to advertise their wines in various LCBO marketing programs. Win-win for the LCBO; lose-lose for the customer.
Of course, this explains the ever-rising Vintages prices - a dollar here, two dollars there and even more - all in spite of our soaring loonie. Screwing the cork is one thing, the customer, something else. It's wrong for a monopoly to tell suppliers that they won't order a wine unless the price is increased. Worse yet, when this doesn't happen, Vintages has been known to simply raise the price and pocket the difference (in excess of the LCBO pricing formula).
What ever happened to the idea of getting lower prices for customers? Sadly, LCBO management has lost sight of its constituency - its customers and shareholders. Never mind being soaked at the gas pump or cheated by Lottario, it's time for McGuinty to take steps to stop the LCBO ripping us off.
At the Post's deadlines, Vintages executives had not replied to my requests for an explanation of the higher prices. If they do provide it in the end, I'll convey it in next week's column.

Moving on to today's release, I was lucky to taste two truly outstanding June in-store discoveries (aka ISD) when winemaker John Glaetzer recently parachuted into my living room for an impromptu tasting. In a world of overpriced Cabernet Sauvignon, the absolute highlight of today's Vintages release is John's Blend Cabernet Sauvignon 2000 Individual Selection 'No. 27' (927640) at $43.95. It puts everything to shame with its lovely, rich, spicy, concentrated, ripe Damson plum-black cherry flavours and lingering, cedary, mocha-vanilla finish. Only 150 six packs of this unfiltered masterpiece are available. Perfect today, it will last for a number of years to come.
Syrah (aka Shiraz in the new world) is one of my favourite summer reds - perfect for smoky-bbq-rib-lovers. Thankfully, there are four new terrific June releases, two are ISDs. One of the juiciest is the June 9th ISD John's Blend 2002 Margarete's Shiraz 'No. 8' (927657) at $39.95. Look for seductive, gently smoky, spicy, ripe plum and juicy red cherry flavours with hints of ruby grapefruit on the lingering finish. Good quantities are still available.
Another ISD not to be missed is Gunn Estate 2004 Silistria Syrah (32813) at $29.95. Hawkes Bay is now producing world class Shiraz, albeit in tiny amounts, and this stunner is very well structured with delicious, slightly smoky, baked plum and black cherry purée flavours. Only 97 cases of 6 were released as a June 9th ISD, so move quickly.

From Canada, the solid, smoky Creekside 2004 Reserve Shiraz (49601) is a June 23rd destination at $28.95. This VQA St. David's Bench effort is a real mouthful. Surprisingly delicious, it is the best-priced Ontario Shiraz I have ever tasted! Save it for your Canada Day cookout - your friends will be astounded with the fireworks in the glass. Of 212 cases produced, Vintages has 100 available. To see the spec sheet click here.
The real deal, however, is BC's gold medal winning Jackson-Triggs 2003 Proprietors' Grand Reserve Shiraz (33241) at $23.95 from the Okanagan Valley. Released June 9th, it has a whopping 14.6% alcohol and smooth, smoky, baked black cherry and coconut-vanilla custard flavours. Only 56 cases of this ready to enjoy crowd-pleaser were purchased and quantities remaining are small.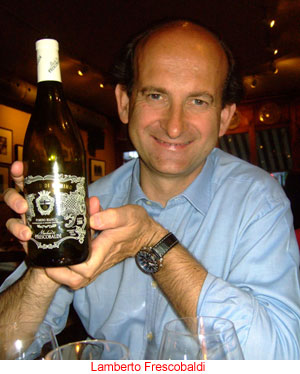 In search of a classy white? Make a beeline to 2006 Castello di Pomino (65086) at $18.95 (up $2 from a year ago due to an increase in the FOB price). This wonderful Italian DOC Chardonnay-Pinot Blanc blend is dry, bright and harmonious with refined, ripe pear flavours. Congrats to Lamberto Frescobaldi for raising the bar on this classic Italian icon.

Big LCBO Delist Sale Starts Monday, June 25th
Want to save $199.05 on a bottle of Dom Perignon?
Next Monday's sale includes 232 items on the general list and 79 items in Vintages. For many of the former, these are further price reductions of previously delisted products meaning quantities available will be limited. Note that sometimes items are removed from the public viewing section of the LCBO website meaning that you will have to call the info line (1-800-668-5226) to check availability. To see the General List delistings click here - to see Vintages delistings click here
FBTI supporters can access the my personal tasting notes for all Vintages delistings with our special database (click here - you will need your access code). To become an FBTI supporter click here
2001 - 2007 Tasting Note Database
Our tasting note database from December 31, 2000 to May 2007, covers every Vintages release product for the past 78 months. There are more than 15,000 notes in the database data. Just enter the name of the product, supplier name or CSPC number. Or you can search by type of wine, country of origin, even wine agent! Nothing could be easier. Also you can get information on the agent by clicking on the agent's name, as well as current LCBO store inventory by clicking on "Check LCBO Availability", which will automatically tell you the number of bottles at LCBO as of last night.
To use our Tasting Notes Database: click here

** For All Visitors **
Vintages Releases
To see the complete list of upcoming products from the
June 9 release, including In-Store Discovery items,
click here (sorted by date of release).
You can also see it sorted by agent click here
To see the complete list of upcoming products from the
June 23 release, including In-Store Discovery items,
click here (sorted by date of release).
You can also see it sorted by agent click here
Copyright Food & Beverage Testing Institute of Canada 2007
Prior written permission is required for any form of reproduction
(electronic or other wise) and or quotation.
Contact Michael Vaughan at
mbv@total.net