Recent Articles
Apr. 15 - Putting a little "hop" into your Easter brunch
Apr. 8 - A Survivor's Guide to the 2006 California Wine Fair
Apr. 1 - The Top Shelf
German Wine and Jazz April 4th
Apr. 1 - Waking Up & Smelling the Flowers ~ A Bouquet of Springtime Whites ~ All Under $20
Mar. 25 - The Top Shelf
Sicily never tasted as good
Mar. 25 - Tracking Down Vintages Best Buys
Mar. 18 - In Homage to Cabernet Sauvignon ~ Great Cabernet Sauvignon can last for decades ~ 1970 Beaulieu Vineyard Private Reserve still a "King" of a Cab
Mar. 11 - Ireland: The cradle of Whiskey
Mar. 4 - The Best of Today's Vintages Release ~ South Africa's Answer to Tequila
Feb. 25 - Mining for Gold in South Africa ~ Great Pinotage & Shiraz
Feb. 18 - Going for Gold at Vintages
Feb. 11 - Beware of great wine reviews that don't deliver ~ Is it me, the critic or the bottle?
Feb. 4 - Spanish Wines Take Flight
Jan. 28 - D-Day at Vintages 724 ~ Vintages items go on sale today!
Jan. 21 - Today at Vintages ~ A Fine Trio of Accessible French Whites ~ The Many Faces of Syrah/Shiraz
Jan. 14 - Ontario's Icewines Shine ~ The Icewine Oscars for the Best 2004
Jan. 7 - A Quality Vintages Kick-off to the New Year Easy Quaffing Southern Hemisphere Shiraz
Dec. 31 - Cognac Unconquered ~ From $1.30 to $74.88 an ounce ~ Sipping Your Way into the New Year
Dec. 24 - LCBO Gifts ~ Buy Carefully ~ Juicy cherry & tangy cranberry flavours for your Turkey
Dec. 17 - The Best of the Season ~ Seasonal Gifting: From Books to the Best Buy Champagne & '1876' Scotch
Dec. 10 - Great Holiday Wines in Today's Vintages release ~ From the Bargains to the Jewels
Dec. 3 - From the Perfect Pear Martini ~ to a Vintage Port to Remember
Nov. 26 - Wines to Buy & Wines to Avoid
Nov. 19 - Beaujolais Nouveau Celebrates 54 Years
Nov. 12 - Vintages Release Best Buys ~ From California to Bordeaux
Nov. 5 - "Eyes Wide Shut" ~ Taste, texture and scent in motion
Oct. 29 - Tricks & Treats in Today's Vintages Release ~ Some Awesome Aussi Highlights
Oct. 22 - Perfect Fall Libations ~ Obscure varieties from Welschriesling to Semillon
Oct. 15 - Hop Scotch ~ The biggest whisky release on record
Oct. 8 - A Toast to the Turkey ~ Many whites, some reds and even a sparkling rosé
Oct. 1 - Barolo the King of Italian Reds
Sep. 24 - A Flood of Upcoming Tastings ~ but not a Vintages Classics in Sight
Sep. 17 - A Great Ontario Harvest ~ From just-released wines to a terrific new guide
Sep. 10 - Film Fest Fizz ~ Finding that Oscar-Winning Drink
Sep. 3 - Delicious Long Weekend Drinking ~ All but one under $20!


Get Michael Vaughan's Buying Guide for today's Vintages Release today!
With a special $20 Discount
Click Here
D-Day at Vintages 724
Vintages items go on sale today!
© Michael Vaughan 2006
National Post Weekly Wine & Spirits Columnist
Saturday, January 28, 2006
LIVE WINE LINK
www.winefind.ca
(CLICK ON THE NAME - All listings are automatically linked to the LCBO database)
If there is a product that interests you, just click on the name below and you will instantaneously connected with the LCBO database. The product will appear in blue and all you have to do is click on the name again and then the next screen will provide details along with the store search. Just click on store search. The number of bottles in each store is updated nightly. Call the store first to see if stock still remains (each store phone number is listed).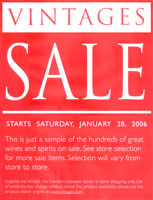 It's D-Day at Vintages as in D-E-L-I-S-T. Just walk into your local Vintages outlet and you will find the fire engine red "SALE" sheet listing 42 wines and one spirit. The LCBO flier says, "This is just a sample of the hundreds of great wines and spirits on sale". But where does one find out what all the other are? I check out the LCBO website but only the same old 43 items are on display.
Sadly, it appears that Vintages doesn't want you to know what's on sale. This complies with the Vintages philosophy: "if they don't know, they can't complain." While the LCBO flier encourages us to "see store selection for more sale items" - it would make much more sense to simply give customers the list and let them check out availability on the website. Unfortunately, doing things that make sense tends to be the exception at Vintages.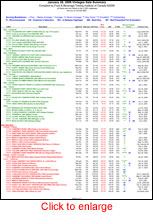 To help hapless customers who don't have a clue of what is actually out there, I am sharing the exclusive Vintage Assessments' insider sale list with National Post subscribers. There are 12 pages detailing 724 items. All items are broken up into appropriate classifications, by type, colour, country, subregion, etc. Also detailed is the percentage discount for each item and, in most instances, my own rating/evaluation (for over two-thirds of all sale items). The name of the Ontario agent and original release date is also specified. Finally, every item on our summary sheet is linked to the LCBO database so you can search the stores to find out where bottles remain. Of course, you should call the individual store before setting out to snap up those bargains to make sure that the bottles are still there.
You should keep in mind that for many of these items, only miniscule quantities remain. Of 724 items, 124 are "Recommended" and another 118 are Explorer's Selections. There are 27 Best Buys and 4 Release Highlights. One of the latter is only available at two Toronto stores - here is my recommendation from the July 9, 2005 issue of the National Post:
If I was allowed to only buy one white, it would be the very gently sweet but refreshing, release highlight Markus Molitor 2000 Riesling Kabinett Halbtrocken Zeltinger Himmelreich (958140) at $19.95. With only 9.5% alcohol, this impressive 2000 comes from Molitor's own vineyard (massive by German standards) of 4.5 ha (11 acres) in the Mittel Mosel. The nose is classic with honey, sweet lime and Seville orange marmalade. It is seductive on the palate with lovely ripe melon flavours and hints of lime zest on the lingering finish. The perfect summer sipper.
Sadly many of Vintages sale items were not tasted meaning that readers are unable to get updated relevant reviews, which might have encouraged sales. This has become even more important as Vintages currently no longer allows wine writers to evaluate their InStore Discoveries.
To keep Food & Beverage Testing Institute supporters happy, the version of the Vintages Sale Summary being provided to National Post readers for free will not have my ratings - nor the convenient linking. Anyone becoming an FBTI supporter today will immediately receive a $20 discount PLUS receive all eleven pages of the detailed, full-linked Vintages Sale items complete with scores. To sign up as FBTI supporter today click here, and we will email the FBTI Supporter Vintages Sale Summary immediately.
To see the complimentary National Post Reader Vintages Sale Summary click here.
2001-2002-2003-2004-2005 Tasting Note Database
Our tasting note database from December 31, 2000 to December 2005, covers every Vintages release product for the past 60 months. There are more than 10,000 notes in the database data. Just enter the name of the product, supplier name or CSPC number. Or you can search by type of wine, country of origin, even wine agent! Nothing could be easier. Also you can get information on the agent by clicking on the agent's name, as well as current LCBO store inventory by clicking on "Check LCBO Availability", which will automatically tell you the number of bottles at LCBO as of last night.
To use our Tasting Notes Database: click here

** For All Visitors **
Vintages Releases
To see the complete list of upcoming products from the
February 4 release, including In-Store Discovery items,
click here (sorted by date of release).
You can also see it sorted by agent click here
To see the complete list of upcoming products from the
February 18 release, including In-Store Discovery items,
click here (sorted by date of release).
You can also see it sorted by agent click here
Copyright Food & Beverage Testing Institute of Canada 2006
Prior written permission is required for any form of reproduction
(electronic or other wise) and or quotation.
Contact Michael Vaughan at
mbv@total.net