Recent Articles
Dec. 17 - The Best of the Season ~ Seasonal Gifting: From Books to the Best Buy Champagne & '1876' Scotch
Dec. 10 - Great Holiday Wines in Today's Vintages release ~ From the Bargains to the Jewels
Dec. 3 - From the Perfect Pear Martini ~ to a Vintage Port to Remember
Nov. 26 - Wines to Buy & Wines to Avoid
Nov. 19 - Beaujolais Nouveau Celebrates 54 Years
Nov. 12 - Vintages Release Best Buys ~ From California to Bordeaux
Nov. 5 - "Eyes Wide Shut" ~ Taste, texture and scent in motion
Oct. 29 - Tricks & Treats in Today's Vintages Release ~ Some Awesome Aussi Highlights
Oct. 22 - Perfect Fall Libations ~ Obscure varieties from Welschriesling to Semillon
Oct. 15 - Hop Scotch ~ The biggest whisky release on record
Oct. 8 - A Toast to the Turkey ~ Many whites, some reds and even a sparkling rosé
Oct. 1 - Barolo the King of Italian Reds
Sep. 24 - A Flood of Upcoming Tastings ~ but not a Vintages Classics in Sight
Sep. 17 - A Great Ontario Harvest ~ From just-released wines to a terrific new guide
Sep. 10 - Film Fest Fizz ~ Finding that Oscar-Winning Drink
Sep. 3 - Delicious Long Weekend Drinking ~ All but one under $20!
Aug. 27 - A new way of coding drinkability ~ And getting the best out of that bottle
Aug. 20 - The "New" Vintages Catalogue
Aug. 13 - Bargains Galore ~ Spirited Summer Matchmakers ~ From Boulard Calvados to Grand Marnier
Aug. 6 - Dealing with Disappointments ~ This Bicyclette has a flat tire!
Jul. 30 - LCBO Alternatives? ~ Regulations handcuff importers to LCBO warehouse
Jul. 23 - A French Sparkler & Greek Whites in Today's Vintages Hit Parade ~ In-Store Discoveries Reviews Disappear
Jul. 16 - French Rosé Rocks ~ Too bad you can't find them at the LCBO
Jul. 9 - Today's Vintages Release ~ Small in size but big in buys!
Jul. 2 - The Wines of Canada by John Schreiner ~ Interesting but a little thin
Jun. 25 - Boning Up for Canada Day! ~ ABC - Anything But Chardonnay A Best Buy ~ Trilogy of Grass-Free Sauvignon Blanc
Jun. 18 - Austria's Wines on a roll
Jun. 11 - Where there's Chardonnay there's Hope ~ 2,879 cases at Vintages! ~ Plus 79 New Items in Today's Vintages Release
Jun. 11 - Bottle of the Week
Kim Crawford 2004 Marlborough Sauvignon Blanc ~ Kick starts the screwcap revolution
Jun. 4 - Bodega Norton 2004 Chardonnay ~ A too-good-to-be-true Argentina gem from the General List ~ LCBO Price Book now a thing of the past!
Jun. 4 - Bottle of the Week
Codorniu Brut Clasico ~ Puts some sparkling Classics to shame
May. 28 - A Trip in a Glass ~ Fine wines to transport you to far-away destinations
May. 28 - Bottle of the Week
Zoom-Zoom-Zoomers! ~ Campari: Seeing Red ~ Setting the World Ablaze
May. 21 - Toasting Queen Victoria ~ With Discounted Reds! ~ Grab these bargains while they last!
May. 21 - Bottle of the Week
Putting a little spice into your Victoria Day Long Weekend
May. 14 - Sprouting Up Like Tulips ~ Excellent 2003 Whites at Vintages
May. 14 - Bottle of the Week
2004 Terra Boa Blanco ~ A Bargain Priced Springtime White from Portugal
May. 7 - Prince Edward County's Field of Dreams ~ Long Dog Winery - No Long Shot!
May. 7 - Bottle of the Week
For Mother's Day! ~ Veuve Clicquot La Grande Dame Champagne ~ A priceless bubbly for that priceless mother!


Become A FBTI Supporter Today By Clicking Here
This not-for-profit website is dedicated to the discerning reader!

A Toast to the Turkey
Many whites, some reds and even a sparkling rosé
© Michael Vaughan 2005


National Post Weekly Wine & Spirits Columnist
Saturday, October 8, 2005

LIVE WINE LINK
www.winefind.ca
(CLICK ON THE NAME - All listings are automatically linked to the LCBO database)
If there is a product that interests you, just click on the name below and you will instantaneously connected with the LCBO database. The product will appear in blue and all you have to do is click on the name again and then the next screen will provide details along with the store search. Just click on store search. The number of bottles in each store is updated nightly. Call the store first to see if stock still remains (each store phone number is listed).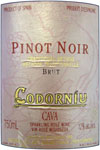 It is Thanksgiving, the time of year that brings fear and loathing to every turkey's heart. While Nebbiolo rarely goes well with turkey, last Saturday's Vintages release has a treasure trove of items that do. Codorniu Brut Pinot Noir Rosé Cava (665372) at $16.95 is a great turkey toaster. Made in the Méthode Traditionnelle, it has a light orange pink colour and basically dry, slightly spicy, ripe plum and sweetish dried strawberry flavours. It is rounded with fairly good mousse - a versatile, wide appeal style that is ready to drink.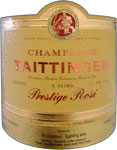 If you are trying to impress dinner guests, pour a bottle of the sublime Taittinger Brut Prestige Rosé Champagne (993113) at $65.95. The delicious, ripe, plumy, strawberry flavours almost dance on the tongue. It is seriously delicious.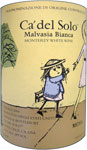 For white wine fans who enjoy a touch of spiciness, Ca' del Solo 2004 Malvasia Bianca (948737) at $19.95 is loaded with very tangy, delicious ripe lemon-melon-Muscat-pear flavours. The nice thing about this Monterey effort by Boony Doon is that it is dry on the palate with sufficient acidity to keep it fresh and lively. It comes with a convenient screwcap closure.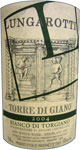 Bargain basement shoppers should like the tasty 2004 release of Lungarotti 2004 'Torre di Giano' Bianco (49205 ) at $9.95. This Umbrian classic is designated as a Bianco di Torgiano and is made from Trebbiano and Grechetto grapes. It has very gently honeyed, fresh, floral citrus nose and dry, crisp, light bodied, tangy, fresh melon-lemon flavours.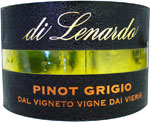 Those who enjoy the dry, floral-melon flavours of a good Pinot Gris have two fine choices. Those on a budget will want to buy a bottle of a charmer from Italy's Fruili. Di Lenardo 2004 Pinot Grigio Dal Vigneto Vigne dai Vieris (710012) is tasty value at $13.95. Designated as an IGT Venezia Giulia, this fairly light bodied, gently honeyed effort is at its peak of drinkability.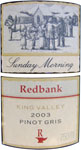 Those with more to spend should track down Redbank 2003 'Sunday Morning' Pinot Gris (677484) at $21.95. Coming from Australia's King Valley in North Eastern Victoria, it has an attractive, fruit laden, floral, honeysuckle nose with some lemon drop notes. On the palate, tangy, refreshing, honeysuckle notes balance the well-structured, ripe lemon-melon flavours. The complexity comes from being whole bunch pressed with a small proportion fermented in used oak barriques. Look for the screwcap closure and a Mosel green, flute-shaped bottle.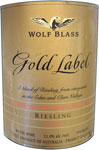 Talking about Mosel, Riesling fans will have a tough time resisting another outstanding South Australian effort, which also in screwcap. Wolf Blass 2004 'Gold Label' Riesling (606269) at $19.95. The nose shows good intensity - slightly spicy, stewed ripe melon-lime fruit. It is dry and harmonious with very fresh, tangy, ripe lemon-melon flavours and a crisp, lingering finish.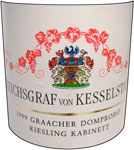 Seasoned Riesling fans will make a beeline to snag a couple of bottles of Reichsgraf Von Kesselstatt 1999 Riesling Kabinett Graacher Domprobst (657171) at $16.95. This estate-bottled effort may only have 8% alcohol, but it is loaded with flavour. The nose shows good complexity with slightly nutty, schisty, petrol tinged, lemon-marmalade notes. Although quite sweet, it is well balanced with bright, melon-apricot flavours. There's lots of life left in this one – remarkable value and a terrific Thanksgiving preprandial.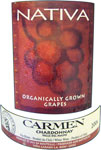 For Chardonnay fans, a zesty, organic effort from Chile is high on my best buy list. Vina Carmen 2004 'Nativa' Chardonnay (975219) at $17.95 hails from the Maipo valley and weighs in with 14% alcohol. The nose is quite intense with fresh, tangy, dried ripe Anjou pear nose with a hint of vanilla stick. It is dry and very bright with intense, ripe lemon-pear flavours and lingering, zestiness.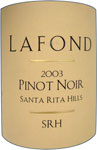 Finding the perfect red is always a bit of a challenge. I look for some good acidity and lively cranberry-cherry flavours. From the current Vintages release, my choice would be California's Lafond 2003 'SRH' Pinot Noir (998666) at $25.95. Coming from the recently designated cool coastal Santa Rita Hills, this fruity, well-structured effort should work well, especially with dark meat and gravy. It has a rather spicy, plumy, cassis nose. It is dry and fairly extracty with bright, cherry-tinged, plumy, cassis flavours. Apparently eight Pinot Noir clones were used in producing a mere 1,247 cases

.

Those planning ahead might want to circle

Tuesday, October 18 for the

Penfolds Re-Corking Clinic

. It is being hosted by

Chief Winemaker Peter Gago

. Christie's Auction House representatives will be on hand to assess Penfolds reds that are at least 15 years old. It takes place at The Carlu from 6:30-9:00 pm. If you just want to taste, 20 wines from the Penfold's portfolio will be available along with two en primeur wines (click here for the list). The cost is $75 – call 1-800-266-4764 for tickets.

2001-2002-2003-2004-2005 Tasting Note Database
Our tasting note database from December 31, 2000 to July 2005, covers every Vintages release product for the past 55 months. There are more than 9,000 notes in the database data. Just enter the name of the product, supplier name or CSPC number. Or you can search by type of wine, country of origin, even wine agent! Nothing could be easier. Also you can get information on the agent by clicking on the agent's name, as well as current LCBO store inventory by clicking on "Check LCBO Availability", which will automatically tell you the number of bottles at LCBO as of last night.

To use our Tasting Notes Database: click here


** For All Visitors **
Vintages Releases
To see the complete list of upcoming products from the
October 29 release, including In-Store Discovery items,
click here (sorted by date of release).
You can also see it sorted by agent click here

To see the complete list of upcoming products from the
November 12 release, including In-Store Discovery items,
click here (sorted by date of release).
You can also see it sorted by agent click here

Copyright Food & Beverage Testing Institute of Canada 2005
Prior written permission is required for any form of reproduction
(electronic or other wise) and or quotation.
Contact Michael Vaughan at
mbv@total.net