Recent Articles
Mar. 11 - Ireland: The cradle of Whiskey
Mar. 4 - The Best of Today's Vintages Release ~ South Africa's Answer to Tequila
Feb. 25 - Mining for Gold in South Africa ~ Great Pinotage & Shiraz
Feb. 18 - Going for Gold at Vintages
Feb. 11 - Beware of great wine reviews that don't deliver ~ Is it me, the critic or the bottle?
Feb. 4 - Spanish Wines Take Flight
Jan. 28 - D-Day at Vintages 724 ~ Vintages items go on sale today!
Jan. 21 - Today at Vintages ~ A Fine Trio of Accessible French Whites ~ The Many Faces of Syrah/Shiraz
Jan. 14 - Ontario's Icewines Shine ~ The Icewine Oscars for the Best 2004
Jan. 7 - A Quality Vintages Kick-off to the New Year Easy Quaffing Southern Hemisphere Shiraz
Dec. 31 - Cognac Unconquered ~ From $1.30 to $74.88 an ounce ~ Sipping Your Way into the New Year
Dec. 24 - LCBO Gifts ~ Buy Carefully ~ Juicy cherry & tangy cranberry flavours for your Turkey
Dec. 17 - The Best of the Season ~ Seasonal Gifting: From Books to the Best Buy Champagne & '1876' Scotch
Dec. 10 - Great Holiday Wines in Today's Vintages release ~ From the Bargains to the Jewels
Dec. 3 - From the Perfect Pear Martini ~ to a Vintage Port to Remember
Nov. 26 - Wines to Buy & Wines to Avoid
Nov. 19 - Beaujolais Nouveau Celebrates 54 Years
Nov. 12 - Vintages Release Best Buys ~ From California to Bordeaux
Nov. 5 - "Eyes Wide Shut" ~ Taste, texture and scent in motion
Oct. 29 - Tricks & Treats in Today's Vintages Release ~ Some Awesome Aussi Highlights
Oct. 22 - Perfect Fall Libations ~ Obscure varieties from Welschriesling to Semillon
Oct. 15 - Hop Scotch ~ The biggest whisky release on record
Oct. 8 - A Toast to the Turkey ~ Many whites, some reds and even a sparkling rosé
Oct. 1 - Barolo the King of Italian Reds
Sep. 24 - A Flood of Upcoming Tastings ~ but not a Vintages Classics in Sight
Sep. 17 - A Great Ontario Harvest ~ From just-released wines to a terrific new guide
Sep. 10 - Film Fest Fizz ~ Finding that Oscar-Winning Drink
Sep. 3 - Delicious Long Weekend Drinking ~ All but one under $20!
Aug. 27 - A new way of coding drinkability ~ And getting the best out of that bottle
Aug. 20 - The "New" Vintages Catalogue
Aug. 13 - Bargains Galore ~ Spirited Summer Matchmakers ~ From Boulard Calvados to Grand Marnier
Aug. 6 - Dealing with Disappointments ~ This Bicyclette has a flat tire!
Jul. 30 - LCBO Alternatives? ~ Regulations handcuff importers to LCBO warehouse
Jul. 23 - A French Sparkler & Greek Whites in Today's Vintages Hit Parade ~ In-Store Discoveries Reviews Disappear
Jul. 16 - French Rosé Rocks ~ Too bad you can't find them at the LCBO
Jul. 9 - Today's Vintages Release ~ Small in size but big in buys!
Jul. 2 - The Wines of Canada by John Schreiner ~ Interesting but a little thin
Jun. 25 - Boning Up for Canada Day! ~ ABC - Anything But Chardonnay A Best Buy ~ Trilogy of Grass-Free Sauvignon Blanc
Jun. 18 - Austria's Wines on a roll
Jun. 11 - Where there's Chardonnay there's Hope ~ 2,879 cases at Vintages! ~ Plus 79 New Items in Today's Vintages Release
Jun. 11 - Bottle of the Week
Kim Crawford 2004 Marlborough Sauvignon Blanc ~ Kick starts the screwcap revolution
Jun. 4 - Bodega Norton 2004 Chardonnay ~ A too-good-to-be-true Argentina gem from the General List ~ LCBO Price Book now a thing of the past!
Jun. 4 - Bottle of the Week
Codorniu Brut Clasico ~ Puts some sparkling Classics to shame


Get the 2006 editions of Vintage Assessments today!


With a special $20 Gift Discount
Click Here


From the Perfect Pear Martini
to a Vintage Port to Remember
© Michael Vaughan 2005


National Post Weekly Wine & Spirits Columnist
Saturday, December 3, 2005

LIVE WINE LINK
www.winefind.ca
(CLICK ON THE NAME - All listings are automatically linked to the LCBO database)
If there is a product that interests you, just click on the name below and you will instantaneously connected with the LCBO database. The product will appear in blue and all you have to do is click on the name again and then the next screen will provide details along with the store search. Just click on store search. The number of bottles in each store is updated nightly. Call the store first to see if stock still remains (each store phone number is listed).

It is a cold, a nasty night - the prelude of winter. I am heading out to yet another reception, this time a season 5 wrap party for the Surreal Gourmet Bob Blumer on the third-floor "sky yard" (aka roof) of the trendy Drake Hotel. It's almost nine and yet Toronto's ever-diligent parking tag folks are out in force handing out $30 fines for those who forgot to keep their meter's alive.

At the top of the stairs I step into the room and am confronted by a charming hostess with a tray of drinks. I dive into one of the utterly most delicious concoctions of the year dressed in a Martini glass. "What is it?" I ask. "A Pear Martini" is the reply.

Well blow me over, as an extremely fussy Martini man and never stray from the essential ingredient – gin. And not any gin, it has to be one of a select group – Tanqueray (the regular brand, not the Tanqueray Ten, which I don't like), Plymouth, or if I am very lucky, the ultra premium Hendrick's. As a minimalist, I am not keen on any other flavours, just the pure natural flavours of the gin itself.

Also, I hate most fruit cocktails because they taste so completely artificial and ultra sweet. Nevertheless, there I am clutching one the best fruit cocktails of the year. I ask the bartender how did he do it? He then pulls out his secret ingredients.

The first ingredient is a liqueur called Xanté Poire au Cognac (630715 $29.95). I stare at the bottle because this is the same ultra-sweet viscous stuff I tasted last year at the product launch and almost spat out. Well, so there it is, I thought. I asked affable Drake bartender Gord Hannah what was added to this sweet, artificial-tasting, pear jub-jub? To 1 oz of Xanté, Gord added about 2.5 oz of Hero Pear Nectar (bottled in Spain from freshly squeezed pears - the 1 litre size is about $3), 1 oz of Gekkeikan Saké and some fresh lime juice, all of which were all shaken on ice. The result was fabulous.
I planned to replicate the drink at home and checked the LCBO only to discover that, although still available, this product has been discontinued. I then discover why Xanté tastes the way it does. The Swedish Absolute Spirits firm, whose fruit-flavoured vodkas have always been pretty dreadful, makes it. According to the back label, Xanté contains alcohol, sugar, cognac, flavour and caramel.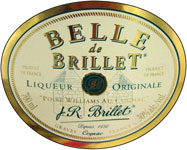 I was not happy about going to such lengths to get the natural pear flavours into my martini. And then a miracle happened. In the LCBO lab last Tuesday, I came across a brand new InStore Discovery liqueur Belle de Brillet "Poire Williams au Cognac" (705673) at $49.95. I am sad to report that these are the Vintages ISD items that the LCBO recently decided not to preview to writers for fear that they would sell out too quickly. The fact that some importers can't be bothered getting exposure for their ISD listings doesn't help.
Well fear not, because after more than two weeks from its silent, unheralded Vintages debut, more than 75% of the bottles still remain ignored on LCBO shelves. Note that there was never very much ordered, just 20 cases of 6 or 120 bottles for the whole province. But what an elixir. It has everything that is missing in Xanté: sublime, sweet, natural, juicy, ripe pear flavours that go on and on. Brillet, unlike Xanté, actually stuffs 10 kilos of pears into every bottle. It is so good that you actually want to drink it uncut - without the saké and/or store-purchased fruit juices. Of course, you have to pay for what you get, meaning that it costs $2.10 vs. $1.18 an ounce.
But then you must remember that it actually comes from France, the home of Cognac, not Sweden. Indeed, it was one Guy Brillet who installed the first still in his vineyard in the deluxe Grande Champagne district of Cognac in 1656. Ten generations later, the Brillet family is still producing Cognac, as well as their delicious Belle de Brillet, which was only created in 1985 along with its unique pear shaped bottle. To see in what stores Belle de Brillet, is available click here.
While the LCBO would like to see me extol the virtues of their extended holiday gift portfolio, the sad reality is that many of these items are simply not particularly tasty. The inconsequential shoe-shaped Cinderella Shoe Grappa With Cherry Liqueur, which appeared on these pages a year ago, still adorns my mantle, virtually untouched. Meanwhile, a genuine holiday treasure like Belle de Brillet goes virtually untasted and unnoticed with a tragic miniscule order.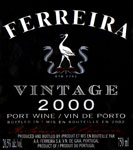 Also unsung, and now on sale, is one of the finest Ports of the magnificent 2000 vintage, Ferreira 2000 Vintage Port (741389), which was released on January 22nd at $74.95. Agent inertia combined with the Vintages' publication of the Robert Parker Jr. lowly score of 89 caused sales to tank. The price has recently been reduced to a phenomenally inexpensive $49.95 and almost half of the entire order of 50 cases remains.
I gave it my top 3 stars rating and here is my tasting note: "Very deep intense dark purple colour. Rather sweet cassis nose. Lovely, solid, medium-full bodied, fleshy, very slightly peppery, juicy, plummy, dried red cherry driven flavours with a lingering finish." Buy it and you will thank me. To see where Ferreira 2000 Vintage Port is available click here.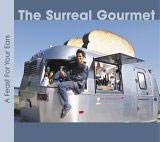 You may also want to dig into the just-released holiday CD-DVD dual disc pack from The Surreal Gourmet. The CD has 18 interesting tracks from the show itself, including a great song (#11) by local artist Kevin Quain called "When The Sun Goes Down". I found the pack at amazon.ca click here at $23.99. Sadly, Amazon omitted Kenin's track from the list on their website. The DVD includes clips from the show and there is even a mini booklet with menu recipes.
Coming Up
On Tuesday, December 6,

The Grand Tasting Wines of France

will feature some 150+ selections matched with French regional cuisine. Held at Carlu - 444 Yonge St., 7th floor from 7 pm to 10 pm. Tickets are $75 (+GST), to register go to www.frenchtasting.com or contact Anne Popoff at 416-921-8400. The full list of French wines being presented will be posted on our website on Monday, December 5.
2001-2002-2003-2004-2005 Tasting Note Database
Our tasting note database from December 31, 2000 to October 2005, covers every Vintages release product for the past 58 months. There are more than 10,000 notes in the database data. Just enter the name of the product, supplier name or CSPC number. Or you can search by type of wine, country of origin, even wine agent! Nothing could be easier. Also you can get information on the agent by clicking on the agent's name, as well as current LCBO store inventory by clicking on "Check LCBO Availability", which will automatically tell you the number of bottles at LCBO as of last night.
To use our Tasting Notes Database: click here

** For All Visitors **
Vintages Releases
To see the complete list of upcoming products from the
November 26 release, including In-Store Discovery items,
click here (sorted by date of release).
You can also see it sorted by agent click here
To see the complete list of upcoming products from the
December 10 release, including In-Store Discovery items,
click here (sorted by date of release).
You can also see it sorted by agent click here
Copyright Food & Beverage Testing Institute of Canada 2005
Prior written permission is required for any form of reproduction
(electronic or other wise) and or quotation.
Contact Michael Vaughan at
mbv@total.net