Recent Articles
Apr. 15 - The Top Shelf
Canada's Ultimate Wine Weekend ~ Upcoming: The Wine Summit Lake Louise
Apr. 15 - Putting a little "hop" into your Easter brunch
Apr. 8 - A Survivor's Guide to the 2006 California Wine Fair
Apr. 1 - The Top Shelf
German Wine and Jazz April 4th
Apr. 1 - Waking Up & Smelling the Flowers ~ A Bouquet of Springtime Whites ~ All Under $20
Mar. 25 - The Top Shelf
Sicily never tasted as good
Mar. 25 - Tracking Down Vintages Best Buys
Mar. 18 - In Homage to Cabernet Sauvignon ~ Great Cabernet Sauvignon can last for decades ~ 1970 Beaulieu Vineyard Private Reserve still a "King" of a Cab
Mar. 11 - Ireland: The cradle of Whiskey
Mar. 4 - The Best of Today's Vintages Release ~ South Africa's Answer to Tequila
Feb. 25 - Mining for Gold in South Africa ~ Great Pinotage & Shiraz
Feb. 18 - Going for Gold at Vintages
Feb. 11 - Beware of great wine reviews that don't deliver ~ Is it me, the critic or the bottle?
Feb. 4 - Spanish Wines Take Flight
Jan. 28 - D-Day at Vintages 724 ~ Vintages items go on sale today!
Jan. 21 - Today at Vintages ~ A Fine Trio of Accessible French Whites ~ The Many Faces of Syrah/Shiraz
Jan. 14 - Ontario's Icewines Shine ~ The Icewine Oscars for the Best 2004
Jan. 7 - A Quality Vintages Kick-off to the New Year Easy Quaffing Southern Hemisphere Shiraz
Dec. 31 - Cognac Unconquered ~ From $1.30 to $74.88 an ounce ~ Sipping Your Way into the New Year
Dec. 24 - LCBO Gifts ~ Buy Carefully ~ Juicy cherry & tangy cranberry flavours for your Turkey
Dec. 17 - The Best of the Season ~ Seasonal Gifting: From Books to the Best Buy Champagne & '1876' Scotch
Dec. 10 - Great Holiday Wines in Today's Vintages release ~ From the Bargains to the Jewels
Dec. 3 - From the Perfect Pear Martini ~ to a Vintage Port to Remember
Nov. 26 - Wines to Buy & Wines to Avoid
Nov. 19 - Beaujolais Nouveau Celebrates 54 Years
Nov. 12 - Vintages Release Best Buys ~ From California to Bordeaux
Nov. 5 - "Eyes Wide Shut" ~ Taste, texture and scent in motion
Oct. 29 - Tricks & Treats in Today's Vintages Release ~ Some Awesome Aussi Highlights
Oct. 22 - Perfect Fall Libations ~ Obscure varieties from Welschriesling to Semillon
Oct. 15 - Hop Scotch ~ The biggest whisky release on record
Oct. 8 - A Toast to the Turkey ~ Many whites, some reds and even a sparkling rosé
Oct. 1 - Barolo the King of Italian Reds
Sep. 24 - A Flood of Upcoming Tastings ~ but not a Vintages Classics in Sight
Sep. 17 - A Great Ontario Harvest ~ From just-released wines to a terrific new guide
Sep. 10 - Film Fest Fizz ~ Finding that Oscar-Winning Drink
Sep. 3 - Delicious Long Weekend Drinking ~ All but one under $20!
Aug. 27 - A new way of coding drinkability ~ And getting the best out of that bottle
Aug. 20 - The "New" Vintages Catalogue
Aug. 13 - Bargains Galore ~ Spirited Summer Matchmakers ~ From Boulard Calvados to Grand Marnier
Aug. 6 - Dealing with Disappointments ~ This Bicyclette has a flat tire!
Jul. 30 - LCBO Alternatives? ~ Regulations handcuff importers to LCBO warehouse
Jul. 23 - A French Sparkler & Greek Whites in Today's Vintages Hit Parade ~ In-Store Discoveries Reviews Disappear
Jul. 16 - French Rosé Rocks ~ Too bad you can't find them at the LCBO
Jul. 9 - Today's Vintages Release ~ Small in size but big in buys!
Jul. 2 - The Wines of Canada by John Schreiner ~ Interesting but a little thin


Get Michael Vaughan's Buying Guide for today's Vintages Release today!
With a special $20 Discount
Click Here
Today at Vintages
A Fine Trio of Accessible French Whites
The Many Faces of Syrah/Shiraz
© Michael Vaughan 2006
National Post Weekly Wine & Spirits Columnist
Saturday, January 21, 2006
LIVE WINE LINK
www.winefind.ca
(CLICK ON THE NAME - All listings are automatically linked to the LCBO database)
If there is a product that interests you, just click on the name below and you will instantaneously connected with the LCBO database. The product will appear in blue and all you have to do is click on the name again and then the next screen will provide details along with the store search. Just click on store search. The number of bottles in each store is updated nightly. Call the store first to see if stock still remains (each store phone number is listed).
Today's Vintages release of 90 items is totally bereft of any celebratory January 25th Robbie Burns Day libations for next Wednesday's praise to the haggis. It is a shame that last October's LCBO massive flood of the market wasn't better spread out. Did we really need 22 new Vintages selections plus another 31 new LCBO whiskies from around the world, including two Japanese "Single Malts" all at one time? Luckily, National Post readers can still get the full list of featured best buys from my Web site.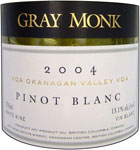 Of the handful of new whites presented today, I have four buys, all under $20. From British Columbia, a reliable performer is Gray Monk 2004 Pinot Blanc (321612) at $15.95. Light straw colour, the nose is gently honeyed with ripe, apricot-tangerine-citrus notes. It is fairly dry and unoaked with lots of easy-to-enjoy ripe melon flavours that show good length. Sourced from vineyards in both in both the northern and southern sections of the Okanagan Valley, it is well structured with 13.1% alcohol and would be perfect with poultry and seafood dishes.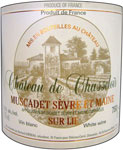 More austere and yet very delicious in its own right is an excellent version of a classic oyster wine from the Loire. If shellfish are on your horizon, make sure you bag a couple of bottles of Château de Chasseloir 2004 Muscadet de Sèvre et Maine Sur Lie (642637) at $13.95. Look for a bright, slightly chalky, lemony nose, which is followed up by tangy, fairly-light bodied, crisp, ripe lemon-melon flavours and a sliver of complexity from the lees aging (sur lie). Drink it soon while it is still fresh and lively.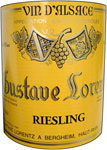 Another winner from France, this time from Alsace, is the attractive, easy-to-drink Gustave Lorentz 2003 Riesling Medaille d'Or (641639) at $16.95. It comes with fresh, ripe lemon-melon aromas, which lean in a honeyed, floral direction. It is not a gangbuster, but dry, medium-light bodied and well balanced with clean, ripe melon-lemon flavours - again, perfect for seafood.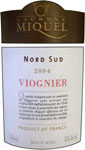 The best buy white comes from the Pays d'Oc region - Laurent Miquel 2004 Viognier Nord Sud (673236) at $16.95. Unlike the previous whites, this one has seen its share of fine French oak. A portion was barrel fermented for adding complexity and toasty flavours, while the balance was kept in stainless steel thereby boosting fruitiness. The result is terrific - a nose loaded with fruit and very lively, well-structured, gently spicy, honeyed, intense ripe melon flavours followed up by a lingering, cedary finish. Great for white meats and pasta in cream based sauces.
Moving on to the reds, as this release is called "the adventurous life of Syrah/Shiraz", here are my findings of some 20 on offer. First, it ends up being pretty much ending up as Australia vs. France with a tip of the hat going to Chile, South Africa, California and Portuguese contenders.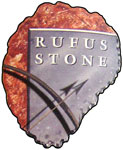 First from Australia, comes one of the best buys of the release Tyrrell's 2003 Rufus Stone Shiraz (542100) at $19.95. Given its terrific quality, it seems that the price must have been messaged down from $23.95 to land this substantial Vintages 1,310 case order. It has a very deep intense purple colour and is surprisingly smooth despite the whopping 14.5% alcohol. On the palate it has spicy, well-structured, concentrated, juicy, ripe plum and cassis flavours and a lingering cedar-chocolate finish. This South Australian McLaren Vale effort is fine today, but will still evolve over the next 18 months. Don't miss it.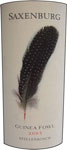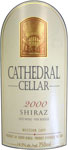 South African wine fans need not fret. KWV 2000 Cathedral Cellar' Shiraz (561142) at $16.95 hits the target with a somewhat rustic, ready-to-drink, fairly robust, roasted plum and coffee flavoured effort from the Western Cape. A perfect roast beef partner, especially if accompanied by some horseradish. Meanwhile at only $12.95, Saxenburg 2003 Guinea Fowl' Shiraz/Cabernet/ Merlot (694364) offers fine, solid, fairly gutsy, slightly smoky, peppery, dried plum and chocolate flavours that can definitely benefit from another year of aging.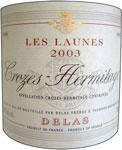 From French Rhone, the traditional home of Syrah come four selections, all offering divergent styles. My personal favourite was Delas Fréres 2003 Les Launes Crozes-Hermitage (701359) at $22.95, even though one of the bottles sampled was a bit problematic. I loved the nose, which was very complex and meaty with slightly smoky, spicy, plumy, red currant notes. The spicy, very dry, gently juicy, ripe plum and blueberry flavours had a solid, tangy finish.
A second bottle of Cave de Sarras 2000 Cuvée Champtenaud' Saint-Joseph (673145) at $22.95 showed very well with solid, complex, ripe plum, sandalwood and licorice flavours. As for the rather tasty, ripe, juicy, cherry flavoured Domaine des Sénéchaux 2003 Châteauneuf-Du-Pape (677922) at $31.95, it just seemed too light for the money. Much less expensive and more straightforward is L'Ostal Cazes 2003 Circus Shiraz (673202) at $14.95. This Vin de Pays d'Oc is fairly juicy with ready-to-drink, plumy, ripe cherry flavours.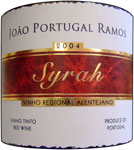 A nice surprise from Portugal was the very decent, solid, juicy but well structured, dried red cherry flavoured Joao Portugal Ramos 2004 Syrah (998682) at $20.95. Finally, from California's Los Carneros region of Sonoma is Cline 2002 Syrah (955435) at $27.95, which showed lots of depth with intense, plumy, ceday flavours and a lingering, bitter chocolate finish.
2001-2002-2003-2004-2005 Tasting Note Database
Our tasting note database from December 31, 2000 to December 2005, covers every Vintages release product for the past 60 months. There are more than 10,000 notes in the database data. Just enter the name of the product, supplier name or CSPC number. Or you can search by type of wine, country of origin, even wine agent! Nothing could be easier. Also you can get information on the agent by clicking on the agent's name, as well as current LCBO store inventory by clicking on "Check LCBO Availability", which will automatically tell you the number of bottles at LCBO as of last night.
To use our Tasting Notes Database: click here

** For All Visitors **
Vintages Releases
To see the complete list of upcoming products from the
January 21 release, including In-Store Discovery items,
click here (sorted by date of release).
You can also see it sorted by agent click here
To see the complete list of upcoming products from the
February 4 release, including In-Store Discovery items,
click here (sorted by date of release).
You can also see it sorted by agent click here
To see the complete list of upcoming products from the
February 18 release, including In-Store Discovery items,
click here (sorted by date of release).
You can also see it sorted by agent click here
Copyright Food & Beverage Testing Institute of Canada 2006
Prior written permission is required for any form of reproduction
(electronic or other wise) and or quotation.
Contact Michael Vaughan at
mbv@total.net