Recent Articles
Jun. 17 - The World Cup of Sauvignon Blanc ~ Austria Triumphant
Jun. 3 - Thinking Pink - A Rosé for Every Taste
May. 27 - Vintage Plays Havoc with Classic Contenders ~ A Delicious Knockout for 2002 Ornellaia
May. 20 - New Zealand's Explosion of Flavours ~ Will give your Victoria Day long weekend a lift
May. 13 - Ra! Ra! Riesling! ~ Good ones, bad ones, fat ones, lean ones ~ Rieslings, as well as, Mothers!
May. 6 - When it comes to wine lists ~ Bigger isn't necessarily better
Apr. 29 - The Top Shelf
The Joyous Harbinger of Spring ~ Austrian Grüner Veltliner
Apr. 29 - A Hole-in-One Twice for Greg Norman ~ Wedding Bell Bubblies
Apr. 22 - Gambling on Wine Dinners ~ Three recent positive outings
Apr. 22 - Gambling on Wine Dinners ~ Three recent positive outings
Apr. 15 - The Top Shelf
Canada's Ultimate Wine Weekend ~ Upcoming: The Wine Summit Lake Louise
Apr. 15 - Putting a little "hop" into your Easter brunch
Apr. 8 - A Survivor's Guide to the 2006 California Wine Fair
Apr. 1 - The Top Shelf
German Wine and Jazz April 4th
Apr. 1 - Waking Up & Smelling the Flowers ~ A Bouquet of Springtime Whites ~ All Under $20
Mar. 25 - The Top Shelf
Sicily never tasted as good
Mar. 25 - Tracking Down Vintages Best Buys
Mar. 18 - In Homage to Cabernet Sauvignon ~ Great Cabernet Sauvignon can last for decades ~ 1970 Beaulieu Vineyard Private Reserve still a "King" of a Cab
Mar. 11 - Ireland: The cradle of Whiskey
Mar. 4 - The Best of Today's Vintages Release ~ South Africa's Answer to Tequila
Feb. 25 - Mining for Gold in South Africa ~ Great Pinotage & Shiraz
Feb. 18 - Going for Gold at Vintages
Feb. 11 - Beware of great wine reviews that don't deliver ~ Is it me, the critic or the bottle?
Feb. 4 - Spanish Wines Take Flight
Jan. 28 - D-Day at Vintages 724 ~ Vintages items go on sale today!
Jan. 21 - Today at Vintages ~ A Fine Trio of Accessible French Whites ~ The Many Faces of Syrah/Shiraz
Jan. 14 - Ontario's Icewines Shine ~ The Icewine Oscars for the Best 2004
Jan. 7 - A Quality Vintages Kick-off to the New Year Easy Quaffing Southern Hemisphere Shiraz
Dec. 31 - Cognac Unconquered ~ From $1.30 to $74.88 an ounce ~ Sipping Your Way into the New Year
Dec. 24 - LCBO Gifts ~ Buy Carefully ~ Juicy cherry & tangy cranberry flavours for your Turkey
Dec. 17 - The Best of the Season ~ Seasonal Gifting: From Books to the Best Buy Champagne & '1876' Scotch
Dec. 10 - Great Holiday Wines in Today's Vintages release ~ From the Bargains to the Jewels
Dec. 3 - From the Perfect Pear Martini ~ to a Vintage Port to Remember
Nov. 26 - Wines to Buy & Wines to Avoid
Nov. 19 - Beaujolais Nouveau Celebrates 54 Years
Nov. 12 - Vintages Release Best Buys ~ From California to Bordeaux
Nov. 5 - "Eyes Wide Shut" ~ Taste, texture and scent in motion
Oct. 29 - Tricks & Treats in Today's Vintages Release ~ Some Awesome Aussi Highlights
Oct. 22 - Perfect Fall Libations ~ Obscure varieties from Welschriesling to Semillon
Oct. 15 - Hop Scotch ~ The biggest whisky release on record
Oct. 8 - A Toast to the Turkey ~ Many whites, some reds and even a sparkling rosé
Oct. 1 - Barolo the King of Italian Reds
Sep. 24 - A Flood of Upcoming Tastings ~ but not a Vintages Classics in Sight
Sep. 17 - A Great Ontario Harvest ~ From just-released wines to a terrific new guide
Sep. 10 - Film Fest Fizz ~ Finding that Oscar-Winning Drink
Sep. 3 - Delicious Long Weekend Drinking ~ All but one under $20!


Get Michael Vaughan's Buying Guide for today's Vintages Release today!
With a special $20 Discount
Click Here
Mining for Gold in South Africa
Great Pinotage & Shiraz
© Michael Vaughan 2006
National Post Weekly Wine & Spirits Columnist
Saturday, February 25, 2006
LIVE WINE LINK
www.winefind.ca
(CLICK ON THE NAME - All listings are automatically linked to the LCBO database)
If there is a product that interests you, just click on the name below and you will instantaneously connected with the LCBO database. The product will appear in blue and all you have to do is click on the name again and then the next screen will provide details along with the store search. Just click on store search. The number of bottles in each store is updated nightly. Call the store first to see if stock still remains (each store phone number is listed).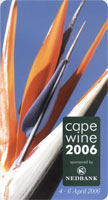 Every two years South Africa holds something called Cape Wine, an outstanding trade show featuring over 4,000 wines from 350+ wineries. This year it takes place April 4-6 at the new Cape Town Convention Centre and promises to be a humdinger, jam-packed with numerous seminars and specialty tastings.
While I won't be attending the upcoming Cape Wine event, I did have a window to explore South African wines last Fall when invited to be the first North American judge at the annual ABSA Top Ten Pinotage competition, which included an intensive three-day comparative blind tasting of some 119 submissions.
Pinotage comes in every shape and style. Sadly, this unique South African grape that has been ravaged by some small-minded critics who believe that Bordeaux varieties are the be all and end all. As Pinotage is a relatively new grape, the hot, antiseptic flavours that characterized some early versions have now become a thing of the past. Also, keep in mind that we live in a world full of challenging "noble" Cabernet and Merlot wines, many of which would never grace my glass.
Very recently, some critics have suggested that Pinotage should be made lighter and fruitier style to reflect its "simple" beginnings. While such wines can be delicious, what proponents fail to understand is that the grapes have to fully ripen before the noble cherry-berry flavours bloom. Growers, who are temped to over crop and/or pick too early, result in lighter, albeit still tasty, reds. Of course, low yields and full ripening mean higher levels of alcohol. Thankfully, they can be seamless and delicious - perfect food matches. Meanwhile, certain alcohol-reduction techniques such as reverse osmosis and spinning cone, which are used by respected California producers, are still forbidden in South Africa. Surely the time has come to change South African winemaking legislation.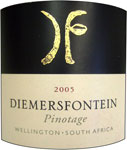 I discovered that at least two of my initial top scoring Pinotage didn't make the final cut. From Franschhoek - the new, robust Allee Bleue 2004 Pinotage (15%); and from Wellington - the crowd-pleasing, intensely fruity Diemersfontein 2005 Pinotage (14.5%). The goods news is that the latter is in the March 4th South African Vintages release (995241 - $22.95). It has a very deep intense purple colour and pungent, chocolate-driven, smoky, ripe raspberry-black cherry nose. On the palate it is dry, well structured and rich with spicy, ripe plum, vanilla, smoke-tinged, chocolate, black cherry flavours that go on and on.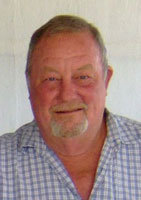 My top scores went to the following ABSA Top Ten winners: Diemersfontein 2003 Carpe Diem Pinotage and Manley Private Cellar 2004 Pinotage. Small quantities of the latter were made by owner/winemaker David Manley Jordan on his small 8 ha. estate in the somewhat remote Tulbagh region. He only started making wine in 2002 and also produces Cabernet and Shiraz. They are all amazingly ripe, rounded and delicious. For more information click here.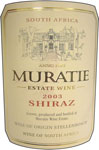 While Pinotage is on an upswing, perhaps South Africa's most exciting reds are based on Shiraz. One of the best buys coming out next Saturday is the seductive Muratie Estate 2003 Shiraz (663278) at $19.95, which hails from a low yielding Stellenbosch block planted 31 years ago. It has a spicy, very gently smoky, juicy ripe black cherry nose with smooth, ripe plum and cherry purée flavours and lingering, lifted, vanilla-tinged finish. Superb value. For background on the Muratie Estate, which goes back to 1685 click here.
Fans are invited to discover the wines of South Africa at an upcoming Hidden Gems of the Cape tasting at Hart House on March 7th from 7-10 pm (cost $40). For tickets click here Some 180+ wines from 48 wineries will be available for tasting.
Unfortunately, neither of the two wines recommended here today will be featured. Why? Because some agents do very little to promote wines in their portfolios. The losers are the consumers who would like to taste these wines, along with producers. The only good news is that if you do not live in the Toronto or Ottawa area, you can order these recommended March 4th releases to be delivered to your local store by placing your order before 11 am this coming Tuesday.
Talking about opportunities, why doesn't the LCBO show the six new South African selections in their just-released 2006 Winter Classics Catalogue at the upcoming wine fair? With wines pushing $115 and $119 a bottle, potential customers will want to taste before they buy. This event gives them the perfect opportunity to get much needed exposure.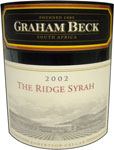 Not wanting to leave you stranded with nothing to drink, here is a currently available Vintages best buy: Graham Beck 2002 The Ridge Syrah (607812) at $24.95 from the Robertson region. The nose is terrific - slightly smoky, complex and gently cedary, with juicy, plumy, ripe black cherry fruit. It is very well structured and extracty but also harmonious with solid ripe black cherry flavours with a lingering, refreshing, vanilla stick finish. For LCBO store availability click here.
I should mention I am not keen on Graham Beck's regular 2002 Shiraz, a Vintages Essential at $17.95. I tasted/reviewed the far superior 2003 vintage last November and, for reasons I don't understand, this lackluster 2002 has suddenly popped up in the upcoming March 4th Vintages release.
Anyone visiting South Africa or interested in its wines must get a copy of John Platter South African Wines 2006. This 603-page treasure trove covers every facet - from cellars, vineyards and winemakers to restaurants, detailed winery maps and accommodations. Even the grape varieties and top-performing award winning wines of the year are detailed competition along with winemaking/winetasting terms and top South African wine buys. While no copies are in Canadian bookstores, the good news it that a very limited number are available through the Canadian representative of the Wines of South Africa (WOSA) Laurel Keenan for only $30, which includes shipping (email: keenan@propellerpr.com)
The recent ABSA Top Ten Pinotage results along with my 32 top choices are posted below click here. Those wanting to see the list of 180+ wines at the March 7th South African tasting click here
National Post readers wishing to receive the current Vintage Assessments newsletter (covering the Vintages releases for next Saturday & from last Saturday - including exclusive current ISD reviews) can have it e-mailed today and receive a $20 discount - click here.
MICHAEL VAUGHAN'S SCORING
OF THE ABSA TOP TEN PINOTAGE COMPETITION
It is difficult to marry personal scores with those of the ABSA TOP TEN PINOTAGE. First, let me point out that the judges do not know the final scores of the 10 top wines. We do know, however, that the top scoring 37 finalists were tasted on the final day. We also know which wines made it into the top 10 as well as the top 20. I have indicated which of my medal winning wines were in the top ten (1-10), between 11 and 20 and, finally, between 21 and 37. Clearly some of my choices, including three potential gold medal winners, didn't make it to the finals (Diemersfontein 2005 Pinotage, Hill & Dale 2004 Pinotage and Allee Bleue 2004 Pinotage). Also, based on my scoring, I did not award any medal to two of the ABSA Top Ten (Devon Hill 2002 Pinotage and Klein Tulbagh Reserve 2003 Pinotage). Also, I did not award any medal to 10 of the 37 finalists tasted on the last day.
Scoring: What I have done is arbitrarily awarded anything with 18 or more points out of 20 points (in the initial and/or final tasting) a GOLD MEDAL. All wines which received 17 or more points (but under 18 points) were awarded SILVER. While anything receiving 16 or more points (but under 17 points) were awarded BRONZE. To the extent that 37 wines were tasted twice, where there was a discrepancy between the two tasting scores that transcended one point, that wine would be awarded the average of the two scores.
The results are:
• 6 Gold Medals (18 or more points)
• 14 Silver Medals (17 and higher but less than 18)
• 12 Bronze Medals(16 and higher but less than 17)
My top scoring wine is the Diemersfontein 2003 Carpe Diem Pinotage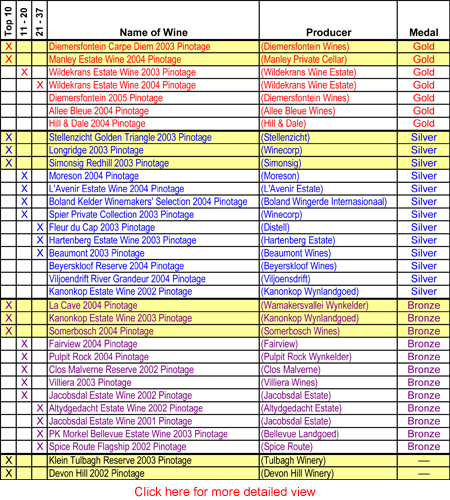 2001-2002-2003-2004-2005 Tasting Note Database
Our tasting note database from December 31, 2000 to January 2006, covers every Vintages release product for the past 61 months. There are more than 12,000 notes in the database data. Just enter the name of the product, supplier name or CSPC number. Or you can search by type of wine, country of origin, even wine agent! Nothing could be easier. Also you can get information on the agent by clicking on the agent's name, as well as current LCBO store inventory by clicking on "Check LCBO Availability", which will automatically tell you the number of bottles at LCBO as of last night.
To use our Tasting Notes Database: click here

** For All Visitors **
Vintages Releases
To see the complete list of upcoming products from the
March 4 release, including In-Store Discovery items,
click here (sorted by date of release).
You can also see it sorted by agent click here
To see the complete list of upcoming products from the
March 18 release, including In-Store Discovery items,
click here (sorted by date of release).
You can also see it sorted by agent click here
Copyright Food & Beverage Testing Institute of Canada 2006
Prior written permission is required for any form of reproduction
(electronic or other wise) and or quotation.
Contact Michael Vaughan at
mbv@total.net