Recent Articles
Nov. 19 - Beaujolais Nouveau Celebrates 54 Years
Nov. 12 - Vintages Release Best Buys ~ From California to Bordeaux
Nov. 5 - "Eyes Wide Shut" ~ Taste, texture and scent in motion
Oct. 29 - Tricks & Treats in Today's Vintages Release ~ Some Awesome Aussi Highlights
Oct. 22 - Perfect Fall Libations ~ Obscure varieties from Welschriesling to Semillon
Oct. 15 - Hop Scotch ~ The biggest whisky release on record
Oct. 8 - A Toast to the Turkey ~ Many whites, some reds and even a sparkling rosé
Oct. 1 - Barolo the King of Italian Reds
Sep. 24 - A Flood of Upcoming Tastings ~ but not a Vintages Classics in Sight
Sep. 17 - A Great Ontario Harvest ~ From just-released wines to a terrific new guide
Sep. 10 - Film Fest Fizz ~ Finding that Oscar-Winning Drink
Sep. 3 - Delicious Long Weekend Drinking ~ All but one under $20!
Aug. 27 - A new way of coding drinkability ~ And getting the best out of that bottle
Aug. 20 - The "New" Vintages Catalogue
Aug. 13 - Bargains Galore ~ Spirited Summer Matchmakers ~ From Boulard Calvados to Grand Marnier
Aug. 6 - Dealing with Disappointments ~ This Bicyclette has a flat tire!
Jul. 30 - LCBO Alternatives? ~ Regulations handcuff importers to LCBO warehouse
Jul. 23 - A French Sparkler & Greek Whites in Today's Vintages Hit Parade ~ In-Store Discoveries Reviews Disappear
Jul. 16 - French Rosé Rocks ~ Too bad you can't find them at the LCBO
Jul. 9 - Today's Vintages Release ~ Small in size but big in buys!
Jul. 2 - The Wines of Canada by John Schreiner ~ Interesting but a little thin
Jun. 25 - Boning Up for Canada Day! ~ ABC - Anything But Chardonnay A Best Buy ~ Trilogy of Grass-Free Sauvignon Blanc
Jun. 18 - Austria's Wines on a roll
Jun. 11 - Where there's Chardonnay there's Hope ~ 2,879 cases at Vintages! ~ Plus 79 New Items in Today's Vintages Release
Jun. 11 - Bottle of the Week
Kim Crawford 2004 Marlborough Sauvignon Blanc ~ Kick starts the screwcap revolution
Jun. 4 - Bodega Norton 2004 Chardonnay ~ A too-good-to-be-true Argentina gem from the General List ~ LCBO Price Book now a thing of the past!
Jun. 4 - Bottle of the Week
Codorniu Brut Clasico ~ Puts some sparkling Classics to shame
May. 28 - A Trip in a Glass ~ Fine wines to transport you to far-away destinations
May. 28 - Bottle of the Week
Zoom-Zoom-Zoomers! ~ Campari: Seeing Red ~ Setting the World Ablaze
May. 21 - Toasting Queen Victoria ~ With Discounted Reds! ~ Grab these bargains while they last!
May. 21 - Bottle of the Week
Putting a little spice into your Victoria Day Long Weekend
May. 14 - Sprouting Up Like Tulips ~ Excellent 2003 Whites at Vintages
May. 14 - Bottle of the Week
2004 Terra Boa Blanco ~ A Bargain Priced Springtime White from Portugal
May. 7 - Prince Edward County's Field of Dreams ~ Long Dog Winery - No Long Shot!
May. 7 - Bottle of the Week
For Mother's Day! ~ Veuve Clicquot La Grande Dame Champagne ~ A priceless bubbly for that priceless mother!
Apr. 30 - An increasingly confusing Vintages catalogue ~ Hard to find what you are looking for & plan purchases
Apr. 30 - Bottle of the Week
Rosemount Shiraz on a Roll!
Apr. 23 - The Wine Glass ~ The Key to getting the most out of your wines
Apr. 23 - Bottle of the Week
Making the Rum Transition
Apr. 16 - All we are saying is give pink a chance
Apr. 16 - Bottle of the Week
Talus 2002 Zinfandel ~ A Zinfully Good Anti-Luddite!
Apr. 9 - Don't be screwed by a bad cork ~ Screwcaps are the answer
Apr. 9 - Bottle of the Week
2003 Mouton Cadet Blanc ~ Canada's best selling white Bordeaux
Apr. 2 - From Fizz to Pop ~ Putting some zip into Spring
Apr. 2 - Bottle of the Week
Underberg the Ultimate Digestif! ~ Only a full bottle will do!


Become A FBTI Supporter Today By Clicking Here
This not-for-profit website is dedicated to the discerning reader!

A Great Ontario Harvest
From just-released wines to a terrific new guide
© Michael Vaughan 2005


National Post Weekly Wine & Spirits Columnist
Saturday, September 17, 2005

LIVE WINE LINK
www.winefind.ca
(CLICK ON THE NAME - All listings are automatically linked to the LCBO database)
If there is a product that interests you, just click on the name below and you will instantaneously connected with the LCBO database. The product will appear in blue and all you have to do is click on the name again and then the next screen will provide details along with the store search. Just click on store search. The number of bottles in each store is updated nightly. Call the store first to see if stock still remains (each store phone number is listed).

This year may well go down as being one of the best vintages on record. Sadly some growers, especially in the Niagara-on-the-Lake region, suffered a devastating winterkill that, in some instances, totally destroyed the vines. Nevertheless, overall quality looks great. And with Niagara Grape & Wine Festival in full swing, what could be more appropriate than today's Vintages release featuring 30 Ontario wines. It is the biggest release on record and, better yet with only a few disappointing gaffs, there are a surprising number of extremely good buys.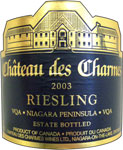 Dealing with whites first, tracking down a good Riesling is always worth the effort. Hats off to Chateau des Charmes who has recently come up with a number of seriously tasty releases. At $15.95, the estate-bottled is Château des Charmes 2003 Riesling (277228) is no exception. It has 13% alcohol and is crisp, dry and well structured with tangy, ripe apple flavours – very much in the classic German tradition.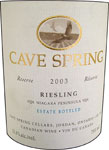 The other choice would be pale straw coloured Cave Spring 2003 Riesling Reserve (286377) at $17.95. With only 11% alcohol, it is dry and appealing with tangy, ripe lemon-lime notes. Note that both these wines (as well as a number of other Ontario selections) are part of the Vintages "Essentials Collection" and come with five AirMiles until October 9.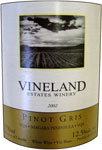 One of the most amazing "whites" of the release is the light-pink-coloured Vineland Estates 2002 Pinot Gris (563460) at $16.95. Pinot Gris (aka Tokay in Alsace and Pinot Grigio in Italy) is a mutation of Pinot Noir with its red skin and white juice. In fact, many are surprised to discover that it is still permitted in Burgundy. While this 2002 edition sure looks like a looks like a rosé, one thing is certain - it is very tasty. Just slightly sweet, the juicy, spicy flavours are reminiscent of rhubarb pie. Perfect with spicy Thai cuisine, it would also be an interesting match with your Thanksgiving turkey, which is only three weekends away!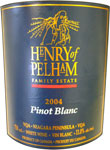 Another great buy is Henry of Pelham 2004 Pinot Blanc (618827) at $12.95 (aka Auxerrois in Alsace), which as a mutation of Pinot Gris, also happens to be related to Pinot Noir. Winemaker Ron Giesbrecht has done a fine job by omitting the oak and getting the fruit out front. The ripe lemon-apricot-apple aromas are followed up by dry, medium-light bodied, very tangy, melon flavours. Try a bottle with oysters and/or fresh seafood.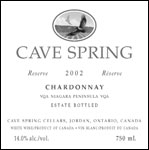 For Chardonnay fans, don't miss Cave Spring 2002 Chardonnay Reserve (256552) at $19.95. It has a hefty 14% alcohol and a very slightly smoky, ripe pear purée nose. Dry and well structured, the slightly smoky, ripe lemon-melon flavours are followed up with a long, slightly peppery, dried pear finish.
If you have only one white to buy, don't miss the best buy of the entire release Peninsula Ridge 2004 Viognier (662601) at only $13.95. I don't know if it is made exclusively from Viognier (winemakers are notoriously reluctant to reveal their secrets), but its wonderful, ripe Anjou pear nose with some gooseberry and rhubarb notes is worthy of a detour. On the palate it is dry, crisp and medium-light bodied, with very lively, lingering, toast tinged, melon, rhubarb and pear purée flavours.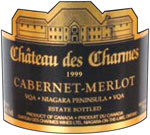 Moving on to today's 11 reds, I have two best buys. First, it is always great to find a classic vintage buy, so be sure to check out Château des Charmes 1999 Cabernet-Merlot (222372) at an incredible $18.95. It has kept its very deep intense purple red colour and has a complex, cedary, stewed ripe plum and chocolate nose. Reminiscent of a mature, well-aged, Bordeaux, the solid, extracty, plumy, chocolate flavours go on and on. Great acidity has enabled this effort to survive. Try with a rare rib steak or roast beef.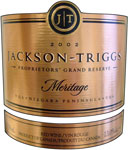 My other best buy red is Jackson-Triggs 2002 Meritage Proprietors' Grand Reserve (594002) at $19.95. This blend of 42% Merlot, 38% Cabernet Sauvignon and 20% Cabernet Franc has a very deep purple colour. The nose is classic Bordeaux - intense, lime-tinged, juicy plums and cherries with hints of pencil shavings. Solid, dry and extracty, the spicy, rather cedary, plumy-chocolate flavours need another year or so to evolve.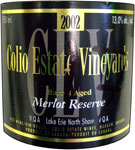 Another red worth considering is the gently cedary, complex Colio 2002 'CEV' Barrel Aged Merlot Reserve (500447) at $24.95, which has a very deep intense purple red colour. This still youthful, well-structured, dry, plumy, dried red cherry flavours with good length. It would work well with a rack of lamb and could be decanted permitting it open up prior to serving.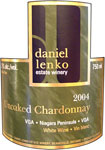 With the multitude of activities underway in Ontario's vineyards over the next two weekeneds, it is wonderful time to check out the local wine scene. As some wineries refuse to sell their wines through the LCBO, you might want to visit them first. Daniel Lenko, for instance, has some exciting new offerings. Daniel Lenko 2004 Unoaked Chardonnay (13.7% alcohol), has stylish, dry, very bright, fresh ripe melon and white peach flavours. Toronto top restaurants love this versatile, mouthwatering effort, which costs $19.95 at the winery. To go to their website click here.
Places to Eat in Niagara-On-The-Lake
If have already mentioned about lucking into the Anchorage Motel Bar & Grill (near the water at 186 Ricardo Street beside Queens Landing) where you can feast on terrific, fresh juicy chicken wings for a mere $10 either inside or on the patio. You might also want to try the delicious fish and chips, also a fine deal at $10. The crowning glory is the 40-oz pitcher of their great on-tap brews at only $14.95! In case you get lost, the telephone number is 905-468-2141.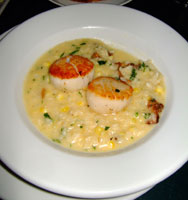 More upscale, is the excellent Stone Road Grille which is just a few km past the Jackson-Triggs Winery (as you drive towards Niagara-On-The-Lake) in a small mall on the right hand side of Hwy 55 (at the junction of Mary Street in the Garrison Plaza). The restaurant signage may be terrible, but the food is great, especially the splendid chanterelle mushroom and sweet corn risotto with satay scallop (starter portions are $12 or $18 as a main). The service is attentive and there is a decent wine list. Reservations are a must – call 905-468-3474.
To see the numerous Niagara Grape & Wine Festival events click here. Also make sure to pick up the 64-page 2005 Official Guide to the Wineries of Ontario at the LCBO, which is crammed with great maps and events galore. To download the guide click here.
Recommended: Konrad Ejbich's New Ontario Guide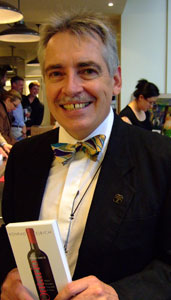 The ever-increasing number of Ontario wines available is staggering. Thankfully, one dedicated candidly honest wine writer has just come to the rescue with an effort that should become part of every wine lover's library.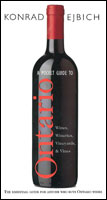 A Pocket Guide to Ontario Wines, Wineries, Vineyards & Vines by Konrad Ejbich is a detailed, easy-to-use, conveniently sized, 272-page guide that provides a wealth of information on all Ontario wineries, as well as grapes, vineyards, etc. In addition, over 2,000 wines have been reviewed using a multi-star scoring system with 12 grades ranging from flawed to amazing. Happily, about 90% of the wines have been assessed in the past 12-months meaning the reviews are still relevant. My only wish is that it had the wine prices and LCBO cspc numbers, which would make tracking the wines down a bit easier. This illustration-free guide will be appearing in bookstores at $22.99 next week. Here is the Chapters-Indigo link click here.
Coming Up
Remember the

Feast of Fields
2005
takes place tomorrow Sunday, September 18 from 2-6 pm
at the
Albion Hills Conservation Area
, just north of Bolton, Ontario.

Tickets are $120 per person and will be available at the gate. Call 905-859-3609 or email

tickets@organicadvocates.org

or
click here
for more information.
2001-2002-2003-2004-2005 Tasting Note Database
Our tasting note database from December 31, 2000 to July 2005, covers every Vintages release product for the past 55 months. There are more than 9,000 notes in the database data. Just enter the name of the product, supplier name or CSPC number. Or you can search by type of wine, country of origin, even wine agent! Nothing could be easier. Also you can get information on the agent by clicking on the agent's name, as well as current LCBO store inventory by clicking on "Check LCBO Availability", which will automatically tell you the number of bottles at LCBO as of last night.
To use our Tasting Notes Database: click here

** For All Visitors **
Vintages Releases
To see the complete list of upcoming 113 products from the
September 17 release, including 5 In-Store Discovery items,
click here (sorted by date of release).
You can also see it sorted by agent click here
To see the complete list of upcoming 109 products from the
October 1 release, including 16 In-Store Discovery items,
click here (sorted by date of release).
You can also see it sorted by agent click here
Copyright Food & Beverage Testing Institute of Canada 2005
Prior written permission is required for any form of reproduction
(electronic or other wise) and or quotation.
Contact Michael Vaughan at
mbv@total.net