Recent Articles
Jun. 17 - The World Cup of Sauvignon Blanc ~ Austria Triumphant
Jun. 3 - Thinking Pink - A Rosé for Every Taste
May. 27 - Vintage Plays Havoc with Classic Contenders ~ A Delicious Knockout for 2002 Ornellaia
May. 20 - New Zealand's Explosion of Flavours ~ Will give your Victoria Day long weekend a lift
May. 13 - Ra! Ra! Riesling! ~ Good ones, bad ones, fat ones, lean ones ~ Rieslings, as well as, Mothers!
May. 6 - When it comes to wine lists ~ Bigger isn't necessarily better
Apr. 29 - The Top Shelf
The Joyous Harbinger of Spring ~ Austrian Grüner Veltliner
Apr. 29 - A Hole-in-One Twice for Greg Norman ~ Wedding Bell Bubblies
Apr. 22 - Gambling on Wine Dinners ~ Three recent positive outings
Apr. 15 - The Top Shelf
Canada's Ultimate Wine Weekend ~ Upcoming: The Wine Summit Lake Louise
Apr. 15 - Putting a little "hop" into your Easter brunch
Apr. 8 - A Survivor's Guide to the 2006 California Wine Fair
Apr. 1 - The Top Shelf
German Wine and Jazz April 4th
Apr. 1 - Waking Up & Smelling the Flowers ~ A Bouquet of Springtime Whites ~ All Under $20
Mar. 25 - The Top Shelf
Sicily never tasted as good
Mar. 25 - Tracking Down Vintages Best Buys
Mar. 18 - In Homage to Cabernet Sauvignon ~ Great Cabernet Sauvignon can last for decades ~ 1970 Beaulieu Vineyard Private Reserve still a "King" of a Cab
Mar. 11 - Ireland: The cradle of Whiskey
Mar. 4 - The Best of Today's Vintages Release ~ South Africa's Answer to Tequila
Feb. 25 - Mining for Gold in South Africa ~ Great Pinotage & Shiraz
Feb. 18 - Going for Gold at Vintages
Feb. 11 - Beware of great wine reviews that don't deliver ~ Is it me, the critic or the bottle?
Feb. 4 - Spanish Wines Take Flight
Jan. 28 - D-Day at Vintages 724 ~ Vintages items go on sale today!
Jan. 21 - Today at Vintages ~ A Fine Trio of Accessible French Whites ~ The Many Faces of Syrah/Shiraz
Jan. 14 - Ontario's Icewines Shine ~ The Icewine Oscars for the Best 2004
Jan. 7 - A Quality Vintages Kick-off to the New Year Easy Quaffing Southern Hemisphere Shiraz
Dec. 31 - Cognac Unconquered ~ From $1.30 to $74.88 an ounce ~ Sipping Your Way into the New Year
Dec. 24 - LCBO Gifts ~ Buy Carefully ~ Juicy cherry & tangy cranberry flavours for your Turkey
Dec. 17 - The Best of the Season ~ Seasonal Gifting: From Books to the Best Buy Champagne & '1876' Scotch
Dec. 10 - Great Holiday Wines in Today's Vintages release ~ From the Bargains to the Jewels
Dec. 3 - From the Perfect Pear Martini ~ to a Vintage Port to Remember
Nov. 26 - Wines to Buy & Wines to Avoid
Nov. 19 - Beaujolais Nouveau Celebrates 54 Years
Nov. 12 - Vintages Release Best Buys ~ From California to Bordeaux
Nov. 5 - "Eyes Wide Shut" ~ Taste, texture and scent in motion
Oct. 29 - Tricks & Treats in Today's Vintages Release ~ Some Awesome Aussi Highlights
Oct. 22 - Perfect Fall Libations ~ Obscure varieties from Welschriesling to Semillon
Oct. 15 - Hop Scotch ~ The biggest whisky release on record
Oct. 8 - A Toast to the Turkey ~ Many whites, some reds and even a sparkling rosé
Oct. 1 - Barolo the King of Italian Reds
Sep. 24 - A Flood of Upcoming Tastings ~ but not a Vintages Classics in Sight
Sep. 17 - A Great Ontario Harvest ~ From just-released wines to a terrific new guide
Sep. 10 - Film Fest Fizz ~ Finding that Oscar-Winning Drink
Sep. 3 - Delicious Long Weekend Drinking ~ All but one under $20!


Get Michael Vaughan's Buying Guide for today's Vintages Release today!
With a special $20 Discount
Click Here
Spanish Wines Take Flight
© Michael Vaughan 2006
National Post Weekly Wine & Spirits Columnist
Saturday, February 4, 2006
LIVE WINE LINK
www.winefind.ca
(CLICK ON THE NAME - All listings are automatically linked to the LCBO database)
If there is a product that interests you, just click on the name below and you will instantaneously connected with the LCBO database. The product will appear in blue and all you have to do is click on the name again and then the next screen will provide details along with the store search. Just click on store search. The number of bottles in each store is updated nightly. Call the store first to see if stock still remains (each store phone number is listed).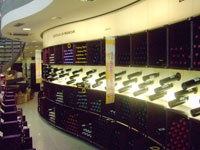 I am standing in Lavinia (click here), Madrid's leading wine retail complex. It is stunning. Not only are some 2,000 Spanish wines on display along with a huge foreign contingent, but there is also a gourmet restaurant on the mezzanine. I am here trying to track down one of the best Spanish reds I have ever tasted. I discovered it at series of special tastings held at Madrid Fusion IV, an enormous international gastronomy conference that takes place every two years.
SPAIN'S MOST EXPENSIVE WINE

The wine in question is called 2003 Pingus. I tasted it along with 28 other red contenders the previous day.
It's a sublime effort made from gnarled, extremely old, Tempranillo vines grown in a tiny vineyard in the hot Ribera del Duero region. While first released in 1995, it is produced in miniscule amounts (400 cases or so in good years) by youthful, Danish, owner-winemaker Peter Sissek. Despite its tender age, it was rich, harmonious and loaded with wonderful ripe plums and smoke-tinged cherrywood flavours followed up by a supple, lingering, chocolate finish. Pure elegance! One taste and "ping" went the strings of my heart.
I ask the store clerk for the 2003 but am informed that Lavina only stocks 1998, 1999 and 2000. The 2003 isn't available yet. "How much for the older vintages?" I ask. The answer: 920, 935 and 970 Euros respectively. I make the mistake of asking for how many bottles. "One" is the icy answer. This adds up to $1,288 for a bottle of the cheapest, which is just a tad out of my range. "We have its sibling, 2003 Flor de Pingus, which goes for only 80E" volunteers the salesperson. Regaining composure, I give him my card and ask him to email me when the 2003 hits the shelf.
GOING FAST: "VINEYARD" OWNERSHIP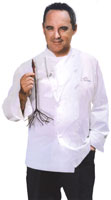 While making my retreat, another salesperson who happens to be clutching a vinestock, invites me to become a vineyard owner. Well almost, I can buy one of a limited 800 vineyard "lots" on offer at vineyard complex belonging to energetic Catalan chef Ferrán Adriŕ, owner of the world-famous el Bulli restaurant near Barcelona. In addition to "Fast Good" his new chain of fast food restaurants, he is also selling 20-vine "lots" from Bodega de Cal Celdoni to prospective wine lovers. In a nutshell, what you really get is title to 20 plants for up to 25 years.
The cost is 3,580 E ($5,012 or $250.60 per vine) plus a $35 monthly fee (for maintenance, etc). This gets you seven 6-packs annually complete with your own custom labels. Of course, you can choose the type of vines you want and even visit your "vineyard" with your friends for photo ops. You can also stay in the soon-to-be-converted ancient castle and enjoy catered "el Bulli" cuisine. That's about $10 a bottle, plus the investment up front. By Pingus standards, what a deal!
SPAIN'S WINE REVOLUTION
While one might have been tempted to think that the emergence of Vega Sicilia back in the 1980's was just an aberration, it really was only the beginning of the Spanish wine revolution. Who could have thought that Spanish reds would challenge the likes of Chateau Petrus? Is it just by chance that names - one in Latin (Petrus), the other in Danish (Pingus) - both mean "Peter"? Happily I can report that there still are a wide variety of high quality Spanish wines out there that can still be had for a song.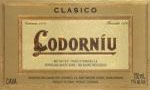 Indeed, it seems that well-priced Spanish wines are be popping up everywhere. The current red wine of choice on KLM business class, for instance, comes from Bodegas Castańo has quickly become the quality leader in the newly rediscovered appellation of Yecla. Ditto for KLM's first glass of bubbly, which isn't Champagne (reserved for later), but the everyday Codorniu Brut Classico (503490). At $11.95 here in Ontario, it outperforms some of its much pricier French cousins. In fact, at the Madrid Fusion's comparative Cava tasting, two were clear winners: a wonderful, ripe, lemon-melon flavoured Freixenet Reserve Real at $19.60 (all prices are retail in Spain) and the rather toasty Gran Codorniu Brut at $26.60.
NEW WELL-PRICED SPANISH DISCOVERIES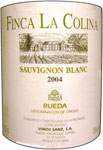 Best buys from the award-winning "young white wines with pedigree" Madrid Fusion tasting included a deliciously juicy 2004 Silencis de Chardonnay (click here) from the Penedes region at only $8.40. Ditto for an excellent, also ready to drink Finca La Colina 2004 Sauvignon Blanc (click here) from Rueda at $7. Another winner at the same price was a yummy, barrel fermented Palacio de la Vega 2004 Chardonnay (click here).
For pink wine fans, Senorio de Chozas 2004 Rosado (click here), which is made from Prieto Picudo grapes grown in the region of Tierra de Leon, impressed at only $4.20. A head-turning tasty red Tempranillo called Agora Fermentado en Barrica 2004 (click here) from a new Valdepenas winery called Bodegas Aruspide was only $8.40.
TODAY AT VINTAGES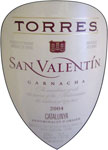 Closer to home, in today's Vintages release try a deliciously fruity red from the renowned house of Miguel Torres. San Valentín' 2004 Garnacha (673541) at $13.95 is a perfect Valentine's Day pleaser. You can count on lots of spicy, plumy, black cherry flavours with a zesty, vanilla-tinged finish.

Another wine worth investigating is Bodegas Beronia 2001 Tempranillo (723643), which was recently released for $15.95 at Vintages. The words "Elaboración Especial" on the label refers to the fact that this red was actually fermented in oak barrels in a manner akin to a barrel fermented Chardonnay. The vanilla-mocha nose is followed up by fairly juicy, ripe plum flavours and a gently cedary, coconut-tinged finish.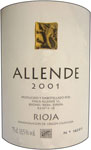 Those wanting to discover the joys and new heights of Spanish wines should reserve a ticket for the Spanish tasting at the Arcadian Court next Wednesday, February 8. For $65 you will be able to taste 52 selections (click here to see), many of which will be appearing in the February 18th Vintages release. There are a number of showstoppers, including 2001 Allende a stunning Rioja that is going for a modest $28.95.
GET ALL VINTAGES REVIEWS TODAY
Detailed tasting notes on today's Vintage's release (click here for our free, fully-linked summary) and the upcoming February 18 Vintages release, including my summarized buying guides, can be obtained TODAY by becoming a Supporter of the not-for-profit Food & Beverage Testing Institute of Canada (FBTI). As a National Post reader you will receive a $20 discount (click here).
2001-2002-2003-2004-2005 Tasting Note Database
Our tasting note database from December 31, 2000 to January 2006, covers every Vintages release product for the past 61 months. There are more than 12,000 notes in the database data. Just enter the name of the product, supplier name or CSPC number. Or you can search by type of wine, country of origin, even wine agent! Nothing could be easier. Also you can get information on the agent by clicking on the agent's name, as well as current LCBO store inventory by clicking on "Check LCBO Availability", which will automatically tell you the number of bottles at LCBO as of last night.
To use our Tasting Notes Database: click here

** For All Visitors **
Vintages Releases
To see the complete list of upcoming products from the
February 4 release, including In-Store Discovery items,
click here (sorted by date of release).
You can also see it sorted by agent click here
To see the complete list of upcoming products from the
February 18 release, including In-Store Discovery items,
click here (sorted by date of release).
You can also see it sorted by agent click here
To see the complete list of upcoming products from the
March 4 release, including In-Store Discovery items,
click here (sorted by date of release).
You can also see it sorted by agent click here
Copyright Food & Beverage Testing Institute of Canada 2006
Prior written permission is required for any form of reproduction
(electronic or other wise) and or quotation.
Contact Michael Vaughan at
mbv@total.net