Recent Articles
Nov. 19 - Beaujolais Nouveau Celebrates 54 Years
Nov. 12 - Vintages Release Best Buys ~ From California to Bordeaux
Nov. 5 - "Eyes Wide Shut" ~ Taste, texture and scent in motion
Oct. 29 - Tricks & Treats in Today's Vintages Release ~ Some Awesome Aussi Highlights
Oct. 22 - Perfect Fall Libations ~ Obscure varieties from Welschriesling to Semillon
Oct. 15 - Hop Scotch ~ The biggest whisky release on record
Oct. 8 - A Toast to the Turkey ~ Many whites, some reds and even a sparkling rosé
Oct. 1 - Barolo the King of Italian Reds
Sep. 24 - A Flood of Upcoming Tastings ~ but not a Vintages Classics in Sight
Sep. 17 - A Great Ontario Harvest ~ From just-released wines to a terrific new guide
Sep. 10 - Film Fest Fizz ~ Finding that Oscar-Winning Drink
Sep. 3 - Delicious Long Weekend Drinking ~ All but one under $20!
Aug. 27 - A new way of coding drinkability ~ And getting the best out of that bottle
Aug. 20 - The "New" Vintages Catalogue
Aug. 13 - Bargains Galore ~ Spirited Summer Matchmakers ~ From Boulard Calvados to Grand Marnier
Aug. 6 - Dealing with Disappointments ~ This Bicyclette has a flat tire!
Jul. 30 - LCBO Alternatives? ~ Regulations handcuff importers to LCBO warehouse
Jul. 23 - A French Sparkler & Greek Whites in Today's Vintages Hit Parade ~ In-Store Discoveries Reviews Disappear
Jul. 16 - French Rosé Rocks ~ Too bad you can't find them at the LCBO
Jul. 9 - Today's Vintages Release ~ Small in size but big in buys!
Jul. 2 - The Wines of Canada by John Schreiner ~ Interesting but a little thin
Jun. 25 - Boning Up for Canada Day! ~ ABC - Anything But Chardonnay A Best Buy ~ Trilogy of Grass-Free Sauvignon Blanc
Jun. 18 - Austria's Wines on a roll
Jun. 11 - Where there's Chardonnay there's Hope ~ 2,879 cases at Vintages! ~ Plus 79 New Items in Today's Vintages Release
Jun. 11 - Bottle of the Week
Kim Crawford 2004 Marlborough Sauvignon Blanc ~ Kick starts the screwcap revolution
Jun. 4 - Bodega Norton 2004 Chardonnay ~ A too-good-to-be-true Argentina gem from the General List ~ LCBO Price Book now a thing of the past!
Jun. 4 - Bottle of the Week
Codorniu Brut Clasico ~ Puts some sparkling Classics to shame
May. 28 - A Trip in a Glass ~ Fine wines to transport you to far-away destinations
May. 28 - Bottle of the Week
Zoom-Zoom-Zoomers! ~ Campari: Seeing Red ~ Setting the World Ablaze
May. 21 - Toasting Queen Victoria ~ With Discounted Reds! ~ Grab these bargains while they last!
May. 21 - Bottle of the Week
Putting a little spice into your Victoria Day Long Weekend
May. 14 - Sprouting Up Like Tulips ~ Excellent 2003 Whites at Vintages
May. 14 - Bottle of the Week
2004 Terra Boa Blanco ~ A Bargain Priced Springtime White from Portugal
May. 7 - Prince Edward County's Field of Dreams ~ Long Dog Winery - No Long Shot!
May. 7 - Bottle of the Week
For Mother's Day! ~ Veuve Clicquot La Grande Dame Champagne ~ A priceless bubbly for that priceless mother!
Apr. 30 - An increasingly confusing Vintages catalogue ~ Hard to find what you are looking for & plan purchases
Apr. 30 - Bottle of the Week
Rosemount Shiraz on a Roll!
Apr. 23 - The Wine Glass ~ The Key to getting the most out of your wines
Apr. 23 - Bottle of the Week
Making the Rum Transition
Apr. 16 - All we are saying is give pink a chance
Apr. 16 - Bottle of the Week
Talus 2002 Zinfandel ~ A Zinfully Good Anti-Luddite!
Apr. 9 - Don't be screwed by a bad cork ~ Screwcaps are the answer
Apr. 9 - Bottle of the Week
2003 Mouton Cadet Blanc ~ Canada's best selling white Bordeaux
Apr. 2 - From Fizz to Pop ~ Putting some zip into Spring
Apr. 2 - Bottle of the Week
Underberg the Ultimate Digestif! ~ Only a full bottle will do!


Become A FBTI Supporter Today By Clicking Here
This not-for-profit website is dedicated to the discerning reader!

A Flood of Upcoming Tastings
but not a Vintages Classics in Sight
© Michael Vaughan 2005


National Post Weekly Wine & Spirits Columnist
Saturday, September 24, 2005

LIVE WINE LINK
www.winefind.ca
(CLICK ON THE NAME - All listings are automatically linked to the LCBO database)
If there is a product that interests you, just click on the name below and you will instantaneously connected with the LCBO database. The product will appear in blue and all you have to do is click on the name again and then the next screen will provide details along with the store search. Just click on store search. The number of bottles in each store is updated nightly. Call the store first to see if stock still remains (each store phone number is listed).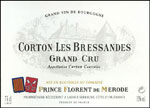 It was heartening to see the crowd at the recent Vintages 2002 Burgundy tasting. While most of the selection focused on reds that appeared in the September 3rd release, there was one true standout: Prince de Merode 2002 Corton Les Bressandes Grand Cru (620450) at $85.00, which is part of the Vintages Fall Classics release. Only 25 cases were ordered and availability will be diluted by the pre-release sales at the event. You can still try and nab a bottle of this sublime, gently smoky, plumy, ripe cherry flavoured effort by telephoning your order on -. Alternatively, you might try the agent Paul Wilk of the Small Winemakers Collection at 416-463-7178.
As for the upcoming Fall Classics, for the first time, absolutely nothing has been previewed by the press. Worse yet, no Classics pre-tasting was held for loyal Vintages customers. The recently-organized Burgundy event was hardly a substitute - only 4 upcoming red 2002 Burgundies were tasted. I am also puzzled why Vintages failed to show any of the 2002 white Burgundies from the upcoming Classics.
It isn't rocket science - if wines aren't tasted, they are not going to be reviewed and that hurts sales. By canceling preview tastings and only quoting off-shore critics to recommend its Classics imports, the LCBO undermines Ontario writers. Also, by now limiting their exposure, the LCBO also hurts customers who rely on their reviews. This, along with the LCBO's recently cancelled InStore Discovery preview tastings, can now be added to the growing list of Vintages marketing faux pas.
I have no desire to taste more wines. Assessing more than 15,000 items annually is challenging enough. Nevertheless, delivering the straight goods on the best available to National Post readers means tasting as many wines as possible. To this end, while the LCBO may have its shortcomings, some Ontario importers and wineries, are considerably worse continuously failing to get any visibility whatsoever for their wares.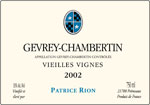 An example is last Winter's Classics release of Patrice Rion 2002 Nuits-Saint-Georges Vieilles Vignes (918664), which was initially priced at $59. Here is a very tasty item that failed to move. Was it because it was the lowest scoring red Burgundy in the Classics catalogue? Or perhaps it was the agent's failure to taste it with the local wine press. Whatever, there are still cases around at a discounted price of $48.95. Its attractive, gently juicy, fairly lush, plumy, ripe cherry-cranberry flavours are showing nicely now – perfect for Thanksgiving!
While the much-needed LCBO pretastings have vanished, there are a flood of other tastings. This week alone there are three major country exhibitions. The first is the annual Australia Wine Fair, which takes place Tuesday, September 27 at the East Galleria of the National Trade Centre at Exhibition Place. The complementary trade tasting is from 2–5, while the consumer tasting is from 6:30–9 pm. Tickets for the latter are $50 plus service charge through Ticketmaster at 416-870-8000.
On Wednesday, September 28, Spain takes centre stage with its "Old Vines New Wines" exposition. It takes place at Hart House at the University of Toronto. The trade session is from 2-5 pm and the evening session for consumers from 6-9 pm ($45 or $40 for members of wine societies) Call Maria Arana at 416-967-0488 (612). As Spain is definitely on a roll producing higher-quality wines than ever before, give this one priority. There will be 110 wineries in attendance with 328 products to taste (the list is on my Web site).
Finally, on Thursday, September 29, there is the "Art in a Glass" trade tasting of Portugal's G7, which consists of the portfolios of seven key producers. It takes place from 2:30-6 pm at the Windsor Arms Hotel. For information contact William Delgado at the Portuguese Trade Commission 416-921-0259.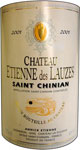 Moving on to the current Vintages best buy honour roll, let me add a neat little best buy red from the French Midi: 2001 Château Étienne Des Lauzes (652271) at only $12.95. This well-structured surprise from Saint-Chinian is a blend of Carignan, Grenache, Cinsault and Syrah. In four words, it is robust, juicy, smoky and delicious. The lingering black cherry flavours are at their peak, so drink today.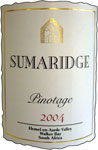 Those who enjoy the complex flavours offered by South Africa's unique Pinot Noir-Cinsault cross should try Sumaridge 2004 Pinotage (681239) at $21.95. Originating in the Hemel-en-Aarde Valley of the Walker Bay region, this deep intense purple red effort has a spicy, slightly meaty, smoldering fire nose. On the palate it is well structured and yet lively with slightly smoky, plummy, stewed red cherry flavours followed up by a tangy, lifted finish. It is meant for drinking now, perhaps with roast duck.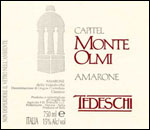 Without question the highlight of the entire release and the best Italian red to pass these lips in quite some time is the remarkable Tedeschi 2000 Amarone 'Capitel Monte Olmi' (964403) at $75.00. One would never know that this beauty has 15% alcohol, it is so smooth and seamless. While the Vintages Catalogue tells us that it is a 1998, it is in fact from 2000. A standout at this year's May 17th Classics preview tasting, it has a very deep intense purple colour. This lovely effort is quite rounded and surprisingly accessible, with medium-full bodied, gently juicy, cherry-plum-pomegranate flavours followed up by a leathery finish. Great today and perhaps even better tomorrow.
To see the full tasting notes for all 93 items in next Saturday's Vintages October 1st release, become a FBTI Supporter today. Our full-colour, illustrated, 24-page, detailed newsletter is made available for free to all Food & Beverage Testing Institute of Canada supporters. The limited-time $20 discount expires on September 30 – click here to sign up today.
2001-2002-2003-2004-2005 Tasting Note Database
Our tasting note database from December 31, 2000 to July 2005, covers every Vintages release product for the past 55 months. There are more than 9,000 notes in the database data. Just enter the name of the product, supplier name or CSPC number. Or you can search by type of wine, country of origin, even wine agent! Nothing could be easier. Also you can get information on the agent by clicking on the agent's name, as well as current LCBO store inventory by clicking on "Check LCBO Availability", which will automatically tell you the number of bottles at LCBO as of last night.
To use our Tasting Notes Database: click here

** For All Visitors **
Vintages Releases
To see the complete list of upcoming 109 products from the
October 1 release, including 16 In-Store Discovery items,
click here (sorted by date of release).
You can also see it sorted by agent click here
To see the complete list of upcoming 123 products from the
October 15 release, including 15 In-Store Discovery items,
click here (sorted by date of release).
You can also see it sorted by agent click here
Copyright Food & Beverage Testing Institute of Canada 2005
Prior written permission is required for any form of reproduction
(electronic or other wise) and or quotation.
Contact Michael Vaughan at
mbv@total.net