Recent Articles
Dec. 17 - The Best of the Season ~ Seasonal Gifting: From Books to the Best Buy Champagne & '1876' Scotch
Dec. 10 - Great Holiday Wines in Today's Vintages release ~ From the Bargains to the Jewels
Dec. 3 - From the Perfect Pear Martini ~ to a Vintage Port to Remember
Nov. 26 - Wines to Buy & Wines to Avoid
Nov. 19 - Beaujolais Nouveau Celebrates 54 Years
Nov. 12 - Vintages Release Best Buys ~ From California to Bordeaux
Nov. 5 - "Eyes Wide Shut" ~ Taste, texture and scent in motion
Oct. 29 - Tricks & Treats in Today's Vintages Release ~ Some Awesome Aussi Highlights
Oct. 22 - Perfect Fall Libations ~ Obscure varieties from Welschriesling to Semillon
Oct. 15 - Hop Scotch ~ The biggest whisky release on record
Oct. 8 - A Toast to the Turkey ~ Many whites, some reds and even a sparkling rosé
Oct. 1 - Barolo the King of Italian Reds
Sep. 24 - A Flood of Upcoming Tastings ~ but not a Vintages Classics in Sight
Sep. 17 - A Great Ontario Harvest ~ From just-released wines to a terrific new guide
Sep. 10 - Film Fest Fizz ~ Finding that Oscar-Winning Drink
Sep. 3 - Delicious Long Weekend Drinking ~ All but one under $20!
Aug. 27 - A new way of coding drinkability ~ And getting the best out of that bottle
Aug. 20 - The "New" Vintages Catalogue
Aug. 13 - Bargains Galore ~ Spirited Summer Matchmakers ~ From Boulard Calvados to Grand Marnier
Aug. 6 - Dealing with Disappointments ~ This Bicyclette has a flat tire!
Jul. 30 - LCBO Alternatives? ~ Regulations handcuff importers to LCBO warehouse
Jul. 23 - A French Sparkler & Greek Whites in Today's Vintages Hit Parade ~ In-Store Discoveries Reviews Disappear
Jul. 16 - French Rosé Rocks ~ Too bad you can't find them at the LCBO
Jul. 9 - Today's Vintages Release ~ Small in size but big in buys!
Jul. 2 - The Wines of Canada by John Schreiner ~ Interesting but a little thin
Jun. 25 - Boning Up for Canada Day! ~ ABC - Anything But Chardonnay A Best Buy ~ Trilogy of Grass-Free Sauvignon Blanc
Jun. 18 - Austria's Wines on a roll
Jun. 11 - Where there's Chardonnay there's Hope ~ 2,879 cases at Vintages! ~ Plus 79 New Items in Today's Vintages Release
Jun. 11 - Bottle of the Week
Kim Crawford 2004 Marlborough Sauvignon Blanc ~ Kick starts the screwcap revolution
Jun. 4 - Bodega Norton 2004 Chardonnay ~ A too-good-to-be-true Argentina gem from the General List ~ LCBO Price Book now a thing of the past!
Jun. 4 - Bottle of the Week
Codorniu Brut Clasico ~ Puts some sparkling Classics to shame
May. 28 - A Trip in a Glass ~ Fine wines to transport you to far-away destinations
May. 28 - Bottle of the Week
Zoom-Zoom-Zoomers! ~ Campari: Seeing Red ~ Setting the World Ablaze
May. 21 - Toasting Queen Victoria ~ With Discounted Reds! ~ Grab these bargains while they last!
May. 21 - Bottle of the Week
Putting a little spice into your Victoria Day Long Weekend
May. 14 - Sprouting Up Like Tulips ~ Excellent 2003 Whites at Vintages
May. 14 - Bottle of the Week
2004 Terra Boa Blanco ~ A Bargain Priced Springtime White from Portugal
May. 7 - Prince Edward County's Field of Dreams ~ Long Dog Winery - No Long Shot!
May. 7 - Bottle of the Week
For Mother's Day! ~ Veuve Clicquot La Grande Dame Champagne ~ A priceless bubbly for that priceless mother!


Become A FBTI Supporter Today By Clicking Here
This not-for-profit website is dedicated to the discerning reader!

Hop Scotch
The biggest whisky release on record
© Michael Vaughan 2005


National Post Weekly Wine & Spirits Columnist
Saturday, October 15, 2005

LIVE WINE LINK
www.winefind.ca
(CLICK ON THE NAME - All listings are automatically linked to the LCBO database)
If there is a product that interests you, just click on the name below and you will instantaneously connected with the LCBO database. The product will appear in blue and all you have to do is click on the name again and then the next screen will provide details along with the store search. Just click on store search. The number of bottles in each store is updated nightly. Call the store first to see if stock still remains (each store phone number is listed).

It is almost too much of a good thing. Today's Vintages release highlights Scotch whisky with 22 selections, including four Vintages Essentials. Meanwhile last Wednesday; the LCBO launched its Whisky Rocks Unplugged promotion featuring an additional 31 whiskies from around the world, including two Japanese "Single Malts" at over $100 a bottle.

Imaging my surprise when I walked into the tasting lab and was confronted by some 50 whiskies. My first thought: where's my driver? Figuring out how to taste them was my first challenge. My dad told me not to fiddle with my Scotch. I was taught to taste Scotch neat without any water, ice and/or carbonated flavoured beverages. Having acquired this taste, I was then told by whisky makers that this was all wrong. To get the real smell, I was supposed to cut the spirit with a splash of pure water. The latter would release the aromatics and flavours.

While I would have loved to try tasting them both ways, it was far more than my palate could handle. I decided to focus on the smaller lots appearing in Vintages. It meant tasting 22 whiskies blind. Of course, the order was a problem - should I taste by age and/or region? I ended up simply tasting by price, from the least expensive to the most expensive.

Of all spirits, Scotch lovers are the most stubborn when it comes to selecting what is "best". Just like wine, single malts are initially defined by the region they come from - each one having its own characteristics. Of course, there is the question of distillery style and exactly how it was made. It becomes so complicated, that even the size and shape of the still can influence the final taste.

Rather than try and explain all the factors involved, I leave it to the experts, authors like Charles MacLean, Dave Broom, Robin Tucek and John Lamond. The best-known book is Michael Jackson's Malt Whisky Companion published by Dorling Kindersley and is now in its fifth edition.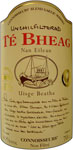 To begin with I want to recommend the least expensive Scotch tasted, which is justifiably a Vintages Essential: Te Bheag Connoisseurs' Blend (949172) at $34.95 (700 mL). Praban Na Linne, meaning "a smugglers outlet by the Sound of Sleat", makes this blend. It is also known as The Gaelic Whiskies, a small independent company based on the Isle of Skye founded in 1976 by Sir Iain Noble of Eilean Iarmain as part of a project to create employment in the south of Skye.
Introduced in 1992, Te Bheag (pronounced "chey vek") is "unchilfiltered" perhaps explains its superior taste. Chilfiltering, which ensures total transparency, entails cooling the whiskey to zero and filtering out the now solidified proteins. It has a light golden amber colour and a fairly intense, floral, fresh plum nose with some spicy, honeyed notes and a refined touch of smoky peat. On the palate it is slightly peppery, quite well structured and gently honeyed with peat tinged, ripe plum flavours.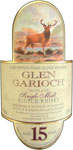 Next up is reasonably elegant Highland single malt Glen Garioch 15 Year Old Highland Single Malt (446310) at $64.95 with 43% alcohol. Initially it is a bit neutral on the nose, with some hints of hay and faintly smoky, plumy notes. On the palate, it is harmonious and slightly spicy with peppery, medium-light bodied, very slightly smoky, dried ripe plum flavours.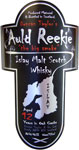 While the latter is great for those who don't like strong peaty flavours, I happened to love 'Auld Reekie' 12 Year Old Islay Single Malt (660068) at $79.95. 'Auld Reekie' (old smelly) was the 18th century name for the smoke-covered city of Edinburgh, where over 400 illicit stills were operating. Produced by independent bottler Duncan Taylor, it is referred to as "The Big Smoke". The extremely smoky, complex, caramel tinged, menthol-peat nose isn't for everyone. With 46% alcohol, the fairly peppery, rather pungent, smoky flavours are laced with fairly lush, rich, plumy notes in the middle and a smoldering fire finish that goes on and on.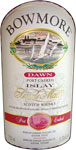 Of the five Islay malts from Bowmore, the best value is Bowmore 'Dawn' Islay Single Malt (964288) at $89.95, which was aged 12 years in bourbon barrels and finished for two years in Ruby Port cask. It has a fairly peaty, slightly peppery, caramel tinged nose - the smoky notes grow in the glass. It is very dry but fairly harmonious with slightly peppery (51.5% alcohol), smoky, ripe plum and caramel flavours.
Moving up to one of the best of the entire tasting: Bowmore 25 Year Old Islay Single Malt (714113) at $249.95 (43% alcohol). The nose is seductively smoky and complex with spice tinged, baked plum and caramel notes. The harmonious, slightly smoky, complex, ripe plum flavours have a lifted, slightly lemony, peat tinged finish. In the top three of the 22 tasted.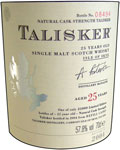 Finally, the most expensive of the group was also one of the best. At $429.95, Diageo-owned "Rare Malts Reflection" Talisker 25 Year Old Isle of Skye Single Malt (960211) is something to behold with 57.8% alcohol. The complex nose shows nuts, spices and dried fruit. On the palate, the extremely bright, slightly peppery, caramel-tinged, ripe lemon flavours go on and on.
Those wanting to explore the world of whiskies should book their $95 tickets now for the upcoming 2005 edition of
Spirit of Toronto
. It takes place at
Roy Thomson Hall
on Saturday, November 5 from 7:30 - 11:30 pm. I am extremely disappointed that the LCBO will be totally absent, nor will there be an on-site retail outlet. For details
click here
.
2001-2002-2003-2004-2005 Tasting Note Database
Our tasting note database from December 31, 2000 to July 2005, covers every Vintages release product for the past 55 months. There are more than 9,000 notes in the database data. Just enter the name of the product, supplier name or CSPC number. Or you can search by type of wine, country of origin, even wine agent! Nothing could be easier. Also you can get information on the agent by clicking on the agent's name, as well as current LCBO store inventory by clicking on "Check LCBO Availability", which will automatically tell you the number of bottles at LCBO as of last night.
To use our Tasting Notes Database: click here

** For All Visitors **
Vintages Releases
To see the complete list of upcoming products from the
October 29 release, including In-Store Discovery items,
click here (sorted by date of release).
You can also see it sorted by agent click here
To see the complete list of upcoming products from the
November 12 release, including In-Store Discovery items,
click here (sorted by date of release).
You can also see it sorted by agent click here
Copyright Food & Beverage Testing Institute of Canada 2005
Prior written permission is required for any form of reproduction
(electronic or other wise) and or quotation.
Contact Michael Vaughan at
mbv@total.net