Become A FBTI Supporter Today By Clicking Here
This not-for-profit website is dedicated to the discerning reader!

Barolo the King of Italian Reds
Finding the best only with your eyes open
© Michael Vaughan 2005


National Post Weekly Wine & Spirits Columnist
Saturday, October 1, 2005

LIVE WINE LINK
www.winefind.ca
(CLICK ON THE NAME - All listings are automatically linked to the LCBO database)
If there is a product that interests you, just click on the name below and you will instantaneously connected with the LCBO database. The product will appear in blue and all you have to do is click on the name again and then the next screen will provide details along with the store search. Just click on store search. The number of bottles in each store is updated nightly. Call the store first to see if stock still remains (each store phone number is listed).

It is considered the king of Italian reds and is eulogized by fans around the world. Few realize, however, the compared to Bordeaux, Barolo is a relatively newcomer to the stage of world wine greats. Barolo comes from designated vineyards in the relatively small hilly Langhe region of Piedmont located in the northwest corner of Italy.

It wasn't until 1963 that laws were passed (Denominazione di Origine Controllata) regulating all aspects of the production of this wine. It is hard to believe that it was only four decades ago that Beppe Colla of Prunotto produced the first single vineyard Barolo.

Today's Vintages release features 12 Barolo and 4 Barbaresco, which are both made exclusively from the Nebbiolo grape. It is not a newcomer and can be traced back to 1303 where it triumphed in neighbouring Asti and was referred to as "Nubiola".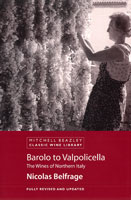 While some may suggest that it is the king of grapes, few growers outside of Italy would support this notion. Unlike Bordeaux's Cabernet Sauvignon and Merlot or the Rhone's Shiraz, Nebbiolo is, in the words of Nicolas Belfrage, "a temperamental creature, not to say neurotic, multi-faceted perhaps, but full of contradictions" (see the 2005 fully revised Mitchell Beazley hardcover Barolo to Valpolicella The Wines of Northwest Italy).
These are not exactly words that make grape growers jump for joy. It is even more challenging than Pinot Noir. It is so difficult, that after phylloxera devastation, when it came to replanting vineyards on louse-resistant North American rootstock, most Piemonte growers opted for more accommodating varieties, such as Barbera. In fact, today Nebbiolo is only grown in 6% of the Piedmont vineyards.
There is no question that when Barolo is great, it is stunning delicious. The problem is the high price and the difficulty in finding greats examples. My tasting notes are littered with disappointments, my best experiences coming from on site tastings in the region itself. Without question, Barolo has a magical affinity with the local cuisine.
With other dishes, the joy can be muted, even unrewarding. Perhaps we been brainwashed by the multitude of other fruitier and/or richer styles coming from other grapes. Having said that, I understand that some producers, presumably very few, are illegally adding other varieties (Barbera, Merlot and Cabernet Sauvignon) to improve their wines.
Regarding today's release, one to balance the enthusiasm emanating from the current Vintages Catalogue that pyramid expectations to unrealistic heights. Any notion that all these 2000 vintage releases are 100-point wines is simply ludicrous. Ditto for the statement: "if you are buying 2000 Barolo, you can practically find an outstanding wine with your eyes closed". If you believe this you can stop reading. However, I guarantee that you some of these wines will be disappointments. Moreover, with few exceptions, they do not make excellent gifts for celebratory drinking in 20019 and/or 2025.
Also, while some may love decanting wine, young and old, beware: decanting a mature wine one hour before serving can mean that it will be totally dead and undrinkable by the time you taste it. Old fruit is fragile and subject to immediate collapse after being released from the bottle where it has been held captive for decades.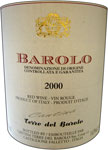 In terms of accessibility, today's best buy is Cantina Terre del Barolo 2000 Barolo (586289) at $41.95. It is a modern style at an affordable price for drinking soon. It has a fairly deep red colour with an ambering edge. The nose is complex and slightly smoky with spicy plum and dried red apple notes. On the palate look for fairly rounded, medium bodied, gently juicy, plumy-cherry flavours.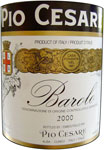 The best Barolo is the classic Pio Cesare 2000 Barolo (736587) at $69.95. The stewed ripe plum purée nose has those desirable red licorice notes. Very dry and yet harmonious, the medium-full bodied, complex, fairly juicy, ripe, chocolate-plum flavours show excellent length. While this classic could be enjoyed today with appropriate decanting, the best will be in the future.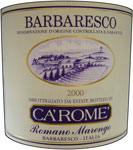 Of four Barbarescos, Ca'Rome di Romano Marengo 2000 Barbaresco Sori Rio Sordo (979146) at $63.95 is recommended. It has an alluring nose - complex, gently juicy, ripe plum purée with some slight faintly smoky, leathery notes. It is firm, well structured and slightly chalk with dusty ripe plum and dried red cherry flavours and a zingy, leathery, lingering finish. Shows good accessibility now, it will likely drop off for a year or so and then open up again.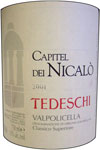 Moving on, of all the Italian reds in today's release, I have two best buys. The least expensive is a Valpolicella Classico Superiore coming from Veneto, Tedeschi 2001 Capitel Dei Nicalò (984997) at $16.95. The plumy, sun dried tomato nose has some smoky chestnut notes. It is very dry, still somewhat peppery and fairly extracty with bitter chocolate and dried plum flavours. It could use another year or so of aging.
If you are looking for a best buy classic you can drink today, the refined and yet complex Ornellaia 2002 Le Volte (964221) at $24.95 will not disappoint. It is focused on fairly seamless, slightly spicy, ripe plum, cherry and cassis flavours with a dusty chocolate finish that shows plenty of lingering acidity.
To help National Post readers, I have posted all 16 tasting notes on my Web site, which can be accessed using "npreader" access code.
2001-2002-2003-2004-2005 Tasting Note Database
Our tasting note database from December 31, 2000 to July 2005, covers every Vintages release product for the past 55 months. There are more than 9,000 notes in the database data. Just enter the name of the product, supplier name or CSPC number. Or you can search by type of wine, country of origin, even wine agent! Nothing could be easier. Also you can get information on the agent by clicking on the agent's name, as well as current LCBO store inventory by clicking on "Check LCBO Availability", which will automatically tell you the number of bottles at LCBO as of last night.
To use our Tasting Notes Database: click here

** For All Visitors **
Vintages Releases
To see the complete list of upcoming products from the
October 29 release, including In-Store Discovery items,
click here (sorted by date of release).
You can also see it sorted by agent click here
To see the complete list of upcoming products from the
November 12 release, including In-Store Discovery items,
click here (sorted by date of release).
You can also see it sorted by agent click here
Copyright Food & Beverage Testing Institute of Canada 2005
Prior written permission is required for any form of reproduction
(electronic or other wise) and or quotation.
Contact Michael Vaughan at
mbv@total.net