Recent Articles
Mar. 11 - Ireland: The cradle of Whiskey
Mar. 4 - The Best of Today's Vintages Release ~ South Africa's Answer to Tequila
Feb. 25 - Mining for Gold in South Africa ~ Great Pinotage & Shiraz
Feb. 18 - Going for Gold at Vintages
Feb. 11 - Beware of great wine reviews that don't deliver ~ Is it me, the critic or the bottle?
Feb. 4 - Spanish Wines Take Flight
Jan. 28 - D-Day at Vintages 724 ~ Vintages items go on sale today!
Jan. 21 - Today at Vintages ~ A Fine Trio of Accessible French Whites ~ The Many Faces of Syrah/Shiraz
Jan. 14 - Ontario's Icewines Shine ~ The Icewine Oscars for the Best 2004
Jan. 7 - A Quality Vintages Kick-off to the New Year Easy Quaffing Southern Hemisphere Shiraz
Dec. 31 - Cognac Unconquered ~ From $1.30 to $74.88 an ounce ~ Sipping Your Way into the New Year
Dec. 24 - LCBO Gifts ~ Buy Carefully ~ Juicy cherry & tangy cranberry flavours for your Turkey
Dec. 17 - The Best of the Season ~ Seasonal Gifting: From Books to the Best Buy Champagne & '1876' Scotch
Dec. 10 - Great Holiday Wines in Today's Vintages release ~ From the Bargains to the Jewels
Dec. 3 - From the Perfect Pear Martini ~ to a Vintage Port to Remember
Nov. 26 - Wines to Buy & Wines to Avoid
Nov. 19 - Beaujolais Nouveau Celebrates 54 Years
Nov. 12 - Vintages Release Best Buys ~ From California to Bordeaux
Nov. 5 - "Eyes Wide Shut" ~ Taste, texture and scent in motion
Oct. 29 - Tricks & Treats in Today's Vintages Release ~ Some Awesome Aussi Highlights
Oct. 22 - Perfect Fall Libations ~ Obscure varieties from Welschriesling to Semillon
Oct. 15 - Hop Scotch ~ The biggest whisky release on record
Oct. 8 - A Toast to the Turkey ~ Many whites, some reds and even a sparkling rosé
Oct. 1 - Barolo the King of Italian Reds
Sep. 24 - A Flood of Upcoming Tastings ~ but not a Vintages Classics in Sight
Sep. 17 - A Great Ontario Harvest ~ From just-released wines to a terrific new guide
Sep. 10 - Film Fest Fizz ~ Finding that Oscar-Winning Drink
Sep. 3 - Delicious Long Weekend Drinking ~ All but one under $20!
Aug. 27 - A new way of coding drinkability ~ And getting the best out of that bottle
Aug. 20 - The "New" Vintages Catalogue
Aug. 13 - Bargains Galore ~ Spirited Summer Matchmakers ~ From Boulard Calvados to Grand Marnier
Aug. 6 - Dealing with Disappointments ~ This Bicyclette has a flat tire!
Jul. 30 - LCBO Alternatives? ~ Regulations handcuff importers to LCBO warehouse
Jul. 23 - A French Sparkler & Greek Whites in Today's Vintages Hit Parade ~ In-Store Discoveries Reviews Disappear
Jul. 16 - French Rosé Rocks ~ Too bad you can't find them at the LCBO
Jul. 9 - Today's Vintages Release ~ Small in size but big in buys!
Jul. 2 - The Wines of Canada by John Schreiner ~ Interesting but a little thin
Jun. 25 - Boning Up for Canada Day! ~ ABC - Anything But Chardonnay A Best Buy ~ Trilogy of Grass-Free Sauvignon Blanc
Jun. 18 - Austria's Wines on a roll
Jun. 11 - Where there's Chardonnay there's Hope ~ 2,879 cases at Vintages! ~ Plus 79 New Items in Today's Vintages Release
Jun. 11 - Bottle of the Week
Kim Crawford 2004 Marlborough Sauvignon Blanc ~ Kick starts the screwcap revolution
Jun. 4 - Bodega Norton 2004 Chardonnay ~ A too-good-to-be-true Argentina gem from the General List ~ LCBO Price Book now a thing of the past!
Jun. 4 - Bottle of the Week
Codorniu Brut Clasico ~ Puts some sparkling Classics to shame


Get the 2006 editions of Vintage Assessments today!


With a special $20 Gift Discount
Click Here


LCBO Gifts ~ Buy Carefully
Juicy cherry & tangy cranberry flavours for your Turkey
© Michael Vaughan 2005


National Post Weekly Wine & Spirits Columnist
Saturday, December 24, 2005

LIVE WINE LINK
www.winefind.ca
(CLICK ON THE NAME - All listings are automatically linked to the LCBO database)
If there is a product that interests you, just click on the name below and you will instantaneously connected with the LCBO database. The product will appear in blue and all you have to do is click on the name again and then the next screen will provide details along with the store search. Just click on store search. The number of bottles in each store is updated nightly. Call the store first to see if stock still remains (each store phone number is listed).

As the night before Christmas rapidly approaches, it is the final call for Christmas shoppers. Many might be tempted to pick up some last minute gift items at the LCBO. Unfortunately, a number of this year's wine gift packs verge on being "pretty awful" - meaning looking pretty, but tasting awful. A good example is the Ancient Coast twin pack from Ontario at $19.95, which might only be sent to someone with a serious cold and disabled nose. If you happen to be on the receiving end, remember that the LCBO allows you to exchange any item without an invoice.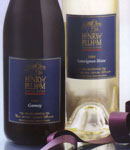 Looking for something local? Try the Henry of Pelham Gift Pack (661033) at $29.95. It consists of two Vintages essentials: first, a very dry, gently grassy, crisp 2004 Sauvignon Blanc; second, a light bodied, fruity, plum and ruby grapefruit flavoured Henry of Pelham 2003 Gamay, which happens to be a perfect match for your turkey. You could buy them individually for $14.95 and $13.95 respectively and save $1.05. Unfortunately, the stand-alone Gamay comes from 2004 and just isn't as accessible as the tasty 2003 in the gift pack.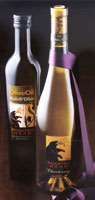 Another set worth considering is RH Phillips 2003 Toasted Head Chardonnay & Estate Olive Oil (643544) also at $29.95 price. This newly arrived pack consists of the rather toasty 2003 vintage, along with an excellent, cold press olive oil. Be careful, I spotted some of last year's 2002 packs on the shelves at the regular price - surprising as it was supposed to be discounted to $19.95. The LCBO website adds to the confusion by displaying the old discounted 2002 gift pack. I you happened to get the 2002; you are entitled to a $10 credit!
Those searching for a sparkling rosé might be tempted by the surprisingly tasty Colio Estates 2002 CEV 'Lily' Blanc de Noirs (618512) at $17.95 in the Vintages section. Attractive light pink in colour, the nose shows lots of ripe plum aromas with a hint of strawberry. It is very moussy, dry and bright on the palate with crisp, slightly lemony, plumy, strawberry flavours. This VQA blend of 86% Pinot Noir and 14% Riesling is versatile - perfect with appetizers and even your turkey dinner.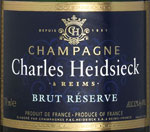 Of course, fans of Champagne are going to stock up on another one of my favourites, the outstanding Charles Heidsieck Champagne Brut Réserve Mise en Cave (590430) at $99.95 per magnum in Vintages. It is gently toasty, well structured, dry and bright with fine effervescence and a lingering lemon finish. Terrific as a starter, it can be enjoyed throughout the meal.
Moving on, in an effort to unearth the best general list releases to go with turkey, I purchased some two-dozen big bird contenders for a comparative blind tasting with a Swiss Chalet chicken. They all had performed well when initially tasted in the lab. After digging in, I started to wonder what was I thinking? The extremely dry French Chardonnay, in this case Bouchard Pere & Fils 2004 Macon-Lugny Saint Pierre, which is fine with oysters, was way too austere for the bird.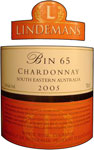 I discovered that whites, which have some fruit and zestiness worked well. This also included some just off-dry Rieslings and even spicy Gewurztraminers. A rather toasty Lindemans 2005 Bin 65 Chardonnay (142117) at $10.60 seemed to work better with the dark meat with its bright, very slightly sweetish, juicy pear and vanilla flavours and lingering finish.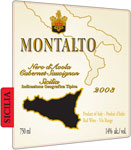 On the red front, it seemed that anything with juicy, tangy, fruity, cranberry-cherry flavours worked very well. I initially thought that this would rule out old world styles that often have dusty tannins and high extract. Imagine my surprise when tasting a recently released general list effort from Sicily. Montalto 2003 Nero D'avola Cabernet Sauvignon (621151) at only $8.95 was the definitive turkey wine of the tasting. This IGT blend of 60% traditional Nero d'Avola and 40% Cabernet Sauvignon comes in a modern screwcap bottle. Aged for three months in one-year old French and American oak, the focus is on fruit and freshness. Deep purple colour, the nose is very bright and attractive with ripe, plumy, strawberry fruit. It is dry, crisp and medium-light bodied with tangy, plums, cranberry and cherry flavours with a crisp refreshing finish. Easy to drink and on the refreshing side, it works perfectly with either light or dark meat.
Meanwhile, I toiled away at a couple of Bordeaux without much success. Their restrained style simply didn't work - they were more appropriate with steak and/or roast beef. Sadly, none of the less expensive bottles of Pinot Noir and Gamay (both traditional turkey companions) cut the mustard. In this instance, cheap was not synonymous with cheerful.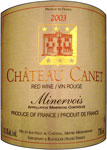 Just squeaking into the top five was 2003 Chateau Canet (320598) at $12.95. This very deep intense purple coloured effort from the Minervois region in the south of France had a pleasant, ripe plum nose with ripe red cherry notes. Dry and fairly light light-bodied, the juicy, bright, black cherry-cranberry flavours did do justice to the bird.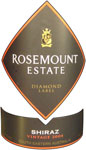 As predicted, the new world tended to dominate, especially the hotter climates. Of the three Aussi Shiraz tasted, Rosemount Estate Diamond Label 2004 Shiraz (302349) was the highest rated at $15.95. It had the best structure with harmonious, juicy, ripe cherry flavours and a lingering, fresh plum finish. A very good turkey match.

Just one point lower was a lively South African blend Robert's Rock 2004 Shiraz/Cabernet Sauvignon (523456), which is only $9.00. With 13% alcohol, the fresh, clean, spicy, ripe plum nose was followed up with a dry, very slightly smoky, medium-light bodied, ripe cherry-cranberry flavours. This versatile, crowd-pleasing effort has enough acidity to work with either dark or light meat.
2001-2002-2003-2004-2005 Tasting Note Database
Our tasting note database from December 31, 2000 to December 2005, covers every Vintages release product for the past 60 months. There are more than 10,000 notes in the database data. Just enter the name of the product, supplier name or CSPC number. Or you can search by type of wine, country of origin, even wine agent! Nothing could be easier. Also you can get information on the agent by clicking on the agent's name, as well as current LCBO store inventory by clicking on "Check LCBO Availability", which will automatically tell you the number of bottles at LCBO as of last night.
To use our Tasting Notes Database: click here

** For All Visitors **
Vintages Releases
To see the complete list of upcoming products from the
January 7 release, including In-Store Discovery items,
click here (sorted by date of release).
You can also see it sorted by agent click here
To see the complete list of upcoming products from the
January 21 release, including In-Store Discovery items,
click here (sorted by date of release).
You can also see it sorted by agent click here
Copyright Food & Beverage Testing Institute of Canada 2005
Prior written permission is required for any form of reproduction
(electronic or other wise) and or quotation.
Contact Michael Vaughan at
mbv@total.net