Become A FBTI Supporter Today By Clicking Here
This not-for-profit website is dedicated to the discerning reader!

Beaujolais Nouveau Celebrates 54 Years
© Michael Vaughan 2005


National Post Weekly Wine & Spirits Columnist
Saturday, November 19, 2005

LIVE WINE LINK
www.winefind.ca
(CLICK ON THE NAME - All listings are automatically linked to the LCBO database)
If there is a product that interests you, just click on the name below and you will instantaneously connected with the LCBO database. The product will appear in blue and all you have to do is click on the name again and then the next screen will provide details along with the store search. Just click on store search. The number of bottles in each store is updated nightly. Call the store first to see if stock still remains (each store phone number is listed).

This week, the third Thursday in November, Beaujolais Nouveau season arrived. Considering that this its 54th birthday and some 60 million bottles are sold worldwide, the LCBO was noticeably shy in the hoopla factor. Only one Toronto store (Summerhill) bothered doing a complimentary Nouveau tasting launch with the public. This is because the LCBO doesn't make a lot of money on Nouveau wines and doesn't want to tie up high income-earning shelf space for the next six weeks. Total orders for 2005 were a mere 13,056 cases.

Times have changed. The mystique of Nouveau has waned, along with the media hype. Of the eight selections hitting LCBO shelves, only three are the genuine thing meaning they are made exclusively from the classic Gamay grape grown in the designated Beaujolais region of France.

About 25-years ago at the height of the Nouveau craze, other regions climbed aboard the Nouveau bandwagon. The most notable competitor was Italy. While its Novello may have little in common with the taste of the real thing, this Nouveau-usurper has made significant market penetration due to the sheer number of Italian restaurants, low prices and good drinkability. The fact that some Novellos tasted better than their pricier French counterparts didn't help.

In an attempt to defend own his own turf, George Dubeouf, the acknowledged king of Beaujolais launched his own less expensive alternative from the south of France. Perhaps it is a sign of the times, but at only $8.95 Duboeuf 2005 Gamay Nouveau Vin de Pays de L'Ardèche (891846) in now the cheapest Nouveau at the LCBO. A best buy in previous years, this 2005 edition is extremely dry, crisp and a bit thin – not up to previous shipments.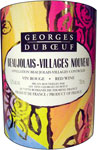 Of the three Beaujolais releases, the best is the still rather tight Duboeuf 2005 Beaujolais-Villages Nouveau (932780) at $15.95. It has a very deep intense purple colour and extremely youthful, very faintly peppery, ripe plum and red apple flavours. Best of the group in terms of structure, this is the kind of Nouveau that can evolve and even improve with several more months of aging. A perfect foil for steak-frites.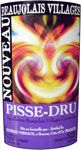 Of the other two, Pisse Dru 2005 Beaujolais Village Nouveau (669259) at $14.45 is a definite winner. It is very bright, light and quite harmonious with zesty, plum and persimmon flavours with hints of honey and red currant on the finish. Unlike Duboeuf, Pisse Dru is ready to rock and roll and should be consumed soon. Best yet, it comes in a sensible screwcap bottle.
Of course, French Nouveau doesn't have to come from Gamay. For instance, Jeanjean 2005 Syrah Primeur Vin de Pays d'Oc (899948) t only $9.45 is an excellent alternative. Bright, crisp and medium light bodied, the ripe plum and dried strawberry flavours show excellent harmony. This crowd pleaser is my choice as best buy of the release.

As for the two Italian releases, both are well made and worth trying. The best at $9.55 is Novio 2005 Vino Novello (669275) a blend of Teroldego and Lagrein grapes (the latter giving the wine its incredible depth of colour) produced at the grown in northwestern Italy's Trentino-Alto Adige region. Crisp, fresh and plumy, it is designated as an IGT Vigneti delle Dolomiti and is produced by MezzaCorona, a large coop that produces the reliably tasty Pinot Grigio available on the General List.
Slightly less expensive at $8.95 is another IGT this time made from Corvina and Rondinella grapes. Negrar 2005 Novello del Veneto (899955) is quite spicy and harmonious with ready-to-drink, ripe, plumy flavours.
Of course, Nouveau/Novello doesn't have to come from red grapes. At the SAQ, for instance, you can find Marcel Martin 2005 Muscadet Primeur La Sablette at $12.95. White nouveau wines are not a new phenomenon. Many are surprised and delighted to discover the joys of fresh newly made whites at the numerous hillside wine taverns, called 'heuriger' on the outskirts of Vienna. The new, often still slightly fermenting whites, are also called Heuriger and consumed with abandon by happy drinkers celebrating the new vintage. They are released on November 11th - St. Martin's Day.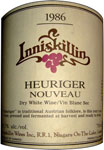 Ironically, here at home, it was Austrian winemaker and Inniskillin co-founder, Karl Kaiser who launched Canada's first red and white nouveau wines. The one and only release of Gamay Nouveau happened in 1978, from 1983 to 1986, he released tasty whites called Heuriger Nouveau, a blend that included Gruner Veltliner grapes.
It was Paul Bosc Sr. at Chateau des Charmes, however, who picked up the French challenge in 1982 and actually sent bottles to Paris for a mock tasting. Unfortunately, the economics of having to sell it at the LCBO ceiling price of $9.95 resulted in it disappearing from LCBO shelves last year – it was only available in his own stores. As for this year, he has temporarily cancelled production due to the extreme grape shortage.
Sadly, the only Canadian Nouveau at the LCBO is the greenish, thin, tart effort Ancient Coast 2005 Gamay Nouveau, which is seriously overpriced at $9.95 and only barely palatable if served ice cold.
Which brings me around to the question: is Nouveau dead? The answer: not by a long shot. Fresh, crisp and light bodied, these wines will continue to fit a certain niche. As with any wine, the big challenge is simply connecting with the right one.
The following are the Nouveau wines released on November 17.
GENERAL LIST
France
RECOMMENDED Pisse Dru 2005 Beaujolais Village Nouveau • $14.45 (500 cases)
Mommessin 2005 Beaujolais Nouveau • $13.45 (2,500 cases)
Duboeuf 2005 Gamay Nouveau Vin de Pays de L'Ardèche • $8.95 (1,480 cases)
RECOMMENDED Jeanjean 2005 Syrah Primeur VdP d'Oc • $9.45 (2,500 cs)
BEST BUY
Italy
WORTH EXPLORING Negrar 2005 Novello del Veneto • $8.95 (2,500 cases)
RECOMMENDED Novio 2005 Vino Novello • $9.55 (1,176 cases)
Ontario
NOT RECOMMENDED Ancient Coast 2005 Gamay Nouveau • $9.95 (500 cases)
Vintages Stores and Vintages Sections
France
RECOMMENDED Duboeuf 2005 Beaujolais-Villages Nouveau • $15.95 (1,900 cs)
2001-2002-2003-2004-2005 Tasting Note Database
Our tasting note database from December 31, 2000 to July 2005, covers every Vintages release product for the past 55 months. There are more than 9,000 notes in the database data. Just enter the name of the product, supplier name or CSPC number. Or you can search by type of wine, country of origin, even wine agent! Nothing could be easier. Also you can get information on the agent by clicking on the agent's name, as well as current LCBO store inventory by clicking on "Check LCBO Availability", which will automatically tell you the number of bottles at LCBO as of last night.
To use our Tasting Notes Database: click here

** For All Visitors **
Vintages Releases
To see the complete list of upcoming products from the
November 26 release, including In-Store Discovery items,
click here (sorted by date of release).
You can also see it sorted by agent click here
To see the complete list of upcoming products from the
December 10 release, including In-Store Discovery items,
click here (sorted by date of release).
You can also see it sorted by agent click here
Copyright Food & Beverage Testing Institute of Canada 2005
Prior written permission is required for any form of reproduction
(electronic or other wise) and or quotation.
Contact Michael Vaughan at
mbv@total.net