Recent Articles
Nov. 19 - Beaujolais Nouveau Celebrates 54 Years
Nov. 12 - Vintages Release Best Buys ~ From California to Bordeaux
Nov. 5 - "Eyes Wide Shut" ~ Taste, texture and scent in motion
Oct. 29 - Tricks & Treats in Today's Vintages Release ~ Some Awesome Aussi Highlights
Oct. 22 - Perfect Fall Libations ~ Obscure varieties from Welschriesling to Semillon
Oct. 15 - Hop Scotch ~ The biggest whisky release on record
Oct. 8 - A Toast to the Turkey ~ Many whites, some reds and even a sparkling rosé
Oct. 1 - Barolo the King of Italian Reds
Sep. 24 - A Flood of Upcoming Tastings ~ but not a Vintages Classics in Sight
Sep. 17 - A Great Ontario Harvest ~ From just-released wines to a terrific new guide
Sep. 10 - Film Fest Fizz ~ Finding that Oscar-Winning Drink
Sep. 3 - Delicious Long Weekend Drinking ~ All but one under $20!
Aug. 27 - A new way of coding drinkability ~ And getting the best out of that bottle
Aug. 20 - The "New" Vintages Catalogue
Aug. 13 - Bargains Galore ~ Spirited Summer Matchmakers ~ From Boulard Calvados to Grand Marnier
Aug. 6 - Dealing with Disappointments ~ This Bicyclette has a flat tire!
Jul. 30 - LCBO Alternatives? ~ Regulations handcuff importers to LCBO warehouse
Jul. 23 - A French Sparkler & Greek Whites in Today's Vintages Hit Parade ~ In-Store Discoveries Reviews Disappear
Jul. 16 - French Rosé Rocks ~ Too bad you can't find them at the LCBO
Jul. 9 - Today's Vintages Release ~ Small in size but big in buys!
Jul. 2 - The Wines of Canada by John Schreiner ~ Interesting but a little thin
Jun. 25 - Boning Up for Canada Day! ~ ABC - Anything But Chardonnay A Best Buy ~ Trilogy of Grass-Free Sauvignon Blanc
Jun. 18 - Austria's Wines on a roll
Jun. 11 - Where there's Chardonnay there's Hope ~ 2,879 cases at Vintages! ~ Plus 79 New Items in Today's Vintages Release
Jun. 11 - Bottle of the Week
Kim Crawford 2004 Marlborough Sauvignon Blanc ~ Kick starts the screwcap revolution
Jun. 4 - Bodega Norton 2004 Chardonnay ~ A too-good-to-be-true Argentina gem from the General List ~ LCBO Price Book now a thing of the past!
Jun. 4 - Bottle of the Week
Codorniu Brut Clasico ~ Puts some sparkling Classics to shame
May. 28 - A Trip in a Glass ~ Fine wines to transport you to far-away destinations
May. 28 - Bottle of the Week
Zoom-Zoom-Zoomers! ~ Campari: Seeing Red ~ Setting the World Ablaze
May. 21 - Toasting Queen Victoria ~ With Discounted Reds! ~ Grab these bargains while they last!
May. 21 - Bottle of the Week
Putting a little spice into your Victoria Day Long Weekend
May. 14 - Sprouting Up Like Tulips ~ Excellent 2003 Whites at Vintages
May. 14 - Bottle of the Week
2004 Terra Boa Blanco ~ A Bargain Priced Springtime White from Portugal
May. 7 - Prince Edward County's Field of Dreams ~ Long Dog Winery - No Long Shot!
May. 7 - Bottle of the Week
For Mother's Day! ~ Veuve Clicquot La Grande Dame Champagne ~ A priceless bubbly for that priceless mother!
Apr. 30 - An increasingly confusing Vintages catalogue ~ Hard to find what you are looking for & plan purchases
Apr. 30 - Bottle of the Week
Rosemount Shiraz on a Roll!
Apr. 23 - The Wine Glass ~ The Key to getting the most out of your wines
Apr. 23 - Bottle of the Week
Making the Rum Transition
Apr. 16 - All we are saying is give pink a chance
Apr. 16 - Bottle of the Week
Talus 2002 Zinfandel ~ A Zinfully Good Anti-Luddite!
Apr. 9 - Don't be screwed by a bad cork ~ Screwcaps are the answer
Apr. 9 - Bottle of the Week
2003 Mouton Cadet Blanc ~ Canada's best selling white Bordeaux
Apr. 2 - From Fizz to Pop ~ Putting some zip into Spring
Apr. 2 - Bottle of the Week
Underberg the Ultimate Digestif! ~ Only a full bottle will do!


Become A FBTI Supporter Today By Clicking Here
This not-for-profit website is dedicated to the discerning reader!

Film Fest Fizz
Finding that Oscar-Winning Drink
© Michael Vaughan 2005


National Post Weekly Wine & Spirits Columnist
Saturday, September 10, 2005

LIVE WINE LINK
www.winefind.ca
(CLICK ON THE NAME - All listings are automatically linked to the LCBO database)
If there is a product that interests you, just click on the name below and you will instantaneously connected with the LCBO database. The product will appear in blue and all you have to do is click on the name again and then the next screen will provide details along with the store search. Just click on store search. The number of bottles in each store is updated nightly. Call the store first to see if stock still remains (each store phone number is listed).

So there I am at yet another film festival launch. The air is crackling with excitement. There is something fizzy in my glass flute that is being generously referred to as "Champagne". It is the kind of stuff that would bring a collective grimace to the faces of thousands of vignerons who toil endlessly in this tiny region in northeastern France.

Of course, most of the attendees don't notice - they are too busy seeing, or being seen. Thankfully, it has been years since I had to review the onslaught of film festival contenders. It isn't an easy job. Unlike an unpalatable wine, which can be spit out immediately, bad films suck up countless hours of precious time.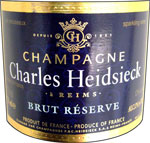 Getting back to the task in hand, a weary guest joins me at the bar. Recognizing my beat, he asks if I can recommend something less offending to accompany the delicious smoked salmon appetizers. I search the wine list and come upon one of my favourite bubblies, of Charles Heidsieck Brut Reserve Champagne (653634 - $49.95), which only last year disappeared from the LCBO general list.
"A new shipment arrived in Vintages last weekend", the bartender volunteers. A bottle is ordered. I like this bartender - especially when he brings the bottle cold, but not ice cold meaning that you can still taste it. It does its founder Champagne Charlie proud with its gently toasty, ripe lemon, lees-tinged nose. On the palate it has a very lively mousse with dry, ripe lemon-melon flavours and refined finish. The words "Mise en Cave 2000" appear on the back label, with the date of disgorgement of 2004 on the neck tag, meaning that it spent 4 years on the lees.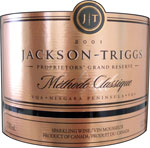 I am quizzed on what I would recommend locally. After a short pause, I remember being impressed by Jackson-Triggs 2001 Proprietors' Grand Reserve Méthode Classique (587691) at $24.95, which was in last week's Vintages release. This blend of Chardonnay and Pinot Noir has a light straw colour and fine, bright, ripe lemon nose with hints of lees. On the palate it is very dry and refreshing with ripe lemon-melon flavours. Made in the traditional Champagne method, it has an excellent mousse and was aged in the bottle for 25 months on the lees (contributing to the wine's texture and complexity) before being disgorged. It is worth a detour.
"What about Francis Ford Coppola's newly-released Black Label Diamond Collection", prods the barkeep. A trilogy of Coppola 2003 offerings have just hit the Vintages shelves, a Chard at $27.05 and two reds at $29.95. Doubtless, these California blends will appeal to palates finely tuned by the more than occasional cigar. Of the three, the robust 2003 Claret (521021), which has the words Cabernet Sauvignon appearing in brackets, actually tastes more like a refuge from the Rhone than anything from Bordeaux. When I see the prices they are fetching on the wine list, I decide that this is an offer I can refuse.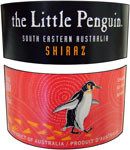 Today's best buy red salutes March of the Penguins, a new Oscar-worthy documentary, which is already being shown in Festival theatres. To celebrate the film don't miss The Little Penguin 2004 Shiraz (621870) at $11.95. This most recent shipment finally hits the mark with its deep intense purple colour and chocolate-tinged, slightly spicy, ripe plummy-cherry nose. Dry but not austere, the easy-drinking, fairly juicy, plumy, ripe black cherry flavours will be great with anything from the BBQ.
Turning to spirits, sadly the world suddenly seems awash in stomach-churning, artificially-flavoured liqueurs and cocktails. If you like gummy jujubes, then go out and buy the candies, not some overpriced, evil looking, day-glo liquid. Mentioning that many of today's drinks are like a "Memories of" horror film where guests are cursed with demented taste buds, catches the barkeep's attention. He volunteers, "that's nice for you, but where do I have the time to make real drinks". How about starting with fresh lemons, limes and oranges?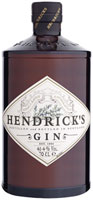 As I start feeling like the world's worst curmudgeon, I see some light at the end of the tunnel. It is teatime at the Windsor Arms Hotel and here comes my favourite gin. Move over Tanqueray No. Ten and Bombay Sapphire, the best gin in town is Hendrick's Gin (637504) at $39.95 (plus 10 AirMiles until tomorrow). Despite its 44% alcohol, the smooth, dry, elegantly herbal, juniper-tinged, gentle citrus flavours caress the palate. At the afternoon tea, this newly-released elixir from Scotland comes dressed with a cooling wonderfully aromatic slice of cucumber. Better yet, it is served in a unique, just-launched, Hendriick's Mar-tea-ni glass - a dignified British teacup, which is elevated on a martini base – just the perfect hardware for interviewing John Cleese.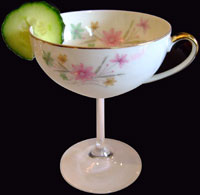 If you are not fond of teatime gin martinis (do these people actually exist?), then try a Hendrick's Gimlet, which sees the infusion of fresh lime juice and sugar. The Windsor Arms Hotel is the only place in the country using these unique stems. If are lucky, you might win a pair. For the next two Tuesdays, simply tell the server that you are a National Post subscriber and you have a good chance taking a set home. Note each teacup is different.
Coming up next Sunday afternoon, September 18, is the annual Feast of Fields, which to organic fans, what the TIFF is to lovers of celluloid. Brought to you by Organic Advocates, this year's event takes place at Albion Hills Conservation Area near Bolton. Tickets are $120 per person - for information call 905-859-3609.
Finally, this weekend is
your last chance to pick through the current LCBO list of 274 Limited Time Offers and bonus AirMile items. The full list is posted on the Welcome page of the website. You can also see the current Vintages Clearance Sale along with additional upcoming sales, which start next Monday.
Coming Up
Feast of Fields
Enjoy an afternoon of savoury and sweet Organic offerings from food to drink to sound in a picturesque surrounding! Taste organic and indigenous wines, and Ontario's microbrews. Organic Advocates/Feast Of Fields' goal is to promote organic farming and a healthy environment by raising public awareness and education. Held at Albion Hills Conservation Area, just north of Bolton, Ontario. Tickets are $120 per person. Call 905-859-3609 or email tickets@organicadvocates.org or click here for more information.
2001-2002-2003-2004-2005 Tasting Note Database
Our tasting note database from December 31, 2000 to July 2005, covers every Vintages release product for the past 55 months. There are more than 9,000 notes in the database data. Just enter the name of the product, supplier name or CSPC number. Or you can search by type of wine, country of origin, even wine agent! Nothing could be easier. Also you can get information on the agent by clicking on the agent's name, as well as current LCBO store inventory by clicking on "Check LCBO Availability", which will automatically tell you the number of bottles at LCBO as of last night.
To use our Tasting Notes Database: click here

** For All Visitors **
Vintages Releases
To see the complete list of upcoming 113 products from the
September 17 release, including 5 In-Store Discovery items,
click here (sorted by date of release).
You can also see it sorted by agent click here
To see the complete list of upcoming 109 products from the
October 1 release, including 16 In-Store Discovery items,
click here (sorted by date of release).
You can also see it sorted by agent click here
Copyright Food & Beverage Testing Institute of Canada 2005
Prior written permission is required for any form of reproduction
(electronic or other wise) and or quotation.
Contact Michael Vaughan at
mbv@total.net