Become A FBTI Supporter Today By Clicking Here
This not-for-profit website is dedicated to the discerning reader!

Boning Up for Canada Day!
ABC - Anything But Chardonnay
A Best Buy Trilogy of Grass-Free Sauvignon Blanc
© Michael Vaughan 2005


National Post Weekly Wine & Spirits Columnist
Saturday, June 25, 2005

LIVE WINE LINK
www.winefind.ca
(CLICK ON THE NAME - All listings are automatically linked to the LCBO database)
If there is a product that interests you, just click on the name below and you will instantaneously connected with the LCBO database. The product will appear in blue and all you have to do is click on the name again and then the next screen will provide details along with the store search. Just click on store search. The number of bottles in each store is updated nightly. Call the store first to see if stock still remains (each store phone number is listed).

It is ABC time (anything but Chardonnay) in today's first of summer Vintages release. Increasingly, this means Sauvignon Blanc. Meanwhile, it seems that many wine writers classify this wine into two types: pricey stuff for connoisseurs and cheap stuff for the unwashed. As fond as I am of the refreshing nature of this grape, some simply don't like the extremely dry, tart, often bitter, herbaceous style of well-respected labels, which they say taste like "the screeching sound of chalk on a blackboard."

Unfortunately, those looking for a mellower style will not find it in today's Vintages release – nary a single "must buy" Sauvignon Blanc! I had great expectations after last year's stunning Peninsula Ridge 2003 Sauvignon Blanc, but the just-released 2004 ($18.95) is just too tart for comfort!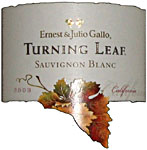 Fortunately, a recent Sauvignon Blanc blind tasting revealed a trilogy of excellent "grass free" best buys on the General List. Starting with California, Turning Leaf 2003 Sauvignon Blanc (409839) at $10.95 shows an abundance of fresh, ripe melon fruit. It is dry, harmonious and perfectly accessible – no sounds of screeching sound of chalk here!
As freshness is essential, the current bottling lot number (LQ251004CC) appears on the glass about 10 cm above the base and is very hard to see! This is important because the current shipment of 2003 is even better than what I tasted some 8 months ago!

Also on the General List, this time from Chile, is another great destination white: Casillero del Diablo 2004 Sauvignon Blanc (578641) at $10.95. This "look no grassiness" charmer is the brightest of the three with lots of tangy, white peach and yellow grapefruit flavours. It comes in a fancy, shiny, black metal tube.

From British Colombia, check out Jackson-Triggs 2004 Okanagan Sauvignon Blanc (593111) at $11.95. This new listing is the biggest with 13.7% alcohol. It is full-bodied and very zesty with tangerine-citrus-grapefruit flavours and a solid, slightly peppery finish. For additional information on Jackson-Triggs Okanagan Estate click here
Getting back to today's Vintages ABCs, perhaps the most interesting release today comes from the sandy vineyards adjoining the French Mediterranean from a grape called Picpoul.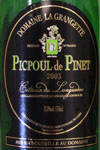 Adored by local crowds, it is served with overflowing platters of fresh local seafood. While there is no question that Domaine La Grangette 2003 Picpoul de Pinet (653196) at $12.95 would taste better on the spot, it's still pretty good here. When freshly opened, the subtle nose has gently honeyed floral aromas. It is dry, medium-light bodied and very tangy with ripe lemon-apricot-melon flavours and a slightly bitter, refreshing finish. Drink soon upon opening, as the fruit tends to dissipate, as the bottle remains open.

In terms of quality, today's best value white is d'Arenberg 2004 'The Money Spider' Roussanne (656710) at $18.95 from South Australia's McLaren Vale. At 14.5%, it stands up and says hello with its spicy, honeyed, melon-lime-lemon purée nose. On the palate it is harmonious and mouthfilling with ripe lemon-melon flavours and a lingering, dried pear-tangerine finish. Perfect with seafood or poultry - drink it today or let it age for 12-18 months.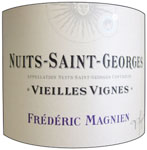 Sadly, it is slim pickings in today's reds. From Burgundy, I had great hopes for 2002 La Buxynoise Bourgogne at only $16.95, but found it slightly sour and light-bodied. It isn't a destination. Despite this vintage's reputation, none of today's four 2002 Burgundies (from $44.95 to $68.95 range) are worth drinking at the moment. They are closed and tight! If I had one to buy, it would be the well-structured Frederic Magnien 2002 Nuits-Saint-Georges Vieilles Vignes (586826) at $49.95 with its deep intense purple colour. The complex, spicy, plummy, red cherry driven, red pepper flavours need time to evolve – perhaps 2-3 years.
For that upcoming Canada Day BBQ, two local reds caught my eye. The first is Nk'Mip Cellars 2002 Merlot Okanagan Valley (626416) at $16.95 would be best with steak. Behind the very deep intense purple colour is a bright, pomegranate-plum nose. It is very dry, solid and slightly peppery with plum, persimmon and dried cherry flavours with a cedary finish. For additional information on Nk'Mip Cellars click here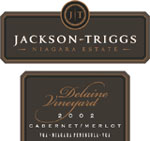 Closer to home is the very fine Jackson-Triggs Delaine Vineyard 2002 Cabernet/Merlot (989269) at $29.95. This blend of 50% Cabernet Sauvignon, 25% Merlot and 25% Cabernet Franc has a very attractive, complex, slightly earthy, plumy nose. Although still youthful, it is quite rich with ripe plum and red pepper purée flavours along with a lingering, lime-tinged, chocolate finish. It would be best with a BBQ steak.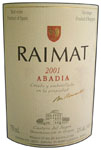 Ready for the best buy red of the release? It is the Vintages Essentials Raimat 2001 Abadia (935460) at $13.95 from Spain's Costers del Segre region. This blend of 45% Cabernet Sauvignon, 25% Merlot, 25% Tempranillo and 5% Syrah was matured for 12 months in American oak (50% new) and a further 6 months in French barrels. The delicious, gently cedary, bright, ripe plum and cherry flavours would be perfection with juicy, smoky BBQ ribs.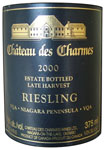 For dessert, a half bottle of Château des Charmes 2000 Late Harvest Riesling (432930) at $17.95 hits the spot. This almost mini icewine is a perfect after dinner sipper or perhaps with foie gras. It has a sweet, honeyed, candied lemon-grapefruit peel nose. On the palate, the tangy, sweet, ripe grapefruit flavours are followed up with a spicy, lingering, candied pineapple finish.
The June edition of my Vintage Assessments newsletter is now available to National Post readers for free on my website (click here to see) - happy Canada Day!
Last Minute Updates
Beerbistro's annual Summer Beer Festival
Saturday, June 25 from 2-7pm

Admission: $25 per person plus applicable taxes
18 King Street East, Toronto - call 416-861-9872.
This is your chance to sample a multitude of beerbistro beers,
some brought in especially for the occasion!
For $25 admission, you receive:
· 5 tasting tickets (Additional tasting tickets are available)
· A sampler plate of beerbistro 'beerbecue' beer cuisine
· A tasting glass to take home
· A guide to the beers of the fest
Stick around for free live jazz beginning at 8 pm with the Gene Poolboys
-----------------------------------------------------------------------------------------------------------------------
LCBO accessories sale starts Monday, June 27

There are 181 LCBO accessories going on sale on Monday, June 27th.
Availability can be spotty and to find the items you have to call the LCBO Infoline at 416-365-5900 (as all discontinued items are removed from the LCBO website). Whiskey Rocks t-shirts (150979), for instance, were originally priced at $9.95 are now $4.95!
To see the full list click here
LCBO Database Blues
It simply doesn't make sense that the LCBO refuses to show customers the store location/availability of discontinued items!
2001-2002-2003-2004-2005 Tasting Note Database
Our tasting note database from December 31, 2000 to May 2005, covers every Vintages release product for the past 53 months. There are more than 9,000 notes in the database data. Just enter the name of the product, supplier name or CSPC number. Or you can search by type of wine, country of origin, even wine agent! Nothing could be easier. Also you can get information on the agent by clicking on the agent's name, as well as current LCBO store inventory by clicking on "Check LCBO Availability", which will automatically tell you the number of bottles at LCBO as of last night.
To use our Tasting Notes Database: click here

** For All Visitors **
Vintages July 2005 Release
To see the complete list of upcoming 162 products click here (sorted by date of release). It includes the number of cases, which wines were presented by the LCBO, our agent ID for every product,
as well as, the 10 "In Store Discoveries" for July.
You can also see it sorted by agent click here
Copyright Food & Beverage Testing Institute of Canada 2005
Prior written permission is required for any form of reproduction
(electronic or other wise) and or quotation.
Contact Michael Vaughan at
mbv@total.net