Recent Articles
Nov. 19 - Beaujolais Nouveau Celebrates 54 Years
Nov. 12 - Vintages Release Best Buys ~ From California to Bordeaux
Nov. 5 - "Eyes Wide Shut" ~ Taste, texture and scent in motion
Oct. 29 - Tricks & Treats in Today's Vintages Release ~ Some Awesome Aussi Highlights
Oct. 22 - Perfect Fall Libations ~ Obscure varieties from Welschriesling to Semillon
Oct. 15 - Hop Scotch ~ The biggest whisky release on record
Oct. 8 - A Toast to the Turkey ~ Many whites, some reds and even a sparkling rosé
Oct. 1 - Barolo the King of Italian Reds
Sep. 24 - A Flood of Upcoming Tastings ~ but not a Vintages Classics in Sight
Sep. 17 - A Great Ontario Harvest ~ From just-released wines to a terrific new guide
Sep. 10 - Film Fest Fizz ~ Finding that Oscar-Winning Drink
Sep. 3 - Delicious Long Weekend Drinking ~ All but one under $20!
Aug. 27 - A new way of coding drinkability ~ And getting the best out of that bottle
Aug. 20 - The "New" Vintages Catalogue
Aug. 13 - Bargains Galore ~ Spirited Summer Matchmakers ~ From Boulard Calvados to Grand Marnier
Aug. 6 - Dealing with Disappointments ~ This Bicyclette has a flat tire!
Jul. 30 - LCBO Alternatives? ~ Regulations handcuff importers to LCBO warehouse
Jul. 23 - A French Sparkler & Greek Whites in Today's Vintages Hit Parade ~ In-Store Discoveries Reviews Disappear
Jul. 16 - French Rosé Rocks ~ Too bad you can't find them at the LCBO
Jul. 9 - Today's Vintages Release ~ Small in size but big in buys!
Jul. 2 - The Wines of Canada by John Schreiner ~ Interesting but a little thin
Jun. 25 - Boning Up for Canada Day! ~ ABC - Anything But Chardonnay A Best Buy ~ Trilogy of Grass-Free Sauvignon Blanc
Jun. 18 - Austria's Wines on a roll
Jun. 11 - Where there's Chardonnay there's Hope ~ 2,879 cases at Vintages! ~ Plus 79 New Items in Today's Vintages Release
Jun. 11 - Bottle of the Week
Kim Crawford 2004 Marlborough Sauvignon Blanc ~ Kick starts the screwcap revolution
Jun. 4 - Bodega Norton 2004 Chardonnay ~ A too-good-to-be-true Argentina gem from the General List ~ LCBO Price Book now a thing of the past!
Jun. 4 - Bottle of the Week
Codorniu Brut Clasico ~ Puts some sparkling Classics to shame
May. 28 - A Trip in a Glass ~ Fine wines to transport you to far-away destinations
May. 28 - Bottle of the Week
Zoom-Zoom-Zoomers! ~ Campari: Seeing Red ~ Setting the World Ablaze
May. 21 - Toasting Queen Victoria ~ With Discounted Reds! ~ Grab these bargains while they last!
May. 21 - Bottle of the Week
Putting a little spice into your Victoria Day Long Weekend
May. 14 - Sprouting Up Like Tulips ~ Excellent 2003 Whites at Vintages
May. 14 - Bottle of the Week
2004 Terra Boa Blanco ~ A Bargain Priced Springtime White from Portugal
May. 7 - Prince Edward County's Field of Dreams ~ Long Dog Winery - No Long Shot!
May. 7 - Bottle of the Week
For Mother's Day! ~ Veuve Clicquot La Grande Dame Champagne ~ A priceless bubbly for that priceless mother!
Apr. 30 - An increasingly confusing Vintages catalogue ~ Hard to find what you are looking for & plan purchases
Apr. 30 - Bottle of the Week
Rosemount Shiraz on a Roll!
Apr. 23 - The Wine Glass ~ The Key to getting the most out of your wines
Apr. 23 - Bottle of the Week
Making the Rum Transition
Apr. 16 - All we are saying is give pink a chance
Apr. 16 - Bottle of the Week
Talus 2002 Zinfandel ~ A Zinfully Good Anti-Luddite!
Apr. 9 - Don't be screwed by a bad cork ~ Screwcaps are the answer
Apr. 9 - Bottle of the Week
2003 Mouton Cadet Blanc ~ Canada's best selling white Bordeaux
Apr. 2 - From Fizz to Pop ~ Putting some zip into Spring
Apr. 2 - Bottle of the Week
Underberg the Ultimate Digestif! ~ Only a full bottle will do!
Mar. 26 - Canada's #1 Wine Festival 27th ~ Vancouver Playhouse International Wine Festival
Mar. 26 - Bottle of the Week
Smooth & Satisfying ~ A Luxury French Brandy at a Great Price!
Mar. 19 - German Classics for Easter
Mar. 19 - Bottle of the Week
A liqueur that Grows on Trees!
Mar. 12 - Ontario's Vinous Peaks ~ Great quality directly from the wineries!
Mar. 12 - Bottle of the Week
A Special Treat for St. Patrick's Day
Mar. 5 - Today at Vintages ~ Chardonnays starting at $8.95!
Mar. 5 - Bottle of the Week
Cynar - A One-of-a-Kind Aperitif
Feb. 26 - Cuvée Throws a Curve Ball at Ontario's Best


Become A FBTI Supporter Today By Clicking Here
This not-for-profit website is dedicated to the discerning reader!

French Rosé Rocks
Too bad you can't find them at the LCBO
© Michael Vaughan 2005


National Post Weekly Wine & Spirits Columnist
Saturday, July 16, 2005

LIVE WINE LINK
www.winefind.ca
(CLICK ON THE NAME - All listings are automatically linked to the LCBO database)
If there is a product that interests you, just click on the name below and you will instantaneously connected with the LCBO database. The product will appear in blue and all you have to do is click on the name again and then the next screen will provide details along with the store search. Just click on store search. The number of bottles in each store is updated nightly. Call the store first to see if stock still remains (each store phone number is listed).

I get that sinking feeling I when I look at the top five rosé statistics. Out of the thousands of rosés produced around the globe, Ontario sales are concentrated in just a handful of items. Leading the pack is the ever-popular Gallo White Zinfandel (285767) at $8.45 with Ontario sales of about 36,000 cases (of 12 bottles). In fact, California White Zin pretty much controls the class with their gently sweet, juicy flavours. Sutter Home $8.50 comes in third place and the rapidly growing, tasty Beringer at $10.95 fourth.

From Portugal, Sogrape Mateus Rosé at $7.65 is the second largest seller with around 16,000 cases - down some 14% over the past year. In fifth spot is Canada's own Andres French Cross Blush at $7.25. In sixth spot is the largest selling French rosé Rémy-Panier Rosé d'Anjou at $9.95 with 3,250 cases.

While I am fond of a refreshing summer glass of off-dry pink, when it gets down to serious summer dining, nothing beats bottle of dry French rosé. It would seem that we have a fairly wide variety to choose from. To the three GL (general list) core items, the LCBO has another 6 through their seasonal rosé programme.

Trying to find the seasonal rosés isn't easy – the LCBO doesn't provide us with a list! I search the LCBO database under "rose still table wine" and come up with 7 general list items. I figure out that the four with an asterisk must be the seasonal rosés.

Unfortunately, my just-released favourite seasonal rosé isn't there. For reasons unknown, the LCBO has decided to "delist" this and other just released seasonal items while there is still ample quantities available on the shelves and in some cases even in the warehouse! When delisted it is removed from the LCBO database so now you can't find it – poof, it's gone! Do you know of any other retailer in the world that hides products that are currently available for sale?

Meanwhile, Ted Kalaboukis director of Sopexa in Toronto is trying to breathe some much needed visibility into the French rosé sector. He recently staged a comparative tasting of 17 pinks at The Fifth. Most are unaware that France produces the widest variety of the highest quality dry rosé in the world and are perfect hot weather refreshers.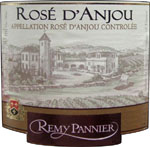 Of course, French rosé need not be expensive. The Anjou region of the Loire is home to delicious, light bodied, gently juicy pinks made from Cabernet Franc and Cabernet Sauvignon. The Rémy-Panier Rosé d'Anjou (12641) at $9.95 on the GL has a very pale salmon orange pink colour and only 10.8% alcohol. It isn't overly dry and has tangy, plumy, ripe lemon-melon flavours that show fine versatility – perfect with salmon or grilled shrimp.
Sadly, finding this rosé - indeed most French rosés - is a challenge. After searching the General List (GL) shelves at Queens Quay and Summerhill stores, only three of nine GL items turned up. Most of the tiny shelf space was devoid of bottles! I couldn't find any signage for this Rose d'Anjou. Customer service said that it was out of stock and that there was none in the warehouse. Now that's service – running out of the hottest French rosé in town in the middle of summer! Some bottles remain (click here to check store availability).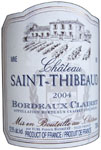 Moving on to the best seasonal buys, one is hard pressed to beat 2004 Chateau Saint-Thibeaud Bordeaux Clairet (589366) at $9.95, which comes from Bordeaux. The nose seduces with its honeyed, fresh, sweetish, ripe strawberry aromas. The dry but juicy, berry-driven flavours will add a new excitement to your summer table.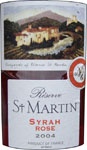 Another great buy, this time from the southern Languedoc region is the surprisingly well structured, gently juicy, reddish coloured Réserve Saint Martin Syrah Rosé (386359) at an extremely reasonable $8.75. It is produced by Val d'Orbieu, an association of wine growers with vineyards stretching from the Pyrenees to the Rhone Rives along the Mediterrean coast. While stock is still available, LCBO head office has "delisted" the brand meaning that you can't find it on the LCBO website meaning you have to call the Infoline.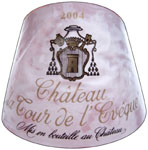 The highest scoring rosé was Chateau La Tour de l'Evêque Rose 2004 (319392) at just $13.95, which is still widely available in Vintages stores (also in half bottles). This dry Provence winner has 14% alcohol and lovely plumy, strawberry flavours.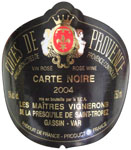 Not in the comparative tasting but well worth trying is Presqu'île de St-Tropez 2004 Carte Noire Rosé (319384) at $12.95. This lovely Côtes de Provence has an elegant light salmon pink colour and a slightly honeyed, ripe plum and dried strawberry nose. It is crisp, dry, bright and fairly-light bodied with tangy, dried red apple flavours and a hint of white pepper on the finish. Featured in last Saturday's Vintage's release, it is fine food wine, especially with fish.
National Post readers can check out recent French rosé ratings on my website using the npreader password (to see the Bastille Day feature complete with reviews
click here
). To see the full list of seasonal rosés on the General List (to see the full list
click here
).
Selected upcoming events:
Saturday, July 16 - Summerlude by the Harbour
Harbour Estates Winery 1 - 5 pm
Stroll along the Harbour Trail, be entertained and experience the undiscovered treasures of the Jordan Harbour/Twenty Valley area. Specially selected food and wine pairings from many of the area's finest wineries and restaurants are yours to enjoy. This is a great day of sampling some of the finest food and wine that west Niagara has to offer...and you don't have to drive from place to place. A fundraiser for Conservation Niagara Foundation. Tickets are $75 per person.
To purchase tickets call 877-439-9463 or click here for more information
2001-2002-2003-2004-2005 Tasting Note Database
Our tasting note database from December 31, 2000 to May 2005, covers every Vintages release product for the past 53 months. There are more than 9,000 notes in the database data. Just enter the name of the product, supplier name or CSPC number. Or you can search by type of wine, country of origin, even wine agent! Nothing could be easier. Also you can get information on the agent by clicking on the agent's name, as well as current LCBO store inventory by clicking on "Check LCBO Availability", which will automatically tell you the number of bottles at LCBO as of last night.
To use our Tasting Notes Database: click here

** For All Visitors **
Vintages August 2005 Release
To see the complete list of upcoming 148 products click here (sorted by date of release). It includes the number of cases, which wines were presented by the LCBO, our agent ID for every product,
as well as, the 18 "In Store Discoveries" for August.
You can also see it sorted by agent click here
To see the complete list of upcoming 93 products from the August 20, release click here (sorted by date of release).
You can also see it sorted by agent click here
Copyright Food & Beverage Testing Institute of Canada 2005
Prior written permission is required for any form of reproduction
(electronic or other wise) and or quotation.
Contact Michael Vaughan at
mbv@total.net