Recent Articles
Nov. 19 - Beaujolais Nouveau Celebrates 54 Years
Nov. 12 - Vintages Release Best Buys ~ From California to Bordeaux
Nov. 5 - "Eyes Wide Shut" ~ Taste, texture and scent in motion
Oct. 29 - Tricks & Treats in Today's Vintages Release ~ Some Awesome Aussi Highlights
Oct. 22 - Perfect Fall Libations ~ Obscure varieties from Welschriesling to Semillon
Oct. 15 - Hop Scotch ~ The biggest whisky release on record
Oct. 8 - A Toast to the Turkey ~ Many whites, some reds and even a sparkling rosé
Oct. 1 - Barolo the King of Italian Reds
Sep. 24 - A Flood of Upcoming Tastings ~ but not a Vintages Classics in Sight
Sep. 17 - A Great Ontario Harvest ~ From just-released wines to a terrific new guide
Sep. 10 - Film Fest Fizz ~ Finding that Oscar-Winning Drink
Sep. 3 - Delicious Long Weekend Drinking ~ All but one under $20!
Aug. 27 - A new way of coding drinkability ~ And getting the best out of that bottle
Aug. 20 - The "New" Vintages Catalogue
Aug. 13 - Bargains Galore ~ Spirited Summer Matchmakers ~ From Boulard Calvados to Grand Marnier
Aug. 6 - Dealing with Disappointments ~ This Bicyclette has a flat tire!
Jul. 30 - LCBO Alternatives? ~ Regulations handcuff importers to LCBO warehouse
Jul. 23 - A French Sparkler & Greek Whites in Today's Vintages Hit Parade ~ In-Store Discoveries Reviews Disappear
Jul. 16 - French Rosé Rocks ~ Too bad you can't find them at the LCBO
Jul. 9 - Today's Vintages Release ~ Small in size but big in buys!
Jul. 2 - The Wines of Canada by John Schreiner ~ Interesting but a little thin
Jun. 25 - Boning Up for Canada Day! ~ ABC - Anything But Chardonnay A Best Buy ~ Trilogy of Grass-Free Sauvignon Blanc
Jun. 18 - Austria's Wines on a roll
Jun. 11 - Where there's Chardonnay there's Hope ~ 2,879 cases at Vintages! ~ Plus 79 New Items in Today's Vintages Release
Jun. 11 - Bottle of the Week
Kim Crawford 2004 Marlborough Sauvignon Blanc ~ Kick starts the screwcap revolution
Jun. 4 - Bodega Norton 2004 Chardonnay ~ A too-good-to-be-true Argentina gem from the General List ~ LCBO Price Book now a thing of the past!
Jun. 4 - Bottle of the Week
Codorniu Brut Clasico ~ Puts some sparkling Classics to shame
May. 28 - A Trip in a Glass ~ Fine wines to transport you to far-away destinations
May. 28 - Bottle of the Week
Zoom-Zoom-Zoomers! ~ Campari: Seeing Red ~ Setting the World Ablaze
May. 21 - Toasting Queen Victoria ~ With Discounted Reds! ~ Grab these bargains while they last!
May. 21 - Bottle of the Week
Putting a little spice into your Victoria Day Long Weekend
May. 14 - Sprouting Up Like Tulips ~ Excellent 2003 Whites at Vintages
May. 14 - Bottle of the Week
2004 Terra Boa Blanco ~ A Bargain Priced Springtime White from Portugal
May. 7 - Prince Edward County's Field of Dreams ~ Long Dog Winery - No Long Shot!
May. 7 - Bottle of the Week
For Mother's Day! ~ Veuve Clicquot La Grande Dame Champagne ~ A priceless bubbly for that priceless mother!
Apr. 30 - An increasingly confusing Vintages catalogue ~ Hard to find what you are looking for & plan purchases
Apr. 30 - Bottle of the Week
Rosemount Shiraz on a Roll!
Apr. 23 - The Wine Glass ~ The Key to getting the most out of your wines
Apr. 23 - Bottle of the Week
Making the Rum Transition
Apr. 16 - All we are saying is give pink a chance
Apr. 16 - Bottle of the Week
Talus 2002 Zinfandel ~ A Zinfully Good Anti-Luddite!
Apr. 9 - Don't be screwed by a bad cork ~ Screwcaps are the answer
Apr. 9 - Bottle of the Week
2003 Mouton Cadet Blanc ~ Canada's best selling white Bordeaux
Apr. 2 - From Fizz to Pop ~ Putting some zip into Spring
Apr. 2 - Bottle of the Week
Underberg the Ultimate Digestif! ~ Only a full bottle will do!
Mar. 26 - Canada's #1 Wine Festival 27th ~ Vancouver Playhouse International Wine Festival
Mar. 26 - Bottle of the Week
Smooth & Satisfying ~ A Luxury French Brandy at a Great Price!
Mar. 19 - German Classics for Easter
Mar. 19 - Bottle of the Week
A liqueur that Grows on Trees!
Mar. 12 - Ontario's Vinous Peaks ~ Great quality directly from the wineries!
Mar. 12 - Bottle of the Week
A Special Treat for St. Patrick's Day
Mar. 5 - Today at Vintages ~ Chardonnays starting at $8.95!
Mar. 5 - Bottle of the Week
Cynar - A One-of-a-Kind Aperitif


Become A FBTI Supporter Today By Clicking Here
This not-for-profit website is dedicated to the discerning reader!

A new way of coding drinkability
And getting the best out of that bottle
© Michael Vaughan 2005


National Post Weekly Wine & Spirits Columnist
Saturday, August 27, 2005

LIVE WINE LINK
www.winefind.ca
(CLICK ON THE NAME - All listings are automatically linked to the LCBO database)
If there is a product that interests you, just click on the name below and you will instantaneously connected with the LCBO database. The product will appear in blue and all you have to do is click on the name again and then the next screen will provide details along with the store search. Just click on store search. The number of bottles in each store is updated nightly. Call the store first to see if stock still remains (each store phone number is listed). Foreword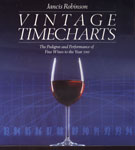 It is extremely hard to compress all the key concepts related to the subject of drinkability into a single 800-word National Post column. The challenge of coming up with a way of saying when one might start enjoying a wine, when it will be at its peak and how long it will last has always intrigued me. The older I get and more wines I taste, the more cynical I become of those all-too-common, throw-away statements (i.e. "best from 2008 through 2018") appearing on back labels and/or in authoritative reviews. Of course, who is going to be around in 2018 to give you your money back if that wine is a dud?
The only person I know of who tried to tackle this issue in depth is Jancis Robinson in her 1989 book Vintage Timecharts – The Pedigree and Performance of Fine Wines to the Year 2000. While I admire her attempt to try and chart drinkability (see an example of her graphs), I often found myself at odds with her all-too-often smooth curves associated with the various vintages of the 47 "ageworthy" wines she chose to use as visual examples.
My own experience is that some wines go through a roller coaster of drinkability. This is especially with Premier Cu Chablis, which can reach a wonderful state of accessibility in a very short period of time, collapse only to rise up once again. My personal experience with some 1983s went like this: they were showing beautifully in 1986 when release at the LCBO. Unfortunately, after about a year they suddenly became very sullen. The fruit fell away leaving chalky, lemony flavours accompanied by what might be charitably be described as extremely bad breath – the kind of halitosis calling for dental floss and strong mouthwash.
The three cases I purchased were no longer cherished but became a testimonial to bad judgment. They were so awful that I was afraid to give them away. Then one day, about two years later, I tried another bottle. It was a miracle, the original fruit came alive and the obnoxious smelliness was gone. While the flavours had evolved, the wine was once again delicious and remained in perfect condition for another five or so years. Keep in mind that these bottles were from the same case, purchased at the same time and kept in one place.
For the record, I still have one bottle left and I wager that, although very mature, it is still drinkable today. I should mention that I have an extremely cold, commercially refrigerated wine cellar (a chilly 4º C) where aging takes place extremely slowly. When I met Robinson, I challenged her on the nature of her curves. She agreed that her timecharts did not reflect what actually happened and that my experience with the 1983 Chablis was not atypical.
As cumbersome drinkability timecharts were out of question for my newsletter, I started playing with symbols that one might be able to use at the time of tasting that would reveal the wine's state of drinkability. I ended up using upper and lower case letters replicating the flow of drinkability as detailed in a timechart. Basically when a letter doesn't appear, the wine should not be drunk – it is too old, too young or simply not showing well. The basic concept is pretty simple, although one has to know the tasting date when the code was created. The code itself is just an educated best guess based on decades of experience.
As for that Michel Rémon1983 Chablis Premier Cru Montmains, using the system outlined below, the drinkability code would be rather strange looking N S ml L XL xxl with no sm or m! It is difficult to get into long run detailed aging answers because it is almost impossible to get an adequate profile of a wine with just a few quick slurps - and spits - in a tasting room while assessing 100+ other wines in just over four hours. As most people want to know where the wine is going to be over the next few years, this is where I focus my attention. It seems they are looking for that magic N S along with a high score. So for what it is worth, here is my article on the code that might help you track your wine's drinkability.
The article from the National Post – August 27, 2005
There are hard young ones and oxidized old ones; thousands of wines you want to avoid. Naturally, we all want to drink wine at the peak of perfection. And yet, amazingly enough, a wine's drinkability is all-too-often ignored.
Perhaps it is because most wines are consumed within a few hours of purchase, usually for tonight's dinner. That is why most wines featured on endless supermarkets isles around the world are made for immediate consumption. Why bother gambling on laying one away when you can buy whatever you want off the shelf?
The concept of laying a wine away to become more drinkable started with the appearance of great French wines back in the 1800's. Everyday vin de table was a far cry from what we get today. The lengthy, pounding, non-temperature controlled journeys to their final destinations made most of the everyday wines pretty awful. Heat destroyed the shelf life. Discerning, wine-loving Brits quickly realized that the wine did better when shipped in bulk (i.e. barrels) and established dozens of bottling lines in the UK (now long gone) for the best the world had to offer.
Unfortunately, shipping in freezing or sizzling weather can still cut short the life of any wine. Truckers transporting wine from California have been known to turn off the refrigeration during the trip. While such "baked" wines will initially be tasty; the fruit will collapse and oxidize within 12 months. This is the risk that anyone buying older wine, at auction for instance, faces due to unknown storage/transport conditions.
Of course, anyone buying a "fine" wine, which is less than one bottle in a hundred, knows that most are not meant for current drinking. Knowing when it will be at its best is critical to its enjoyment. To this end, I developed a drinkability code, which you might use, helping determine when a wine is best consumed. This isn't always straightforward and depends upon a number of factors, including one's own personal stylistic preferences.
The Drinkability Code itself is quite simple and uses one or two letters: today to 6 months N (meaning drink Now); 7-12 months S (Short); 13-18 months SM (Short-Medium); 19-24 months M (Medium); 25-36 months ML (Medium-Long); 37-48 months L (Long); 49+ months XL (Extra-Long).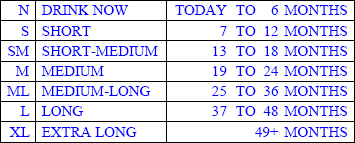 The problem with using existing drinkability icons, like a bottle standing upright or slanted, is that they don't tell you when you can start enjoying a wine, when it should be at its peak and/or how long it might keep. I have addressed these issues by CAPITALIZING, underlining & bolding the period when the wine should be showing its best or is at its peak.
Consider the sequence: n S SM m. The n means that this you can start drinking this wine today, but it will be better in 7-12 months, which is indicated by S. This peak level of drinkability should continue through 13-18 months as indicated by SM. It will be fine, although maturing through 19-24 months as indicated by m. After 24 months, it will likely be too old, so ml does not appear.
Other factors like the shape of the wine glass, decanting and the serving temperature are also important. An inferior wine, for instance, might be chilled to compress its foul flavours. If it is too youthful and tight to enjoy (meaning n doesn't appear), you can still decant it and serve in large bowl-shaped glass to soften the tannins and bring out the fruit.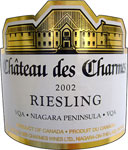 Getting down to recommending a white for this weekend, let me suggest the outstanding, well-priced Chateau des Charmes 2002 Riesling (61499) at $10.95, which is widely-available on the General List. Hailing from the Niagara Peninsula, this VQA effort is at the peak of drinkability. It has a refined, ripe lemon-melon nose. On the palate it is dry and bright with well-structured, slightly schisty, ripe melon-lemon flavours. With its solid acidity, you enjoy it now while it is at its peak, but it will hold up for another 13-24 months. Code it: N S sm m.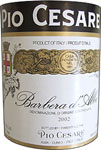 Those looking for a solid, well-structured Italian red that you can drink now, but will be at its peak in 13 to 24 months, should check out Pio Cesare 2002 Barbera d'Alba (938886) at $23.95 from last Saturday's Vintages release. It has a complex, gently cedary, ripe plum, lime purée nose and is medium-full bodied with extracty, plumy, lingering, dried ripe cherry flavours. Code it: n s SM M ml.
Coming Up
Burgundy fans should book a $79 ticket for the Tuesday, September 13, Vintages Burgundy 2002 Tasting, which will feature a modest 34 items. FBTI Supporters, click here to see the 23 tasting notes from the upcoming September 3rd release. For National Post readers click here. It takes place at the 8th floor Arcadian Court (401 Bay Street) from 6:30 to 9:00 pm. To reserve call 1-800-266-4764.
Vintages Sale
The Vintages Sale will start today. FBTI Supporters, click here to see the list of the 60 items going on sale, as well as Michael Vaughan's scores. For National Post readers click here.
2001-2002-2003-2004-2005 Tasting Note Database
Our tasting note database from December 31, 2000 to July 2005, covers every Vintages release product for the past 55 months. There are more than 9,000 notes in the database data. Just enter the name of the product, supplier name or CSPC number. Or you can search by type of wine, country of origin, even wine agent! Nothing could be easier. Also you can get information on the agent by clicking on the agent's name, as well as current LCBO store inventory by clicking on "Check LCBO Availability", which will automatically tell you the number of bottles at LCBO as of last night.
To use our Tasting Notes Database: click here

** For All Visitors **
Vintages Releases
To see the complete list of upcoming 91 products from the
August 20 release, including 7 In-Store Discovery items,
click here (sorted by date of release).
You can also see it sorted by agent click here
To see the complete list of upcoming 102 products from the
September 3 release, including 19 In-Store Discovery items,
click here (sorted by date of release).
You can also see it sorted by agent click here
Copyright Food & Beverage Testing Institute of Canada 2005
Prior written permission is required for any form of reproduction
(electronic or other wise) and or quotation.
Contact Michael Vaughan at
mbv@total.net