Become A FBTI Supporter Today By Clicking Here
This not-for-profit website is dedicated to the discerning reader!

The Wines of Canada by John Schreiner
Interesting but a little thin
© Michael Vaughan 2005


National Post Weekly Wine & Spirits Columnist
Saturday, July 2, 2005

LIVE WINE LINK
www.winefind.ca
(CLICK ON THE NAME - All listings are automatically linked to the LCBO database)
If there is a product that interests you, just click on the name below and you will instantaneously connected with the LCBO database. The product will appear in blue and all you have to do is click on the name again and then the next screen will provide details along with the store search. Just click on store search. The number of bottles in each store is updated nightly. Call the store first to see if stock still remains (each store phone number is listed).

As the Canada Day weekend holiday is upon us, it seems an appropriate time to bone up on Canadian wine. I was excited to hear that Mitchell Beazley had sequestered John Schreiner, the dean of British Columbia winery authorities, to add a book on Canada to their lengthy stable of authoritative books. I have praised some of Schreiner's earlier wine books focusing on BC and had great expectations.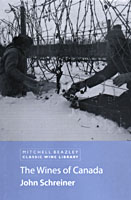 Perhaps the best way of reviewing the 307-page The Wines of Canada (ISBN 1 845330072) is as if it were a wine – an interesting effort almost hitting the mark but somewhat thin and lacking in depth. At $39.95 it is pricey, but can be had on Chapters/Indigo website for $27.96 (click here to link with this book). With an industry that has grown by leaps and bounds, it is almost impossible to keep abreast of all the new wineries. In BC alone, for instance, the number has jumped from 35 to 135 over the past decade.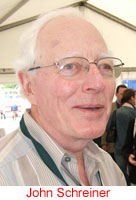 Schreiner provides us with a short overview of each winery of varying in length from a few lines to two pages. While interesting, I really wanted a bit more meat on these bones. Unlike Tony Aspler's now-out-of-date third edition of Vintage Canada, there is no methodical breakdown by winery of grapes grown, soils, acreage, cases made, listing of wines produced, etc. While some of the information appears here and there in Schreiner's book, one doesn't get a real overview of what each winery is doing and where it is situated.
Indeed, this book is very dry – it doesn't have a single label and/or photograph. Four woefully inadequate illustrations, referred to as "maps" just don't cut the mustard. You have no clue as to where wineries are located.
Those expecting wine reviews are going to be disappointed. Instead, Schreiner gives us star ratings ranging from five stars for a "leading producer" down to two stars meaning "average quality" and one star for "everyday wines."
Schreiner does mention some issues confronting the industry. He points out that in 2003, Ontario "Cellared in Canada" labels could have as little as 10% Canadian content. He also cites the confusion associated with the Jackson-Triggs value-priced white label for off-shore blends vs. the pricier look-alike gold and black labels for wines made with 100% Canadian grapes.

He mentions the ladybug infestation that started in 2001, referring to them as the "yellow-shelled" (actually orange with different spotting) Asian Ladybug. While telling us that ladybug tainted grapes were used to produce Retsina at the Thirty Bench winery, Schreiner fails to point out that most 2001 wines in Ontario were badly tainted and undrinkable. On the page devoted to vintage ratings, 2001 is given 8.5 out of 10 without any mention of the taint problem whatsoever! Click on the following for my article on the ladybug taint Waiter, there's a ladybug in my fermentation tank and From bitter to sweet in Ontario.
He states that wines with the VQA decal "are screened by professional tasting panels so that substandard wines do not reach the market." While that is the intent, unfortunately disappointments do occur. Failure to tackle these issues dilutes what could have been a more credible treatise on Canadian wines.

To his credit, Schreiner does cover many fruit and berry wineries (45), cider producers (37) and mead houses (11). Unfortunately, wineries making grape wines are not included in this chapter. And while references are made to Southbrook Farms award-winning fruit wines and the tasty Stoney Ridge Cranberry Wine (Vintages 392191) at $12.95 there is no mention whatsoever of any fruit wines produced by Magnotta, etc. The superior 2003 vintage is now available at the winery. The fact that Magnotta produces Canada's only Amarone-styled wine – an outstanding effort called Enotrium Gran Reserva - was also missed.

I am happy that Schreiner describes CedarCreek's Okanagan Pinot Noir as "sensual, velvet textured" and gives the winery top marks. Perhaps he could have elaborated that CedarCreek produces one of the best, if not the best, Pinot Noir in Canada (2002 Platinum Reserve).
For Ontario wine fans, Schreiner has some interesting bits and pieces. Toronto hairdresser Joseph DeMaria, for instance, is now charging $5,000 for a bottle of his Royal DeMaria 2002 Meritage Icewine. Meanwhile at Peninsula Ridge, owner Norman Beal claims that "we can never enter our best wines in competitions because they sell out too quickly."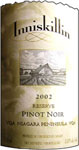 Moving on, if you are heading to Niagara, make a pit stop at the Inniskillin's boutique for today's wine of the week: the not-to-be-missed Innsikillin 2002 Reserve Pinot Noir (692681) at $16.95. This juicy, cherry driven, best buy tastes better now than many $40+ Burgundies in Vintages! It is also available in Wine Rack stores - call first.
For further information on Ontario wine recommendations check out the two articles regarding Cuvée 2005 event. (click on the following Cuvée Throws a Curve Ball at Ontario's Best and Ontario's Vinous Peaks ~ Great quality directly from the wineries!)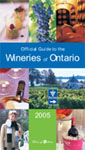 Finally, make sure to pick up the 64-page 2005 Official Guide to the Wineries of Ontario at the LCBO, which is crammed with great maps and events galore. To download the guide click here.
Click here to check out some Recently Recommended Vintage Destination Travel Books.

Selected upcoming events:
Saturday, July 9-10 - Hillebrand Jazz in the Vineyard [Niagara-on-the-Lake]
Bring your favourite chair or blanket and listen to the sounds from the lawn overlooking the Stone Road Vineyard. VQA wines and wine country cuisine available for purchase. It takes place from 3 - 7 p.m. Held at Hillebrand Estates Winery, 1249 Niagara Stone Rd., Niagara-on-the-Lake, Ontario. For more information visit www.hillebrand.com.
Tickets $25.00 per guest, per day. For further information, please call 1-800-582-8412.
Saturday, July 16 - Summerlude by the Harbour
Harbour Estates Winery 1 - 5 pm
Stroll along the Harbour Trail, be entertained and experience the undiscovered treasures of the Jordan Harbour/Twenty Valley area. Specially selected food and wine pairings from many of the area's finest wineries and restaurants are yours to enjoy. This is a great day of sampling some of the finest food and wine that west Niagara has to offer...and you don't have to drive from place to place. A fundraiser for Conservation Niagara Foundation. Tickets are $75 per person.
To purchase tickets call 877-439-9463 or click here for more information
Toast the skies with the Champagne of Ginger Ales
Canada Dry and Ontario Place sign five-year deal
to expand the Festival of Fire fireworks series.
Canada - July 1; India - July 6; and a special Grande Finale - July 9.
Shows begin nightly at 10:30 p.m at the Ontario Place.
2001-2002-2003-2004-2005 Tasting Note Database
Our tasting note database from December 31, 2000 to May 2005, covers every Vintages release product for the past 53 months. There are more than 9,000 notes in the database data. Just enter the name of the product, supplier name or CSPC number. Or you can search by type of wine, country of origin, even wine agent! Nothing could be easier. Also you can get information on the agent by clicking on the agent's name, as well as current LCBO store inventory by clicking on "Check LCBO Availability", which will automatically tell you the number of bottles at LCBO as of last night.
To use our Tasting Notes Database: click here

** For All Visitors **
Vintages August 2005 Release
To see the complete list of upcoming 148 products click here (sorted by date of release). It includes the number of cases, which wines were presented by the LCBO, our agent ID for every product,
as well as, the 18 "In Store Discoveries" for August.
You can also see it sorted by agent click here
Copyright Food & Beverage Testing Institute of Canada 2005
Prior written permission is required for any form of reproduction
(electronic or other wise) and or quotation.
Contact Michael Vaughan at
mbv@total.net