Recent Articles
Nov. 19 - Beaujolais Nouveau Celebrates 54 Years
Nov. 12 - Vintages Release Best Buys ~ From California to Bordeaux
Nov. 5 - "Eyes Wide Shut" ~ Taste, texture and scent in motion
Oct. 29 - Tricks & Treats in Today's Vintages Release ~ Some Awesome Aussi Highlights
Oct. 22 - Perfect Fall Libations ~ Obscure varieties from Welschriesling to Semillon
Oct. 15 - Hop Scotch ~ The biggest whisky release on record
Oct. 8 - A Toast to the Turkey ~ Many whites, some reds and even a sparkling rosé
Oct. 1 - Barolo the King of Italian Reds
Sep. 24 - A Flood of Upcoming Tastings ~ but not a Vintages Classics in Sight
Sep. 17 - A Great Ontario Harvest ~ From just-released wines to a terrific new guide
Sep. 10 - Film Fest Fizz ~ Finding that Oscar-Winning Drink
Sep. 3 - Delicious Long Weekend Drinking ~ All but one under $20!
Aug. 27 - A new way of coding drinkability ~ And getting the best out of that bottle
Aug. 20 - The "New" Vintages Catalogue
Aug. 13 - Bargains Galore ~ Spirited Summer Matchmakers ~ From Boulard Calvados to Grand Marnier
Aug. 6 - Dealing with Disappointments ~ This Bicyclette has a flat tire!
Jul. 30 - LCBO Alternatives? ~ Regulations handcuff importers to LCBO warehouse
Jul. 23 - A French Sparkler & Greek Whites in Today's Vintages Hit Parade ~ In-Store Discoveries Reviews Disappear
Jul. 16 - French Rosé Rocks ~ Too bad you can't find them at the LCBO
Jul. 9 - Today's Vintages Release ~ Small in size but big in buys!
Jul. 2 - The Wines of Canada by John Schreiner ~ Interesting but a little thin
Jun. 25 - Boning Up for Canada Day! ~ ABC - Anything But Chardonnay A Best Buy ~ Trilogy of Grass-Free Sauvignon Blanc
Jun. 18 - Austria's Wines on a roll
Jun. 11 - Where there's Chardonnay there's Hope ~ 2,879 cases at Vintages! ~ Plus 79 New Items in Today's Vintages Release
Jun. 11 - Bottle of the Week
Kim Crawford 2004 Marlborough Sauvignon Blanc ~ Kick starts the screwcap revolution
Jun. 4 - Bodega Norton 2004 Chardonnay ~ A too-good-to-be-true Argentina gem from the General List ~ LCBO Price Book now a thing of the past!
Jun. 4 - Bottle of the Week
Codorniu Brut Clasico ~ Puts some sparkling Classics to shame
May. 28 - A Trip in a Glass ~ Fine wines to transport you to far-away destinations
May. 28 - Bottle of the Week
Zoom-Zoom-Zoomers! ~ Campari: Seeing Red ~ Setting the World Ablaze
May. 21 - Toasting Queen Victoria ~ With Discounted Reds! ~ Grab these bargains while they last!
May. 21 - Bottle of the Week
Putting a little spice into your Victoria Day Long Weekend
May. 14 - Sprouting Up Like Tulips ~ Excellent 2003 Whites at Vintages
May. 14 - Bottle of the Week
2004 Terra Boa Blanco ~ A Bargain Priced Springtime White from Portugal
May. 7 - Prince Edward County's Field of Dreams ~ Long Dog Winery - No Long Shot!
May. 7 - Bottle of the Week
For Mother's Day! ~ Veuve Clicquot La Grande Dame Champagne ~ A priceless bubbly for that priceless mother!
Apr. 30 - An increasingly confusing Vintages catalogue ~ Hard to find what you are looking for & plan purchases
Apr. 30 - Bottle of the Week
Rosemount Shiraz on a Roll!
Apr. 23 - The Wine Glass ~ The Key to getting the most out of your wines
Apr. 23 - Bottle of the Week
Making the Rum Transition
Apr. 16 - All we are saying is give pink a chance
Apr. 16 - Bottle of the Week
Talus 2002 Zinfandel ~ A Zinfully Good Anti-Luddite!
Apr. 9 - Don't be screwed by a bad cork ~ Screwcaps are the answer
Apr. 9 - Bottle of the Week
2003 Mouton Cadet Blanc ~ Canada's best selling white Bordeaux
Apr. 2 - From Fizz to Pop ~ Putting some zip into Spring
Apr. 2 - Bottle of the Week
Underberg the Ultimate Digestif! ~ Only a full bottle will do!
Mar. 26 - Canada's #1 Wine Festival 27th ~ Vancouver Playhouse International Wine Festival
Mar. 26 - Bottle of the Week
Smooth & Satisfying ~ A Luxury French Brandy at a Great Price!
Mar. 19 - German Classics for Easter
Mar. 19 - Bottle of the Week
A liqueur that Grows on Trees!
Mar. 12 - Ontario's Vinous Peaks ~ Great quality directly from the wineries!
Mar. 12 - Bottle of the Week
A Special Treat for St. Patrick's Day
Mar. 5 - Today at Vintages ~ Chardonnays starting at $8.95!
Mar. 5 - Bottle of the Week
Cynar - A One-of-a-Kind Aperitif
Feb. 26 - Cuvée Throws a Curve Ball at Ontario's Best


Become A FBTI Supporter Today By Clicking Here
This not-for-profit website is dedicated to the discerning reader!

LCBO Alternatives?
Regulations handcuff importers to LCBO warehouse
© Michael Vaughan 2005


National Post Weekly Wine & Spirits Columnist
Saturday, July 30, 2005
LIVE WINE LINK
www.winefind.ca
(CLICK ON THE NAME - All listings are automatically linked to the LCBO database)
If there is a product that interests you, just click on the name below and you will instantaneously connected with the LCBO database. The product will appear in blue and all you have to do is click on the name again and then the next screen will provide details along with the store search. Just click on store search. The number of bottles in each store is updated nightly. Call the store first to see if stock still remains (each store phone number is listed).

This week's column as written with the impending LCBO strike in mind - a survivor's guide for thirsty imbibers. Fortunately, by press time, a settlement was reached but the alternative solutions are still worth keeping in mind.

First, those hankering for a bottle of fine offshore wine would have been totally out of luck had the strike occurred. Importers, who are forced to sell one case minimums, are basically prohibited from having any inventory on hand. It is illegal for agents to hold any stock outside the LCBO monopoly warehouse, even their own privately imported products. These discriminatory regulations are designed to curb consumer accessibility and sales outside the LCBO store system. Worse yet, the LCBO doesn't provide equal, open access to all importers, which is another way of restricting agency sales. Surely the time has come to give importers their own warehousing facilities.

Some erroneously believe that the non-union agency stores (there are 195 across the province who would have not closed down) might provide relief. Unfortunately that is not so because they can't replenish stock with a closed LCBO warehouse. Fortunately, this isn't the end of the world for wine fans. In fact, it might be a bit of a mixed blessing as there are many decent wines here in Ontario that are worth buying in the 300+ Ontario winery stores. It is a sore point for importers who complain that the Ontario winery stores are selling offshore "Canadian" blends having up to 95% import content.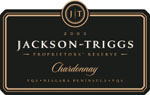 Nevertheless, some great values are to be had. Take the all Ontario VQA Jackson-Triggs Proprietors' Reserve 2003 Chardonnay (526251) at only $10.95, which is on the LCBO general list. This great buy has a gently toasty, ripe pear nose and is dry, well balanced and medium bodied with fairly crisp, ripe lemon-red apple-pear flavours with just a hint of oak. If is widely available in Vincor's 166 Wine Rack stores and outlets.

And that isn't all. While recently visiting some Ontario wineries, I made a pit stop in Niagara-on-the-Lake. Avoiding some of the pricier dining spots, I lucked into the Anchorage Motel Bar & Grill (186 Ricardo Street) where copious portions of terrific tasting chicken wings (and fish & chips) fetched a mere $10 per serving. The crowning glory was their 40 oz pitcher of their great on-tap brews at only $14.95. With all the wines I taste, it proved the perfect pick-me-up

.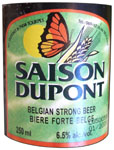 Fortunately, when it comes to suds, there would have been no shortage. Even if the LCBO were closed, all 437 Beer Store retail outlets along with dedicated Ontario brewery stores would still carry on. A strike would have meant that certain brands exclusive to the LCBO would not be available. This is unfortunate because there are some excellent seasonal summer brews – nine have been released. Take the delicious tiny 250 ml bottle of Brasserie Dupont Saison (537670) at $1.95. A few years ago this flavourful Belgium gem would have appeared in the Vintages catalogue where it would have sold out in a snap. Unfortunately, Vintages dumped these lower profit specialty brews into the general list where they now languish without a drop of exposure. To go to Brasserie Dupont website click here.
Another winner is the organic, unfiltered, unpasturized Christoffel Blond (696955) at $2.50 (333 ml), which comes in one of those wonderful, reusable small brown bottles with a rubber-ringed ceramic top. This 6% alcohol brew is dry and well balanced with refined, gently malty, flavours. To see my National Post feature on this brew click here.
Closer to home, thanks to a $5 million promotional grant from the provincial government, the Ontario Craft Brewers association has just launched an Ontario beer route consisting of 25 member brewery destinations featuring 102 brews. Many of these craft brews are currently available in the LCBO (along with their brochure/map), although some are also in the Beer Stores. While you can track them down easily on the LCBO website, it is frustrating that The Beer Store website doesn't provide customers with a product locator - when trying to find a brand you have to do a look up at each individual store! To go to the Ontario Craft Brewers website click here.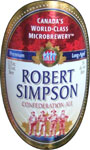 Out of some two dozen recently tasted, I was impressed with two brews that are available at both the LCBO and Beer Stores.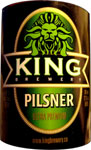 First from Barrie comes Robert Simpson Confederation Cream Ale (679506) at $12.35 for six 355 ml bottles. Beneath the deep golden yellow colour is a dry not bitter, creamy, mouthfilling, balanced brew with elegant, gentle malt flavours. The second from Nobelton is King Brewery Pilsner (911388) at $11.95 for a six-pack. It has a light gold colour and dry, slightly spicy, nicely textured, tangy taste with some citrus hints.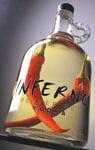 If you are looking for something with more zip, only Kittling Ridge retail outlet in Grimsby has everything from whiskey and vodka to rum flowing freely. Unfortunately, these potent beverages can't be shipped to your home – you gave to personally visit the store. For a real change of pace try the quadruple distilled Kittling Ridge Inferno Pepper Pot Vodka, which is on sale for only $21.25 for the 1.14 litre size. It comes complete with two large, hydroponically grown, "flaming red" chile peppers in the bottle – obviously a VQA-inspired, locally grown, Niagara "911" pepper! It is also available on the LCBO general list (465039) in a smaller 750 ml bottle at $22.25. For Inferno information click here.
Beer fans should keep in mind the upcoming Toronto's Festival of Beer starting next Friday, August 5th and running through Sunday at Historic Fort York where over 200 brews will be available for tasting. Tickets are $20 per person for advance purchase ($25 at the gate). For information click here.

As for the Toronto
Taste of the Danforth
(
click here
for information), I will be presenting some Greek best buys on my website next week.
2001-2002-2003-2004-2005 Tasting Note Database
Our tasting note database from December 31, 2000 to May 2005, covers every Vintages release product for the past 53 months. There are more than 9,000 notes in the database data. Just enter the name of the product, supplier name or CSPC number. Or you can search by type of wine, country of origin, even wine agent! Nothing could be easier. Also you can get information on the agent by clicking on the agent's name, as well as current LCBO store inventory by clicking on "Check LCBO Availability", which will automatically tell you the number of bottles at LCBO as of last night.
To use our Tasting Notes Database: click here

** For All Visitors **
Vintages August 2005 Release
To see the complete list of upcoming 148 products click here (sorted by date of release). It includes the number of cases, which wines were presented by the LCBO, our agent ID for every product,
as well as, the 18 "In Store Discoveries" for August.
You can also see it sorted by agent click here
To see the complete list of upcoming 91 products from the August 20, release click here (sorted by date of release).
You can also see it sorted by agent click here
Copyright Food & Beverage Testing Institute of Canada 2005
Prior written permission is required for any form of reproduction
(electronic or other wise) and or quotation.
Contact Michael Vaughan at
mbv@total.net