Recent Articles
Sep. 29 - Southern French Accents
Sep. 22 - Perfect for an Autumn day ~ Is that a bottle of spicy wine under your kilt?
Sep. 15 - A Celebration of the Ontario's harvest ~ Faces behind great wines
Sep. 8 - Reel Wines for Real Film Lovers ~ Can't snuggle? Here's what to smuggle! ~ Plus Ontario Recommendations
Sep. 1 - Dust off your Lederhosen ~ Austrian Wines Finally Unleashed in Vintages
Aug. 25 - Summer Twilight Selections ~ Spanish Synergy
Aug. 18 - The Wines of Chile ~ Soaring to the peaks of the Andes
Aug. 11 - Discovering Greece - a wine odyssey ~ Splendid Assyrtiko from Santorini
Aug. 4 - Spain - From the Classics to the Cutting Edge ~ Revving up for Rioja
Jul. 28 - Days of Wine & Roses no more! ~ Under $10 wines a rare breed
Jul. 21 - Que Sera, Syrah ~ Big, Smoky and Beautiful
Jul. 14 - Finding the best wine matches ~ Sizzling Seafood at Scaramouche
Jul. 7 - Sizzling Sauvignon Blanc ~ Vintages Best Buy Whites
Jun. 30 - In search of the Ontario Idol ~ Tracking down the best for Canada Day
Jun. 23 - Vintages Price Hikes ~ Hitting the customer where it hurts
Jun. 16 - Life After Yellow Tail
Jun. 9 - Rosé Rules ~ From serious to casual, unearthing that ambidextrous rosé
Jun. 2 - The ones that didn't get away! ~ Unearthing recent best buys - all under $20
May. 26 - New Zealand's Natural Gems ~ The best of whites
May. 19 - Alsatian with that Crustacean?
May. 12 - Paradoxical Portugal ~ Old World Grapes with New World Appeal
May. 5 - Toronto's First Private Import Wine Fair ~ Private Imports Picking up Steam Despite LCBO Bullying
Apr. 28 - Toasting Mom with France's Finest
Apr. 21 - Prime Time for California
Apr. 7 - Delicious Ciders that won't break the Easter bank
Mar. 31 - Racy Rieslings ~ Perfect Springtime Sippers
Mar. 24 - Quest for the Best of Portable Potables ~ The Battle of the Boxes
Mar. 17 - For the love of the Irish ~ A Greek wine for St. Patrick's Day
Mar. 10 - VDN to the rescue ~ Sublime sweet bargains from southwestern France
Mar. 3 - Canada's greatest pinot noir? ~ If you can't find the best, try LCJ's less expensive bargains
Feb. 24 - Cuvée 2007 ~ Ontario winemakers whoop it up
Feb. 17 - Pinot Noir Madness III ~ New Zealand takes another step forward
Feb. 10 - Burgundy Comes to Town ~ Despite Limited Vintages Buys ~ The Good News is Virtual Buying
Feb. 3 - Great Values South of the Equator ~ Both in Vintages & on the General List
Jan. 27 - Napa a go-go ~ Wine Parties vs. Tastings
Jan. 20 - Winemaker Niel Groenewald ~ Pushing the South African Envelope
Jan. 13 - Montreal Passion Vin ~ Delivering Excellence on Every Level
Jan. 6 - Off-the Beaten-Path Wines ~ Hard to Find in Today's Vintages Release


Get Michael Vaughan's Buying Guide
for March 3rd, 17th & 31st Vintages Release today!
Click Here
Canada's greatest pinot noir
If you can't find the best,
try LCJ's less expensive bargains
© Michael Vaughan 2007
National Post Weekly Wine & Spirits Columnist
Saturday, March 3, 2007
Includes our Website Exclusive Recommendations
To see this article as it appears in the National Post click here
CLICK ON THE NAME
All listings are automatically linked to the LCBO database
If there is a product that interests you, just click on the name below and you will instantaneously connected with the LCBO database. The product will appear in blue and all you have to do is click on the name again and then the next screen will provide details along with the store search. Just click on store search. The number of bottles in each store is updated nightly. Call the store first to see if stock still remains (each store phone number is listed).
A friend was wondering about the hullabaloo relating to this weekend's Le Clos Jordanne (aka LCJ) release at Vintages. He said wryly, "I like a good bottle of Burgundy, and in a pinch, even a Pinot Noir will do." Refusing to be baited, I remained silent. The then asked how I felt about the five new 2004 reds from the Boisset-Vincor joint-venture. "Impressed - very impressed" I replied. Of course, as a professional pinot-noirist I have a passion for the stuff. No matter where it comes from - it's what is in the glass that counts.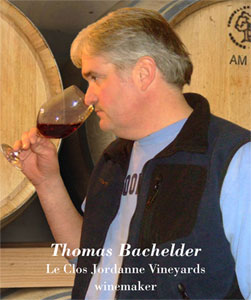 My friend continued: "What about Le Grand Clos at $60, didn't it only get four-and-one-half stars somewhere?" Clark Gable's line, "frankly my dear, I don't give a damn" resounded in my head. I replied that it was the best Pinot Noir ever produced in Ontario and deserved five stars. It's significantly better than what I tasted at BC's renowned CedarCreek winery last Fall (even though the average quality of Okanagan Pinot Noir dwarfs Ontario).

While nothing else quite touches the top Le Grand Clos vineyard bottling (34553) in terms of extract and structure, there's very little around. Only 470 cases of 6 were made, which means that only a few will be able to get it.
Don't fret if you are not on the receiving end, because as good as it is, the less expensive releases are the bargains. Having tasted all five at least four times, I wouldn't hesitate recommending the harmonious, elegant, ripe plum, cherry flavoured LCJ 2004 Pinot Noir Village Reserve (33894) at a mere $25.00. This is a cuvée or blend from all four estates and thankfully 3,188 cases of 6 were made.

As for the three other vineyard bottlings, LCJ 2004 Pinot Noir Claystone Terrace (33951) at $35.00 is the best. It too has 14.5% alcohol and solid acidity (6.7 g/l). It's well structured and fairly extracty with ripe, plummy, roasted cherry flavours and a lingering, slightly smoky finish. Better yet, I scored it in the same top five-star quality range as their best $60 reserve wine. Some 798 cases of 6 were produced.
Winemaker Thomas Bachelder has done a great job in coaxing the maximum of flavour out of the newly-planted French Dijon clones. Money was no object in reducing yields or acquiring state-of-the-art sorting tables, 21 luxury open-top fermenters and the best of Burgundian barrels. As much as I enjoyed his four LCJ Chardonnays, the star is Pinot Noir.
Website Exclusive: Of the four LCJ Chardonnay's produced, you won't find my favourite in today's Vintages release catalogue. LCJ Chardonnay 2004 Claystone Terrace (36806) at $35.00 is hidden away as a Vintages In-Store Discovery (aka ISD) with only 25 cases of 6 being purchased. Who knows why? This is the largest lot of all four Chardonnays produced weighing in at 798 cases of 6. Very light yellow in colour it has a refined, slightly spicy, lime tinged, complex, toasty ripe lemon-melon nose. It has elegant, harmonious, fairly rich, rounded, ripe lemon-melon-lime flavours with very fine acidity. In fact, all four Chardonnays have terrific acidity, this being the lowest at a still very high 8 g/l. The Dijon Chardonnay clones (76 & 95) were only recently planted in 2000 in the Twenty Mile Bench subregion.

Meanwhile back in Vintages, here are some best buy whites from today's release. Looking for something to go with fresh seafood? Try Masi 2005 Colbaraca Soave Classico (724161) at $15.95 from today's Vintages thematic Discover the Magic of Veneto. Some 60% of this Garganega-based white (along with 3% Garganega Rosa and 2% Durello) was aged in stainless steel tanks, the balance in previously-used Allier oak barrels. The latter adds mouthfeel and complexity but no oaky flavours. Light straw in colour, it is dry, well balanced and ready-to-drink with slightly spicy, ripe melon-pear-grapefruit flavours and a crisp finish.

One of the most exciting whites hails from Sicily: Rallo 2005 Grillo (13268) at $14.95. Loaded with zesty, fresh, lemon-pear-melon-grapefruit flavours, it may be a tad too exuberant to match the subtleties of fish, but will go deliciously well with almost everything else, especially spicy dishes. If you load up on this one, keep in mind that it is at its peak of drinkability and is best consumed this year. Of course, the house of Rallo is best known historically for its sweet Marsala wines, the best of which are made with this Grillo grape.
Website Exclusive: Of From the New Zealand's South Island Marlborough region comes the idiosyncratic Wairau River 2005 Sauvignon Blanc (14340) at $19.95. While some may find it over the top, but I love its intense, relatively grass-free, opulent, ruby grapefruit, peachy, rich, rhubarb compote flavours. It would be terrific with herb-roasted chicken.
Website Exclusive: In terms of reds, the best value high quality red in today's Discover the Magic of Veneto is Farina 2003 Amarone Della Valpolicella Classico (995910) at $38.95. With 15% alcohol, it has a deep intense bright red colour and a complex, slightly cedary, baked plum nose with some licorice and sandalwood notes. On the palate, it has fine, harmonious, well structured, ripe plum flavours with hints of dried strawberries and licorice on the lingering finish.
Why Wait?
Get Michael Vaughan's Notes on all 347 March Vintages releases
Emailed to you Today
Become a Food & Beverage Testing Institute of Canada Supporter
Vintage Assessments has appeared monthly for 17 consecutive years
• Receive Vintage Assessments every month covering every product before the release
• The only guide to provide you with the names of agents and # of cases bought
• The only publication with a drinkability/storage code
• Access to our exclusive winefind.ca database (with some 15,000 reviews)
• Plus you receive our upcoming 2007 Agent ID Guide
the weekly FBTI updates via e-mail
and
Supporter ID & Password to all previous electronic issues
2001 - 2007 Tasting Note Database
Our tasting note database from December 31, 2000 to February 2007, covers every Vintages release product for the past 74 months. There are more than 15,000 notes in the database data. Just enter the name of the product, supplier name or CSPC number. Or you can search by type of wine, country of origin, even wine agent! Nothing could be easier. Also you can get information on the agent by clicking on the agent's name, as well as current LCBO store inventory by clicking on "Check LCBO Availability", which will automatically tell you the number of bottles at LCBO as of last night.
To use our Tasting Notes Database: click here

** For All Visitors **
Vintages Releases
To see the complete list of upcoming products from the
March 3 release, including In-Store Discovery items,
click here (sorted by date of release).
You can also see it sorted by agent click here
To see the complete list of upcoming products from the
March 17 release, including In-Store Discovery items,
click here (sorted by date of release).
You can also see it sorted by agent click here
To see the complete list of upcoming products from the
March 31 release, including In-Store Discovery items,
click here (sorted by date of release).
You can also see it sorted by agent click here
Copyright Food & Beverage Testing Institute of Canada 2007
Prior written permission is required for any form of reproduction
(electronic or other wise) and or quotation.
Contact Michael Vaughan at
mbv@total.net