Recent Articles
Oct. 20 -Lots of great BC wines ~ But they're hard to find
Oct. 13 -Today at Vintages ~ Bordeaux and Much More
Oct. 6 - Wine Auction Fever ~ Confessions of a Wine Auction Junkie ~ Forget Screaming Eagle and pass the Rum
Sep. 29 - Southern French Accents
Sep. 22 - Perfect for an Autumn day ~ Is that a bottle of spicy wine under your kilt?
Sep. 15 - A Celebration of the Ontario's harvest ~ Faces behind great wines
Sep. 8 - Reel Wines for Real Film Lovers ~ Can't snuggle? Here's what to smuggle! ~ Plus Ontario Recommendations
Sep. 1 - Dust off your Lederhosen ~ Austrian Wines Finally Unleashed in Vintages
Aug. 25 - Summer Twilight Selections ~ Spanish Synergy
Aug. 18 - The Wines of Chile ~ Soaring to the peaks of the Andes
Aug. 11 - Discovering Greece - a wine odyssey ~ Splendid Assyrtiko from Santorini
Aug. 4 - Spain - From the Classics to the Cutting Edge ~ Revving up for Rioja
Jul. 28 - Days of Wine & Roses no more! ~ Under $10 wines a rare breed
Jul. 21 - Que Sera, Syrah ~ Big, Smoky and Beautiful
Jul. 14 - Finding the best wine matches ~ Sizzling Seafood at Scaramouche
Jul. 7 - Sizzling Sauvignon Blanc ~ Vintages Best Buy Whites
Jun. 30 - In search of the Ontario Idol ~ Tracking down the best for Canada Day
Jun. 23 - Vintages Price Hikes ~ Hitting the customer where it hurts
Jun. 16 - Life After Yellow Tail
Jun. 9 - Rosé Rules ~ From serious to casual, unearthing that ambidextrous rosé
Jun. 2 - The ones that didn't get away! ~ Unearthing recent best buys - all under $20
May. 26 - New Zealand's Natural Gems ~ The best of whites
May. 19 - Alsatian with that Crustacean?
May. 12 - Paradoxical Portugal ~ Old World Grapes with New World Appeal
May. 5 - Toronto's First Private Import Wine Fair ~ Private Imports Picking up Steam Despite LCBO Bullying
Apr. 28 - Toasting Mom with France's Finest
Apr. 21 - Prime Time for California
Apr. 7 - Delicious Ciders that won't break the Easter bank
Mar. 31 - Racy Rieslings ~ Perfect Springtime Sippers
Mar. 24 - Quest for the Best of Portable Potables ~ The Battle of the Boxes
Mar. 17 - For the love of the Irish ~ A Greek wine for St. Patrick's Day
Mar. 10 - VDN to the rescue ~ Sublime sweet bargains from southwestern France
Mar. 3 - Canada's greatest pinot noir? ~ If you can't find the best, try LCJ's less expensive bargains
Feb. 24 - Cuvée 2007 ~ Ontario winemakers whoop it up
Feb. 17 - Pinot Noir Madness III ~ New Zealand takes another step forward
Feb. 10 - Burgundy Comes to Town ~ Despite Limited Vintages Buys ~ The Good News is Virtual Buying
Feb. 3 - Great Values South of the Equator ~ Both in Vintages & on the General List
Jan. 27 - Napa a go-go ~ Wine Parties vs. Tastings
Jan. 20 - Winemaker Niel Groenewald ~ Pushing the South African Envelope
Jan. 13 - Montreal Passion Vin ~ Delivering Excellence on Every Level
Jan. 6 - Off-the Beaten-Path Wines ~ Hard to Find in Today's Vintages Release


Become an FBTI Supporter today
Get Michael Vaughan's Buying Guide
for May 12th & 26th Vintages Release
Click Here
Toasting Mom with France's Finest
the uncut version
© Michael Vaughan 2007
National Post Weekly Wine & Spirits Columnist
Saturday, April 28, 2007
To see this article as it appears in the National Post click here
CLICK ON THE NAME
All listings are automatically linked to the LCBO database
If there is a product that interests you, just click on the name below and you will instantaneously connected with the LCBO database. The product will appear in blue and all you have to do is click on the name again and then the next screen will provide details along with the store search. Just click on store search. The number of bottles in each store is updated nightly. Call the store first to see if stock still remains (each store phone number is listed).
Today's Vintages release focus is called France - The Home of Wine. While many Greeks might question this, it is the biggest special release on record with some 50 items fleshing out the first 39 pages of the catalogue. Thankfully there is something for everyone, including that special mom for Mother's Day, which is only two weeks away. Plus you'll find bargains to appeal to the most discerning of palates.
If you treat mom to seafood on Mother's Day, the perfect accompaniment is Mas des Bressades 2006 Cuvée Tradition Blanc (701094), at $12.95 the least expensive "cheap and cheerful" white in the new release. From the southwestern Rhône Costières de Nîmes vineyards of Cyril Mares, this floral blend of Grenache Blanc and Roussanne has dry, bright, ripe apricot-apple-pear flavours.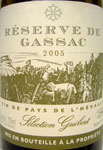 Willing to spend a bit more for mom? Just next door in Midi is the venerable Mas de Daumas Gassac estate. Its very tasty, spicy, fresh melon purée flavoured Réserve de Gassac 2005 Sélection Guibert (608778) is well worth its $18.95 price. Note that this totally new blend of 40% Chardonnay, 40% Sauvignon Blanc and 20% Clairette, which appears in the Vintages Catalogue with the incorrect grapes, is better than some recently released Rhône whites fetching twice the price.

Among the white Bordeaux in the release is a well-priced winner that I'd pair with appetizers and seafood. The first bottle presented was off, but fortunately, I taste at least two bottles. In fact, both the second and third of Château Ducla 2005 Experience XIII Cuvée Sans Nom (23853) at $19.95 were loaded with delicious, slightly toasty, ripe pear flavours.

I would be remiss if I didn't remind readers of a terrific white Bordeaux residing on the LCBO general list. The stellar 2005 Chateau Bonnet (83709), for instance, at only $13.15 has enticing, vibrant, fresh melon-peach flavours, perfect for Mother's Day. Made by André Lurton in his own Entre-Deux-Mers vineyard, this winner comes with the always-convenient screwcap closure, so mom can give the corkscrew a rest.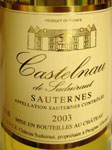 If you really want to give mom a treat, then bring her a half-bottle of the wonderfully sweet, well structured, honeyed, orange marmalade flavoured 2003 Castelnao de Suduiraut (29694) at $24.95. This "second" Sauternes from Château Suduiraut doesn't get much better. For high rollers, 25 cases of full bottles are being released today as an in-store discovery at $49.95 (29702). Remember, this is not a wine for diabetics.

Another Mother's Day winner, especially with spicy Thai cuisine, would be the sweet, plushy, lychee-driven Dopff au Moulin 2003 Gewurztraminer (28100) from Alsace at $24.95.

Of course, one has to buy carefully because, as always, there are a number of disappointments in the French release. Of the six regions presented, the selection from the Loire and Burgundy was uninspiring for the prices being asked. Only the Vintages Essential Louis Jadot 2004 Bourgogne Chardonnay (933077) at $20.15 offered fine value with its complex, slightly toasty, ripe lemon flavours.

Moving on to the reds, the best-buy highlight from Gérard Bertrand's Coteaux du Languedoc vineyards in the Midi is 2005 Château l'Hospitalet La Réserve Rouge (682492) at $18.95. This vibrant blend of 40% Syrah, 30% Grenache and 30% Mourvèdre has beautiful, juicy, supple, ripe plum and cherry flavours with lingering, faintly smoky notes. Make sure you stock up on this one.

If the woman who gave you life enjoys steak, the perfect complement is 2003 Château Haut-Vigneau (29678), a definite best buy at $24.95. This fine Bordeaux red from Pessac-Léognan is quite rich with slightly cedary, ripe plum and lingering baked black cherry flavours.
For the mom who loves a barbecued rib (Adam's?), Yann Chave 2005 Crozes-Hermitage (18812) at $24.95 shows lots of class. Look for fairly well structured, plummy, black cherry flavours with a gently cedary, smoke-tinged, finish. Truly terrific value. This Rhône is tastier many of than the pricier selections on offer, including the cooked 2003 Delas Saint-Joseph ($32.95), a so-so 2004 Perrin Châteauneuf-du-Pape ($38.95) and the baked 2003 Paul Jaboulet Cornas ($44.95).

Finally for that ultimate toast, there's Lanson Black Label Brut Champagne (41889) at $45.15. The dry, bright, ripe lemon-citrus flavours is the perfect palate pleaser.

Wine of the Week
Recommended by Vintage Assessments
** out of three stars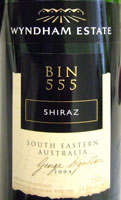 Wyndham Estate 2004 Shiraz Bin 555
General List (189415) $16.15
(8 bonus AirMiles to Apr. 28)
Extremely deep intense purple colour. Slightly spicy, juicy black cherry purée nose. Fine, dry, medium bodied, well structured, plummy ripe black cherry flavours with very good structure and a lingering finish.
To check availability click here
Coming Up
Saturday, May 12 - Spirit of Toronto 2007
Toronto's premiere tasting gala is back, featuring more than 100 single malt whiskies. This year's event will be held at Roy Thomson Hall from 6:30 to 10:30 pm. Tickets are $105 and include all samples, a Blender's Malt Whisky Glass from the Glencairn Crystal Studio in Scotland, gourmet catering courtesy of Daniel et Daniel and the Spirit of Toronto Masterclass Series hosted by the distillers themselves; food pairings, whisky cocktails, live jazz and an outdoor cigar pavilion. For more information please visit www.spiritoftoronto.ca
FBTI Supporters, use the code SOTLIS
to get a 10% discount on tickets to the show.
2001 - 2007 Tasting Note Database
Our tasting note database from December 31, 2000 to April 2007, covers every Vintages release product for the past 74 months. There are more than 15,000 notes in the database data. Just enter the name of the product, supplier name or CSPC number. Or you can search by type of wine, country of origin, even wine agent! Nothing could be easier. Also you can get information on the agent by clicking on the agent's name, as well as current LCBO store inventory by clicking on "Check LCBO Availability", which will automatically tell you the number of bottles at LCBO as of last night.
To use our Tasting Notes Database: click here

** For All Visitors **
Vintages Releases
To see the complete list of upcoming products from the
April 28 release, including In-Store Discovery items,
click here (sorted by date of release).
You can also see it sorted by agent click here
To see the complete list of upcoming products from the
May 12 release, including In-Store Discovery items,
click here (sorted by date of release).
You can also see it sorted by agent click here
To see the complete list of upcoming products from the
May 26 release, including In-Store Discovery items,
click here (sorted by date of release).
You can also see it sorted by agent click here
Copyright Food & Beverage Testing Institute of Canada 2007
Prior written permission is required for any form of reproduction
(electronic or other wise) and or quotation.
Contact Michael Vaughan at
mbv@total.net