Recent Articles
Oct. 20 -Lots of great BC wines ~ But they're hard to find
Oct. 13 -Today at Vintages ~ Bordeaux and Much More
Oct. 6 - Wine Auction Fever ~ Confessions of a Wine Auction Junkie ~ Forget Screaming Eagle and pass the Rum
Sep. 29 - Southern French Accents
Sep. 22 - Perfect for an Autumn day ~ Is that a bottle of spicy wine under your kilt?
Sep. 15 - A Celebration of the Ontario's harvest ~ Faces behind great wines
Sep. 8 - Reel Wines for Real Film Lovers ~ Can't snuggle? Here's what to smuggle! ~ Plus Ontario Recommendations
Sep. 1 - Dust off your Lederhosen ~ Austrian Wines Finally Unleashed in Vintages
Aug. 25 - Summer Twilight Selections ~ Spanish Synergy
Aug. 18 - The Wines of Chile ~ Soaring to the peaks of the Andes
Aug. 11 - Discovering Greece - a wine odyssey ~ Splendid Assyrtiko from Santorini
Aug. 4 - Spain - From the Classics to the Cutting Edge ~ Revving up for Rioja
Jul. 28 - Days of Wine & Roses no more! ~ Under $10 wines a rare breed
Jul. 21 - Que Sera, Syrah ~ Big, Smoky and Beautiful
Jul. 14 - Finding the best wine matches ~ Sizzling Seafood at Scaramouche
Jul. 7 - Sizzling Sauvignon Blanc ~ Vintages Best Buy Whites
Jun. 30 - In search of the Ontario Idol ~ Tracking down the best for Canada Day
Jun. 23 - Vintages Price Hikes ~ Hitting the customer where it hurts
Jun. 16 - Life After Yellow Tail
Jun. 9 - Rosé Rules ~ From serious to casual, unearthing that ambidextrous rosé
Jun. 2 - The ones that didn't get away! ~ Unearthing recent best buys - all under $20
May. 26 - New Zealand's Natural Gems ~ The best of whites
May. 19 - Alsatian with that Crustacean?
May. 12 - Paradoxical Portugal ~ Old World Grapes with New World Appeal
May. 5 - Toronto's First Private Import Wine Fair ~ Private Imports Picking up Steam Despite LCBO Bullying
Apr. 28 - Toasting Mom with France's Finest
Apr. 21 - Prime Time for California
Apr. 7 - Delicious Ciders that won't break the Easter bank
Mar. 31 - Racy Rieslings ~ Perfect Springtime Sippers
Mar. 24 - Quest for the Best of Portable Potables ~ The Battle of the Boxes
Mar. 17 - For the love of the Irish ~ A Greek wine for St. Patrick's Day
Mar. 10 - VDN to the rescue ~ Sublime sweet bargains from southwestern France
Mar. 3 - Canada's greatest pinot noir? ~ If you can't find the best, try LCJ's less expensive bargains
Feb. 24 - Cuvée 2007 ~ Ontario winemakers whoop it up
Feb. 17 - Pinot Noir Madness III ~ New Zealand takes another step forward
Feb. 10 - Burgundy Comes to Town ~ Despite Limited Vintages Buys ~ The Good News is Virtual Buying
Feb. 3 - Great Values South of the Equator ~ Both in Vintages & on the General List
Jan. 27 - Napa a go-go ~ Wine Parties vs. Tastings
Jan. 20 - Winemaker Niel Groenewald ~ Pushing the South African Envelope
Jan. 13 - Montreal Passion Vin ~ Delivering Excellence on Every Level
Jan. 6 - Off-the Beaten-Path Wines ~ Hard to Find in Today's Vintages Release


Get Michael Vaughan's Buying Guide
for April 14th & 28th Vintages Release today!
Click Here
Victims of Vintages
© Michael Vaughan 2007
National Post Weekly Wine & Spirits Columnist
Saturday, April 14, 2007
To see this article as it appears in the National Post click here
CLICK ON THE NAME
All listings are automatically linked to the LCBO database
If there is a product that interests you, just click on the name below and you will instantaneously connected with the LCBO database. The product will appear in blue and all you have to do is click on the name again and then the next screen will provide details along with the store search. Just click on store search. The number of bottles in each store is updated nightly. Call the store first to see if stock still remains (each store phone number is listed).
It's that time of year when the cup - or at least wine glass - runneth over. Not only are 108 Vintages products hitting the shelves today, but also another 20 ISDs (in store discoveries) have to be accounted for. Of course, getting the scoop on the latter is challenging because tasting notes are few and far between. The cause? Vintages forbids wine writers from assessing freshly-opened bottles sitting within licking distance in the LCBO lab.
When Vintages' director of sales and purchasing, Shari Mogk-Edwards, was asked about this she asserted that ISDs are selling better than ever. The insinuation that lack of exposure sells more wine is another one of those "special" LCBO fabrications that drives customers crazy. Who wants to lay out hard-earned cash for pricey wines without knowing whether they're worth drinking?

Take the untasted Austrian ISD Zahel 2005 Gelber Muskateller Classic (23556) at $19.95. One doesn't have to be a rocket scientist to figure out that a $20 Austrian wine made from a little-known grape isn't going to fly off the shelves. In over two months only 5 of 30 cases available have sold. It's a perfect Easter wine, and yet, Vintages made sure that nobody knew anything about this charming, honeyed, fragrant, fresh white with flavours of ripe melon and Muscat.

Or how about an untasted ISD best buy-Pinot Noir from New Zealand being released today? There are 95 cases of 6 of Matua Valley 2005 Marlborough Estate Series Pinot Noir (29223) available at $29.95. I tasted it at a Matua portfolio presentation; I was thrilled with its ripe, surprisingly rich, classy Pinot Noir flavours. This highlight was the best of three Pinot Noirs presented. Again, it is hard to understand why Vintages does not want this wine tasted, thereby leaving readers in the dark.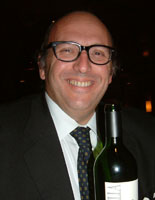 Today also marks the Vintages appearance of Italy's winery of the year, Ca' del Bosco, with a tasty ISD trilogy. My hosannas were showered on owner Maurizio Zanella's unique wines in the National Post in 2002 (to see my November 23, 2002 feature click here). Finally, five years later, they have finally been listed for the first time. Guess what? Not a single winewriter was allowed to taste the opened bottles. Thanks to the importing agent, I was able to rate and recommend all three.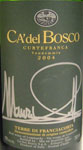 The one I liked most was Ca' del Bosco 2004 Curtefranca Rosso (33183) at $32.95. This stylish blend of Cabernet Sauvignon, Cabernet Franc, Merlot, Barbera and Nebbiolo has a fairly deep intense purple colour and an attractive, gently juicy, ripe Damson Plum nose with hints of black cherries and sandalwood. On the palate it is dry and harmonious with plummy, gently juicy, lingering, ripe cherry flavours.

Moving on to today's published non-ISD releases. While Vintages Director Tom Wilson is proud of the 2,000-case bargain Burgundy picked up by his team, someone forgot to present it to the LCBO consultants and wine writers. Thanks to wine agent Philip Mirabelli, I was able to assess this new LCBO "Food & Drink Discovery". At $19.95 Francois Labet 2005 Bourgogne Hautes-Côtes de Nuits (692566) is indeed a best buy. Don't look for great structure or complexity; the secret is the wine's charm - spicy, bright, ripe cherry and ruby grapefruit flavours.
Also unexplained is the sudden appearance of three new "faux" releases. It turns out they are previously released wines with high inventory levels. Vintages' policies dictate that wines with excessive inventories are discounted after 90 days, not snuck back into new release catalogues. Capcanes 2002 Vall del Calàs (10298) at $20.15, for instance, was released on September 30, and yet now, six months later, it appears on page 33. Why special treatment for some wines, but not others?
Nobody at Vintages will address these questions. The LCBO urgently needs a truly independent, on-site, full-time, ombudsman with full access to deal with the stream of complaints. At present, there is no accountability, no transparency, no need to justify anything to anyone. Quebec's provincially owned liquor retailer, the SAQ has an ombudsman and we need one here.
National Post readers can use the npreader password to access today's Vintages recommendations posted on my website (too see click here).
Coming Up this Week
The California Wine Fair will be held on Monday, April 16, 2007 from 7:00 to 9:30 pm, this event will be held at the Fairmont Royal York Hotel, Canadian Room. Tickets are $60 per person. Call 905-336-8932 or visit www.calwine.ca for more information and reservations. There will also be a trade only tasting portion, which will be held from 2:30 to 5:00 pm, also take place at the Fairmont Royal York Hotel. To see the list of wines being presented, alphabetically sorted by the winery click here, to see the floor plan click here.
Fans of Greek wines are invited to attend the upcoming Green Winemaker Dinner, which will take place on Wednesday, April 18, 2007 at the Palace Restaurant - 722 Pape Avenue, starting at 7:00 pm. Two winemakers, Paris Sigalas from Sigalas winery and George Skouras from Skouras winery, will be present at this dinner. Tickets are $65 per person. For reservation contact the Kolonaki Group at 416-630-7392, to see the menu click here.
On Thursday, April 19, 2007 the Greek Wine Trade Tasting will be held at Park Hyatt - 4 Avenue Rd.. This trade only tasting will begin with a seminar (already sold out) from 11:00 am to 12:30 pm, followed by tasting from 12:30 to 4:00 pm. For more information please contact All About Greek Wine at 404-545-2324 or visit www.allaboutgreekwine.com
2001 - 2007 Tasting Note Database
Our tasting note database from December 31, 2000 to February 2007, covers every Vintages release product for the past 74 months. There are more than 15,000 notes in the database data. Just enter the name of the product, supplier name or CSPC number. Or you can search by type of wine, country of origin, even wine agent! Nothing could be easier. Also you can get information on the agent by clicking on the agent's name, as well as current LCBO store inventory by clicking on "Check LCBO Availability", which will automatically tell you the number of bottles at LCBO as of last night.
To use our Tasting Notes Database: click here

** For All Visitors **
Vintages Releases
To see the complete list of upcoming products from the
April 14 release, including In-Store Discovery items,
click here (sorted by date of release).
You can also see it sorted by agent click here
To see the complete list of upcoming products from the
April 28 release, including In-Store Discovery items,
click here (sorted by date of release).
You can also see it sorted by agent click here
To see the complete list of upcoming products from the
May 12 release, including In-Store Discovery items,
click here (sorted by date of release).
You can also see it sorted by agent click here
To see the complete list of upcoming products from the
May 26 release, including In-Store Discovery items,
click here (sorted by date of release).
You can also see it sorted by agent click here
Copyright Food & Beverage Testing Institute of Canada 2007
Prior written permission is required for any form of reproduction
(electronic or other wise) and or quotation.
Contact Michael Vaughan at
mbv@total.net