Recent Articles
Oct. 27 - Scary Times at Vintages ~ From Tricks to Treats
Oct. 13 -Today at Vintages ~ Bordeaux and Much More
Oct. 6 - Wine Auction Fever ~ Confessions of a Wine Auction Junkie ~ Forget Screaming Eagle and pass the Rum
Sep. 29 - Southern French Accents
Sep. 22 - Perfect for an Autumn day ~ Is that a bottle of spicy wine under your kilt?
Sep. 15 - A Celebration of the Ontario's harvest ~ Faces behind great wines
Sep. 8 - Reel Wines for Real Film Lovers ~ Can't snuggle? Here's what to smuggle! ~ Plus Ontario Recommendations
Sep. 1 - Dust off your Lederhosen ~ Austrian Wines Finally Unleashed in Vintages
Aug. 25 - Summer Twilight Selections ~ Spanish Synergy
Aug. 18 - The Wines of Chile ~ Soaring to the peaks of the Andes
Aug. 11 - Discovering Greece - a wine odyssey ~ Splendid Assyrtiko from Santorini
Aug. 4 - Spain - From the Classics to the Cutting Edge ~ Revving up for Rioja
Jul. 28 - Days of Wine & Roses no more! ~ Under $10 wines a rare breed
Jul. 21 - Que Sera, Syrah ~ Big, Smoky and Beautiful
Jul. 14 - Finding the best wine matches ~ Sizzling Seafood at Scaramouche
Jul. 7 - Sizzling Sauvignon Blanc ~ Vintages Best Buy Whites
Jun. 30 - In search of the Ontario Idol ~ Tracking down the best for Canada Day
Jun. 23 - Vintages Price Hikes ~ Hitting the customer where it hurts
Jun. 16 - Life After Yellow Tail
Jun. 9 - Rosé Rules ~ From serious to casual, unearthing that ambidextrous rosé
Jun. 2 - The ones that didn't get away! ~ Unearthing recent best buys - all under $20
May. 26 - New Zealand's Natural Gems ~ The best of whites
May. 19 - Alsatian with that Crustacean?
May. 12 - Paradoxical Portugal ~ Old World Grapes with New World Appeal
May. 5 - Toronto's First Private Import Wine Fair ~ Private Imports Picking up Steam Despite LCBO Bullying
Apr. 28 - Toasting Mom with France's Finest
Apr. 21 - Prime Time for California
Apr. 7 - Delicious Ciders that won't break the Easter bank
Mar. 31 - Racy Rieslings ~ Perfect Springtime Sippers
Mar. 24 - Quest for the Best of Portable Potables ~ The Battle of the Boxes
Mar. 17 - For the love of the Irish ~ A Greek wine for St. Patrick's Day
Mar. 10 - VDN to the rescue ~ Sublime sweet bargains from southwestern France
Mar. 3 - Canada's greatest pinot noir? ~ If you can't find the best, try LCJ's less expensive bargains
Feb. 24 - Cuvée 2007 ~ Ontario winemakers whoop it up
Feb. 17 - Pinot Noir Madness III ~ New Zealand takes another step forward
Feb. 10 - Burgundy Comes to Town ~ Despite Limited Vintages Buys ~ The Good News is Virtual Buying
Feb. 3 - Great Values South of the Equator ~ Both in Vintages & on the General List
Jan. 27 - Napa a go-go ~ Wine Parties vs. Tastings
Jan. 20 - Winemaker Niel Groenewald ~ Pushing the South African Envelope
Jan. 13 - Montreal Passion Vin ~ Delivering Excellence on Every Level
Jan. 6 - Off-the Beaten-Path Wines ~ Hard to Find in Today's Vintages Release


Become an FBTI Supporter today
Get Michael Vaughan's Buying Guide
for May 12th & 26th Vintages Release
Click Here
Paradoxical Portugal
Old World Grapes with New World Appeal
© Michael Vaughan 2007
National Post Weekly Wine & Spirits Columnist
Saturday, May 12, 2007
To see this article as it appears in the National Post click here
CLICK ON THE NAME
All listings are automatically linked to the LCBO database
If there is a product that interests you, just click on the name below and you will instantaneously connected with the LCBO database. The product will appear in blue and all you have to do is click on the name again and then the next screen will provide details along with the store search. Just click on store search. The number of bottles in each store is updated nightly. Call the store first to see if stock still remains (each store phone number is listed).
We are living in a world of stylistic convergence; where wine individuality is banished and flavours are designed to suit the current whims of consumers. This flavour-of-the-month approach translates into an avalanche of similar tasting critter wines from Australia. Thanks to multinational wine conglomerates, who can produce knock-offs virtually anywhere, wine me-too-ism is spreading everywhere.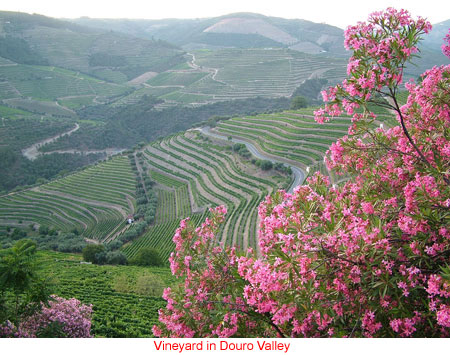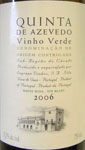 Which brings me to this week's Vintages May 12th release thematic Portugal: Ancient Traditions, Modern Wines, which features 25 wines. This wonderful destination is one Europe's few remaining wine enclaves where indigenous grapes and styles translate into a refreshing change of pace. Take Vinho Verde (or green wine) from Portugal's most northerly vineyards. It's a perfect light bodied, low alcohol, faintly spritzy, pick-me-up for sultry summer weather. The just-released Quinta de Azevedo 2006 Vinho Verde (727115) at $11.95 hits the spot with its light, ripe, lemon-melon flavours.

The only other two whites in the release will appeal to the discerning palate. At $17.95, Esporao 2005 Vinho Branco Reserva (500033) helps dispel Portugal's cheap and cheerful image. This blend of Roupeiro, Arinto and Antão Vaz was partially fermented in new Aureal oak. Look for dry, well-structured, complex, ripe lemon-melon-pear flavours with hints of toast and cedar on the lingering finish. This first class white that will marry well with mom's roast chicken.

From the venerable house of Quinta da Aveleda comes the smooth, ripe, melon-pear flavoured Aveleda 2005 Follies (687616) at $18.95. This modern-day Bairrada blend of Chardonnay and indigenous Maria Gomes is just one of a number of wines in the brand new Follies range. It would be perfect with poultry, seafood and appetizers. I must mention that anyone visiting Oporto should not miss visiting the spectacular Aveleda gardens only 40 km to the north east of the city, for more information on the garden at Quinta da Aveleda click here.

While I was hoping that a tasty Vinho Verde rosé might finally make a LCBO debut, 2006 Cabriz Rosé (30445) at $12.95 is worth trying. This dry, crisp, plummy-melon flavoured blend of Touriga Nacional and Alfrocheiro would be great for picnics and Sunday brunch.

Moving on to the reds, there are some excellent values. One best buy is 2005 Terras do Po (687020) at $14.95, which comes from Teras do Sado region south east of Lisbon. This 100% Castelao (aka Periquita) is versatile and quite delicious with ready-to-drink, slightly spicy, harmonious, plummy-cherry flavours. While listed in today's Vintages release Catalogue, you will have to wait for another two weeks before it actually hits the shelves on May 26th. It is very frustrating for all concerned when the Vintages Director of Sales/Purchasing doesn't have the courtesy of letting wine writers know about such changes.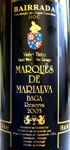 Luckily, my other recommendations are available. I am a huge fan of the Baga grape, which is grown in the Bairrada region. It is a challenging grape - the Portuguese equivalent of Pinot Noir. When its good, it's very good and vice-versa. Thankfully, the extracty Marques de Marialva 2003 Baga Reserva (677781) at $14.95 is worth a detour. Dry, intense and well structured (14% alcohol), the somewhat rustic, baked ripe plum and cherry purée flavours would pair perfectly with bbq steak. It can be aged for another 8-12 months.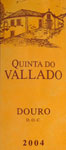 Another tasty effort is the gently juicy 2004 Quinta do Vallado (694992) at $17.95. This indigenous blend of Tinta Barroca, Roriz and Franca with Touriga Nacional and Sousao (all from the Douro Valley) has lots of ripe plum and mocha flavours with a touch of red licorice and dried apple on the finish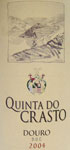 Also from the Douro comes my top scoring wine Quinta do Crasto 2004 Douro Reserva Old Vines (990572) at $29.95. Owner Miguel Roquette's full bodied red has an abundance of cedar tinged, rich, plum and cherry flavours. For more information on this premium wine operation click here.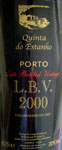 For dessert, two tasty Ports await you. The plummy, sweet Quinta do Estanho 2000 LBV Port (687350) at $28.95 just edged out Quinta de la Rosa Finest Reserve Port (715540) at $22.95. What I really miss those reasonably priced, delicious, 10-year-old (and older), Malmsey and Bual from Henriques & Henriques that haven't been available at Vintages for much too long.
Those wanting to discover the best of Portugal should check out two top dining destinations on the north side of College Street between Ossington and Dovercourt. The classic culinary genius at Chiado (at #864 College) needs no introduction. One of my favourite dishes at the former is something called Assorda, which is a very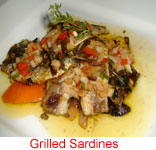 dense, stew-like affair consisting of monk fish, lobster, clams, bread, coriander, garlic and extra virgin olive oil ($50 for two at lunch or $45 ). Meanwhile, just down the street at Cataplana (at #938 College) offers great dining value awaits you. At a recent dinner a visiting friend from California, "Pooch" Puzcilowski, pigged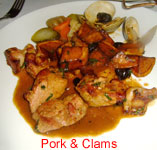 out on not one, but two very generous servings of delicious grilled sardines served with roasted peppers and onions at a modest $7.95 each for dinner. After sharing a terrific plate of grilled squid served with roasted peppers, in extra virgin olive oil, garlic and coriander (a bargain at $8.95), I feasted on Cataplana of pork and clams at $19.95.
Coming Up
Thursday, May 17 - New Zealand Wine Fair


Held at the Design Exchange - 234 Bay St., from 7:00 to 9:30 pm.
To see the list of wines being presented
• sorted by type click here.
• sorted by producer click here.
• sorted by vintage click here.
Tickets are $55 per person. For more information contact Robert Ketchin at 1-888-993-9927 or email nzwine@ketchin.com or visit www.nzwine-events.ca.
2001 - 2007 Tasting Note Database
Our tasting note database from December 31, 2000 to May 2007, covers every Vintages release product for the past 78 months. There are more than 15,000 notes in the database data. Just enter the name of the product, supplier name or CSPC number. Or you can search by type of wine, country of origin, even wine agent! Nothing could be easier. Also you can get information on the agent by clicking on the agent's name, as well as current LCBO store inventory by clicking on "Check LCBO Availability", which will automatically tell you the number of bottles at LCBO as of last night.
To use our Tasting Notes Database: click here

** For All Visitors **
Vintages Releases
To see the complete list of upcoming products from the
May 12 release, including In-Store Discovery items,
click here (sorted by date of release).
You can also see it sorted by agent click here
To see the complete list of upcoming products from the
May 26 release, including In-Store Discovery items,
click here (sorted by date of release).
You can also see it sorted by agent click here
To see the complete list of upcoming products from the
June 9 release, including In-Store Discovery items,
click here (sorted by date of release).
You can also see it sorted by agent click here
Copyright Food & Beverage Testing Institute of Canada 2007
Prior written permission is required for any form of reproduction
(electronic or other wise) and or quotation.
Contact Michael Vaughan at
mbv@total.net