Recent Articles
Oct. 20 -Lots of great BC wines ~ But they're hard to find
Oct. 13 -Today at Vintages ~ Bordeaux and Much More
Oct. 6 - Wine Auction Fever ~ Confessions of a Wine Auction Junkie ~ Forget Screaming Eagle and pass the Rum
Sep. 29 - Southern French Accents
Sep. 22 - Perfect for an Autumn day ~ Is that a bottle of spicy wine under your kilt?
Sep. 15 - A Celebration of the Ontario's harvest ~ Faces behind great wines
Sep. 8 - Reel Wines for Real Film Lovers ~ Can't snuggle? Here's what to smuggle! ~ Plus Ontario Recommendations
Sep. 1 - Dust off your Lederhosen ~ Austrian Wines Finally Unleashed in Vintages
Aug. 25 - Summer Twilight Selections ~ Spanish Synergy
Aug. 18 - The Wines of Chile ~ Soaring to the peaks of the Andes
Aug. 11 - Discovering Greece - a wine odyssey ~ Splendid Assyrtiko from Santorini
Aug. 4 - Spain - From the Classics to the Cutting Edge ~ Revving up for Rioja
Jul. 28 - Days of Wine & Roses no more! ~ Under $10 wines a rare breed
Jul. 21 - Que Sera, Syrah ~ Big, Smoky and Beautiful
Jul. 14 - Finding the best wine matches ~ Sizzling Seafood at Scaramouche
Jul. 7 - Sizzling Sauvignon Blanc ~ Vintages Best Buy Whites
Jun. 30 - In search of the Ontario Idol ~ Tracking down the best for Canada Day
Jun. 23 - Vintages Price Hikes ~ Hitting the customer where it hurts
Jun. 16 - Life After Yellow Tail
Jun. 9 - Rosť Rules ~ From serious to casual, unearthing that ambidextrous rosť
Jun. 2 - The ones that didn't get away! ~ Unearthing recent best buys - all under $20
May. 26 - New Zealandís Natural Gems ~ The best of whites
May. 19 - Alsatian with that Crustacean?
May. 12 - Paradoxical Portugal ~ Old World Grapes with New World Appeal
May. 5 - Toronto's First Private Import Wine Fair ~ Private Imports Picking up Steam Despite LCBO Bullying
Apr. 28 - Toasting Mom with Franceís Finest
Apr. 21 - Prime Time for California
Apr. 7 - Delicious Ciders that won't break the Easter bank
Mar. 31 - Racy Rieslings ~ Perfect Springtime Sippers
Mar. 24 - Quest for the Best of Portable Potables ~ The Battle of the Boxes
Mar. 17 - For the love of the Irish ~ A Greek wine for St. Patrick's Day
Mar. 10 - VDN to the rescue ~ Sublime sweet bargains from southwestern France
Mar. 3 - Canada's greatest pinot noir? ~ If you canít find the best, try LCJís less expensive bargains
Feb. 24 - Cuvťe 2007 ~ Ontario winemakers whoop it up
Feb. 17 - Pinot Noir Madness III ~ New Zealand takes another step forward
Feb. 10 - Burgundy Comes to Town ~ Despite Limited Vintages Buys ~ The Good News is Virtual Buying
Feb. 3 - Great Values South of the Equator ~ Both in Vintages & on the General List
Jan. 27 - Napa a go-go ~ Wine Parties vs. Tastings
Jan. 20 - Winemaker Niel Groenewald ~ Pushing the South African Envelope
Jan. 13 - Montreal Passion Vin ~ Delivering Excellence on Every Level
Jan. 6 - Off-the Beaten-Path Wines ~ Hard to Find in Today's Vintages Release


Become an FBTI Supporter today
Get Michael Vaughan's Buying Guide
for April 14th & 28th Vintages Release
Click Here
Prime Time for California
© Michael Vaughan 2007
National Post Weekly Wine & Spirits Columnist
Saturday, April 21, 2007
To see this article as it appears in the National Post click here
CLICK ON THE NAME
All listings are automatically linked to the LCBO database
If there is a product that interests you, just click on the name below and you will instantaneously connected with the LCBO database. The product will appear in blue and all you have to do is click on the name again and then the next screen will provide details along with the store search. Just click on store search. The number of bottles in each store is updated nightly. Call the store first to see if stock still remains (each store phone number is listed).
They came, they tasted, but did they buy? Last Monday's annual California wine fair was a huge success, featuring some 500 wines. In a short 2 1/2 hours, Toronto trade buyers had a chance to try the vast array on show. Of course, anyone really serious about wine could only scrape the surface. I wish these tastings could somehow be extended, enabling enthusiasts to taste at a more leisurely pace.
One thing became evident, California wines have become just like American TV programs. No matter how tasteless, there is something for everyone. Today's mission is to pair up a recommended wine with a program. I can vouchsafe for the contents of the bottles, though not of the shows.

Take Pussycat Dolls. Viewers will obviously want something 'juicy" and easy to drink. In terms of value, everyone is going to love Gallo Family Sierra Valley 2005 White Zinfandel (308460) at only $16.15 a magnum on the general list. Its attractive, well-balanced, honeyed, ripe peach fruitiness goes perfectly with Pussycat Doll bar food, everything from wings to burgers.
For Desperate Housewives fans, I think 3 Loose Screws 2004 Screw Kappa Napa Cabernet Sauvignon (34793) at $17.95 is just what the doctor ordered. This extremely intense deep purple wine, a Vintages release of March 17, is dry and muscular with lingering, ripe plum and black cherry flavours. Great with steak, it's bound to liberate one from even the direst of housewife situations.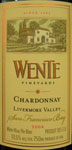 Then there's American Idol. And what could be better than a statuesque example of the world's most popular grape, Chardonnay. Of course, it can't be too idiosyncratic and has to have just the right amount of sex appeal for the masses. After a recent comparative blind tasting, the top buy of 19 Chards presented was Wente Vineyards 2005 Chardonnay (175430) at $16.25. The 2004, which is still on LCBO shelves, is also very good (for some, perhaps even a bit better) with more maturity, structure and intense, buttery toasty notes. Its dry, well-balanced, gently spicy, ripe pear flavours with a faintly cedary finish hit all the right notes.

For House, my gut instinct is we need something mercurial. What better than a Pinot Noir, which can be great one moment and dreadful the next? To connect with the former, go for Trinchero 2005 Family Pinot Noir (25155) at $20.95, a Vintages release from March 17. Unlike Dr. House, this ready-to-drink red shows great versatility and charm. Look for harmonious, ripe, plummy, crancherry flavours.

CSI presents a dilemma. As it's unlikely you'll be nibbling a pizza while watching, food wines are out of question. I think something light and sweet would take the edge off the show's blood, guts and cadavers. Perhaps the yummy, sweet but refreshing, peach-tangerine flavoured Wild Vines Peach Orange (621235) at $7.

Finally, for Who Wants To Be a Millionaire we need a something that makes us think we're rich. Of course, California abounds with excruciatingly expensive wines, many of them driven to frenzied, overpriced heights by collectors depending on Parker 100-point ratings. Thankfully, many millionaires have no taste. It means that if you want to taste a great red on the salary of a millionaire-to-be, buy a bottle or two of next Saturday's April 28 Vintages release Cain Cellars 2003 Concept (590299) at $57.95 (down from $73.95 last year). This big, flavourful, ever-changing blend of premium Napa Valley grapes is loaded with ripe plum and mocha-chocolate flavors. I actually prefer it stylistically to some pricier Heitz wines and rank it almost on par with one of my favourites, Joseph Phelps Insignia. Of course, real millionaires would usually drink the much rarer Phelps Cabernet Sauvignon Backus Vineyard.
Coming Up this Week
The Annual Austrian Wine Fair will be held on Wednesday, April 25, 2007 from 12:00 to 4:00 pm, this trade only event will be held at the Flow Restaurant & Lounge - 133 Yorkville Ave. To see the list of wines being presented click here. For registration and to register for this trade only event contact Birgitta Samavarchian at 416-967-3348 or email toronto@austriantrade.org or visit www.austriantrade.org/ca
On Friday, April 27, 2007 Decant will be held at Allen Lambert Galleria in BCE Place - 181 Bay Street, from 7:00 to 11:00 pm. This event showcases Private Stock and Consignment wines not available in LCBO or Vintages stores. Currently these wines are sold only to hotels, private clubs, restaurants and private collectors. Tickets are $150 purchased in advance or $170 at the door. For registration and more information please visit www.decant.ca
2001 - 2007 Tasting Note Database
Our tasting note database from December 31, 2000 to April 2007, covers every Vintages release product for the past 74 months. There are more than 15,000 notes in the database data. Just enter the name of the product, supplier name or CSPC number. Or you can search by type of wine, country of origin, even wine agent! Nothing could be easier. Also you can get information on the agent by clicking on the agentís name, as well as current LCBO store inventory by clicking on "Check LCBO Availability", which will automatically tell you the number of bottles at LCBO as of last night.
To use our Tasting Notes Database: click here

** For All Visitors **
Vintages Releases
To see the complete list of upcoming products from the
April 28 release, including In-Store Discovery items,
click here (sorted by date of release).
You can also see it sorted by agent click here
To see the complete list of upcoming products from the
May 12 release, including In-Store Discovery items,
click here (sorted by date of release).
You can also see it sorted by agent click here
To see the complete list of upcoming products from the
May 26 release, including In-Store Discovery items,
click here (sorted by date of release).
You can also see it sorted by agent click here
Copyright Food & Beverage Testing Institute of Canada 2007
Prior written permission is required for any form of reproduction
(electronic or other wise) and or quotation.
Contact Michael Vaughan at
mbv@total.net