Recent Articles
Oct. 20 -Lots of great BC wines ~ But they're hard to find
Oct. 13 -Today at Vintages ~ Bordeaux and Much More
Oct. 6 - Wine Auction Fever ~ Confessions of a Wine Auction Junkie ~ Forget Screaming Eagle and pass the Rum
Sep. 29 - Southern French Accents
Sep. 22 - Perfect for an Autumn day ~ Is that a bottle of spicy wine under your kilt?
Sep. 15 - A Celebration of the Ontario's harvest ~ Faces behind great wines
Sep. 8 - Reel Wines for Real Film Lovers ~ Can't snuggle? Here's what to smuggle! ~ Plus Ontario Recommendations
Sep. 1 - Dust off your Lederhosen ~ Austrian Wines Finally Unleashed in Vintages
Aug. 25 - Summer Twilight Selections ~ Spanish Synergy
Aug. 18 - The Wines of Chile ~ Soaring to the peaks of the Andes
Aug. 11 - Discovering Greece - a wine odyssey ~ Splendid Assyrtiko from Santorini
Aug. 4 - Spain - From the Classics to the Cutting Edge ~ Revving up for Rioja
Jul. 28 - Days of Wine & Roses no more! ~ Under $10 wines a rare breed
Jul. 21 - Que Sera, Syrah ~ Big, Smoky and Beautiful
Jul. 14 - Finding the best wine matches ~ Sizzling Seafood at Scaramouche
Jul. 7 - Sizzling Sauvignon Blanc ~ Vintages Best Buy Whites
Jun. 30 - In search of the Ontario Idol ~ Tracking down the best for Canada Day
Jun. 23 - Vintages Price Hikes ~ Hitting the customer where it hurts
Jun. 16 - Life After Yellow Tail
Jun. 9 - Rosé Rules ~ From serious to casual, unearthing that ambidextrous rosé
Jun. 2 - The ones that didn't get away! ~ Unearthing recent best buys - all under $20
May. 26 - New Zealand's Natural Gems ~ The best of whites
May. 19 - Alsatian with that Crustacean?
May. 12 - Paradoxical Portugal ~ Old World Grapes with New World Appeal
May. 5 - Toronto's First Private Import Wine Fair ~ Private Imports Picking up Steam Despite LCBO Bullying
Apr. 28 - Toasting Mom with France's Finest
Apr. 21 - Prime Time for California
Apr. 7 - Delicious Ciders that won't break the Easter bank
Mar. 31 - Racy Rieslings ~ Perfect Springtime Sippers
Mar. 24 - Quest for the Best of Portable Potables ~ The Battle of the Boxes
Mar. 17 - For the love of the Irish ~ A Greek wine for St. Patrick's Day
Mar. 10 - VDN to the rescue ~ Sublime sweet bargains from southwestern France
Mar. 3 - Canada's greatest pinot noir? ~ If you can't find the best, try LCJ's less expensive bargains
Feb. 24 - Cuvée 2007 ~ Ontario winemakers whoop it up
Feb. 17 - Pinot Noir Madness III ~ New Zealand takes another step forward
Feb. 10 - Burgundy Comes to Town ~ Despite Limited Vintages Buys ~ The Good News is Virtual Buying
Feb. 3 - Great Values South of the Equator ~ Both in Vintages & on the General List
Jan. 27 - Napa a go-go ~ Wine Parties vs. Tastings
Jan. 20 - Winemaker Niel Groenewald ~ Pushing the South African Envelope
Jan. 13 - Montreal Passion Vin ~ Delivering Excellence on Every Level
Jan. 6 - Off-the Beaten-Path Wines ~ Hard to Find in Today's Vintages Release


Get Michael Vaughan's Buying Guide
for April 14th & 28th Vintages Release today!
Click Here
Delicious Ciders
that won't break the Easter bank
© Michael Vaughan 2007
National Post Weekly Wine & Spirits Columnist
Saturday, April 7, 2007
To see this article as it appears in the National Post click here
CLICK ON THE NAME
All listings are automatically linked to the LCBO database
If there is a product that interests you, just click on the name below and you will instantaneously connected with the LCBO database. The product will appear in blue and all you have to do is click on the name again and then the next screen will provide details along with the store search. Just click on store search. The number of bottles in each store is updated nightly. Call the store first to see if stock still remains (each store phone number is listed).
I am going through my piles of tasting notes trying to dig up some Easter taste treats that won't break the bank. Of course, what you drink depends on what you intend to eat. I have had a long love affair with smoked ham. It all began many, many, years ago, before anyone was conscious of global warming, when I would enjoy Spring skiing in the Laurentians. The best part of the trip was stopping at a favourite restaurant, Au Petit Poucet, which originally opened in 1945. When I visited, it was still housed in a log cabin on the highway near Val-David just north of Montreal. Their melt-in the-mouth, maple-cured, smoked ham accompanied by stunning homemade beans served in a rich elixir of molasses and maple syrup were incredibly delicious. For more information click here.
In those days, we would stop at a roadside stand and pick up bottles of local, homemade $1.99 Quebec cider. It was dangerously drinkable and perfect with the ham. While Au Petit Poucet ham and beans can still be ordered for overnight delivery, cheap Quebec roadside cider has disappeared.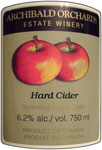 Thankfully, Ontario produces its own ciders. Last summer I extolled the virtues Archibald Orchards & Estate Winery Hard Cider at $8.95 a bottle. It is still only available at the Bowmanville winery, although case orders will be delivered for free anywhere in Ontario. To check out availability click here

To discover the best, earlier this week I did a blind tasting of five ciders all widely available on the LCBO general list. I had two from County Cider Company, which is located in Prince Edward County where over 15 varieties of apples are grown in two orchards comprising of some 40 acres of apple trees. One, Waupoos Premium Cider (612804) was very good with wonderful, fresh, ripe apple aromas and fairly dry, harmonious, light, gently effervescent, fresh apple flavours with crisp, clean finish. With 6.5% alcohol, four 341 ml twist cap bottles sell for $13.35 or 28¢ per ounce.
As good as this one is, unfortunately, you should avoid the other County Cider entry: one-litre plastic bottles of County Premium Cider (459370) at $7.15 or 20¢ per ounce. It had an unpleasant, leesy nose and doughy, peppery, bitter flavours. To make matters challenging, no lot code or best-before date could be found on the bottle or label. Surely the provincial government should not permit the sale of consumables in LCBO stores without such codes (they appear on all imported products).
Also, why are award winning ciders and fruit wines, which are made from locally grown produce, not treated in the same fashion as VQA wines? Wineries can sell grape based wines (but not designated 100% fruit based wines) directly to a restaurant and recover most of the LCBO mark-up.

Moving on, if your are looking for more flavourful (with 6% alcohol), I can highly recommend Stowford Press English Export Cider (364) at $4.65 for 660-ml or 20¢ per ounce. It is slightly sweeter and fleshier than Waupoos, with an intense spicy, sweetish, baked apple nose and rich, effervescent, complex, real English scrumpy-styled flavours. If you want to explore the joys of cider click here

At only 15¢ an ounce (or $2.70 per 500-ml can with 5.3% alcohol), Strongbow Cider (560532) from the UK's Scottish & Newcastle Breweries offers drier, well-balanced, gentle ripe apple flavours with some pleasant, effervescent notes.
Also worth trying is Britain's Blackthorn Cider (619551) with 6% alcohol at $2.80 for a 500-ml can, or just over 15¢ an ounce. Slightly sweet and pleasantly zesty, with warm ripe apple and yellow plum purée flavours.

If you are looking for the perfect Easter wine, think pink. Widely available on the LCBO general list at $12.15 is Henry of Pelham 2006 Rosé (613471). Dry, delicate and well balanced, the slightly honeyed, strawberry-tinged, crisp, ripe plum flavours show great, crowd-pleasing versatility - perfect with poultry, ham, pork and even seafood. A cold fermented, stainless steel blend of Cabernet Sauvignon, Cabernet Franc, Merlot, Gamay, Pinot Noir and Zweigelt with 11.5% alcohol.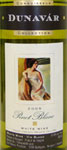 In the cheap and cheerful department is an inexpensive, taste treat from Hungary St. Ursula Dunavar 2005 Pinot Blanc (565820) at $7.15 on the LCBO general list. Medium straw in colour, this Pinot Blanc has attractive, honeyed, floral, ripe melon-lemon aromas. Dry, smooth and medium-light bodied, you will find its fresh and fruity lemon-melon flavours marry well with pretty much anything.

Looking for a tasty red? In last Monday's April 2 Vintages sale is a fine Spanish red buy. From the Spain's Somontano region, is the deliciously juicy, black cherry flavoured Vinas del Vero 2004 Syrah 'Las Coronas' (14670). Released October 28, 2006, it was a best buy at the original release price of $18.95. It is now is available in a limited number of Vintages outlets at only $16.10. This deep intense purple coloured beauty has a spicy, juicy, ripe black cherry nose with some vanilla stick notes. On the palate it is dry, harmonious and well structured with fairly intense, plummy, dried black cherry flavours. Don't miss it!
To download details on the April 2 Vintages Delist Sale (each item is linked to my tasting note database) click here

2001 - 2007 Tasting Note Database
Our tasting note database from December 31, 2000 to February 2007, covers every Vintages release product for the past 74 months. There are more than 15,000 notes in the database data. Just enter the name of the product, supplier name or CSPC number. Or you can search by type of wine, country of origin, even wine agent! Nothing could be easier. Also you can get information on the agent by clicking on the agent's name, as well as current LCBO store inventory by clicking on "Check LCBO Availability", which will automatically tell you the number of bottles at LCBO as of last night.
To use our Tasting Notes Database: click here

** For All Visitors **
Vintages Releases
To see the complete list of upcoming products from the
March 31 release, including In-Store Discovery items,
click here (sorted by date of release).
You can also see it sorted by agent click here
To see the complete list of upcoming products from the
April 14 release, including In-Store Discovery items,
click here (sorted by date of release).
You can also see it sorted by agent click here
To see the complete list of upcoming products from the
April 28 release, including In-Store Discovery items,
click here (sorted by date of release).
You can also see it sorted by agent click here
Copyright Food & Beverage Testing Institute of Canada 2007
Prior written permission is required for any form of reproduction
(electronic or other wise) and or quotation.
Contact Michael Vaughan at
mbv@total.net