Become an FBTI Supporter today
Get Michael Vaughan's Buying Guide
for May 12th & 26th Vintages Release
Click Here
New Zealand's Natural Gems
The best of whites
© Michael Vaughan 2007
National Post Weekly Wine & Spirits Columnist
Saturday, May 26, 2007
To see this article as it appears in the National Post click here
CLICK ON THE NAME
All listings are automatically linked to the LCBO database
If there is a product that interests you, just click on the name below and you will instantaneously connected with the LCBO database. The product will appear in blue and all you have to do is click on the name again and then the next screen will provide details along with the store search. Just click on store search. The number of bottles in each store is updated nightly. Call the store first to see if stock still remains (each store phone number is listed).
Today's Vintages spotlight shines on New Zealand, featuring 20 items and six in-store-discoveries (a.k.a. ISDs). Thanks to Robert Ketchin, the Canadian rep for New Zealand Winegrowers, I was able to preview the wines being released today, including the ISDs.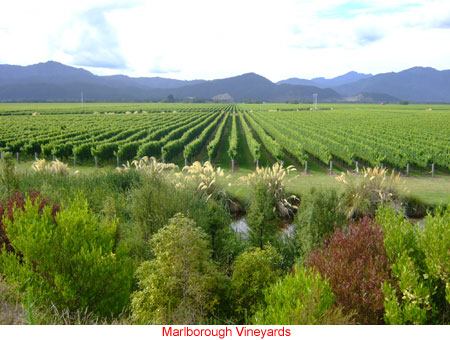 With the recent warm weather, I am focusing on the best New Zealand whites. Of course, Sauvignon Blanc is the engine of international sales. I am a huge fan of Sauvignon Blanc, having judged it at numerous international competitions from Argentina to Austria, where I happen to be called Mr. Sauvignon Blanc.
For some, all Sauvignon Blanc seems more or less the same. This is certainly true if you serve it ice-cold, which make senses when you have a really crappy one. Overchilling, however, is a waste of money when you have something special. Tip: Serve it cool so you can savour all its flavours.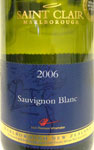 Getting down to brass tacks, here is the best buy of the release: St. Clair 2006 Marlborough Sauvignon Blanc (554196) at $18.95. What makes it special are its distinctive nuances of flavour. Instead of simply being an immense tidal wave of herbal, fresh-cut grass, there is much more complexity. Specifically, look for honey, suggestions of spice, melon and ripe lemon with lingering nuances of warm rhubarb. I love these hard-to-find rhubarb hints, which depend on the specific grape clone, terroir, vinification and vintage.

While six Sauvignon Blancs are on offer, look for two remaining gems from the last release. A definite highlight is the racy Clifford Bay 2006 Sauvignon Blanc (734095) at $19.95, which has both rhubarb and grapefruit nuances. It is very dry and flavourful with very attractive, slightly grassy, lingering, ripe lemon-melon flavours.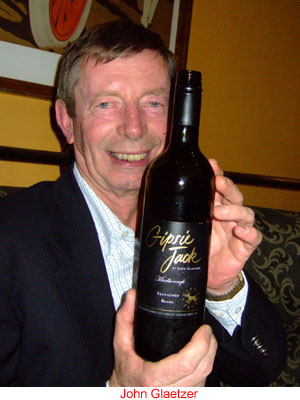 If you prefer grapefruit to rhubarb, then you,ll love Gipsie Jack 2006 Sauvignon Blanc (26419) at $20.95. This 100% Marlborough effort is the result of collaboration between two Aussies: John Glaetzer, long-time winemaker at Wolff Blass, and Ben Potts, owner of South Australia Langhorne Creek.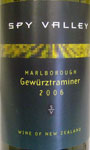 For fans of bold aromatic whites, there is the outstanding, fruit-driven Spy Valley 2006 Gewürztraminer (32870) at $20.95. It too comes from the Marlborough region and is awash in extremely spicy, honeyed lychee-rosewater flavours. Delicious but not for everyone, try it with Thai cuisine or even cold foie gras.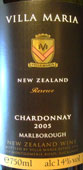 For Chardonnay lovers, one of the finest New Zealand Chardonnays to touch these lips is hidden away as an ISD. Eighty cases of six of the remarkable Villa Maria 2005 Reserve Chardonnay (27227) are coming out today. Do not, let me repeat, do not miss this terrific five-star effort, which is a bargain at $32.95. It has a lovely, bright, ripe-pear purée nose with hints of vanilla. On the palate, the seductive Anjou-pear flavours go on and on.

I must mention one of the best New Zealand Rieslings ever to appear in Vintages: the stunning, lime-tinged, mineral-driven Neudorf 2004 Riesling Brightwater (685800) at $22.95. It comes from Nelson,s Waimea Plains, and had Vintages presented it for tasting, it would be long gone. As of Friday morning this week, 20 bottles of this June 24, 2006, ISD were languishing on the shelves.

Finally, let me suggest something to make you smile: Mount Riley 2006 Savée Sparkling Sauvignon Blanc (32326) at $22.95. From Marlborough,s Wairau Valley and fermented in the bottle, it is dry, vibrant and effervescent with seductive, grassy-peach flavours.
National Post readers who want to the New Zealand Spotlight, please click here (please use 'npreader' as the password).
Coming up
Saturday, May 26 - Archibald's 8th Fruit Wine & Food Festival
[Bowmanville, Ontario] This festival will be held at the Archibald winery - 6275 Liberty Street North, from 12:00 to 5:00 pm. For more detail on the event click here. Tickets are $10 at the door. Call 905-263-2396 or email archibalds@idirect.com for more information and reservations.

Friday, June 1 - Annual Charity BBQ for Camp Oochigeas
This event will be held at LCBO Queens Quay's parking lot from 11:30 am to 2:30 pm. It will include a BBQ lunch, one-day raffle, silent auction and other sport and game events. For more information click here or contact Paul LaRose or Donna Landrigan at 416-864-6777. For more information on Camp Oochigeas please visit www.ooch.org

Tuesday, June 5 - Wines of Alsace Tasting (Trade Only)
This trade only event will be held at Carlu - 444 Yonge St., 7th floor, from 2:00 to 6:00 pm. For more information contact Anne Popoff at 416-921-8400.
Friday, June 8-9 - Artevino Wine Weekend
[Belleville, Ontario] The tasting will be held at Ritchie Room - 270 Front St., Belleville, starting at 6:00 pm. Tickets are $35 per person. For more information and reservations contact Quinte Arts Council at 613-962-1232 or visit www.quinteartscouncil.org
Saturday, June 9 - Artevino Gold Medal Tasting Dinner
[Belleville, Ontario] Starting at 6:00 pm. Tickets are $150 per person.

Sunday, June 10 - Toronto Taste 2007
This event will feature over 50 of the top chefs in the city showcase their culinary creations in tandem with fantastic wine, beer and spirits. Held at Japanese Canadian Cultural Centre - 6 Garamond Court, starting at 6:00 pm. Tickets are $225 per person. Contact the Second Harvest at 416-408-2594 or visit www.torontotaste.ca or click here for the ticket order form.
2001 - 2007 Tasting Note Database
Our tasting note database from December 31, 2000 to May 2007, covers every Vintages release product for the past 78 months. There are more than 15,000 notes in the database data. Just enter the name of the product, supplier name or CSPC number. Or you can search by type of wine, country of origin, even wine agent! Nothing could be easier. Also you can get information on the agent by clicking on the agent's name, as well as current LCBO store inventory by clicking on "Check LCBO Availability", which will automatically tell you the number of bottles at LCBO as of last night.
To use our Tasting Notes Database: click here

** For All Visitors **
Vintages Releases
To see the complete list of upcoming products from the
May 26 release, including In-Store Discovery items,
click here (sorted by date of release).
You can also see it sorted by agent click here
To see the complete list of upcoming products from the
June 9 release, including In-Store Discovery items,
click here (sorted by date of release).
You can also see it sorted by agent click here
To see the complete list of upcoming products from the
June 23 release, including In-Store Discovery items,
click here (sorted by date of release).
You can also see it sorted by agent click here
Copyright Food & Beverage Testing Institute of Canada 2007
Prior written permission is required for any form of reproduction
(electronic or other wise) and or quotation.
Contact Michael Vaughan at
mbv@total.net